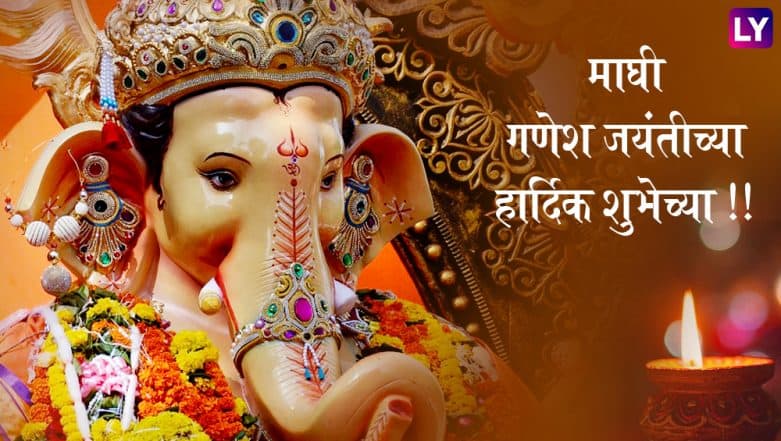 Lord Ganesha is rightly called the favourite lord of the Hindus. The festival of Ganesh Chaturthi which sees a welcoming of the lord into their home and performing elaborate worship is celebrated with great enthusiasm every year. But Ganesh Chaturthi is not the only time when people welcome Lord Ganesha. Maghi Ganeshotsav or the Magha Shukla Chaturthi is also an auspicious festival dedicated to Hindu God of wisdom and new beginnings. Ganesh Jayanti 2019 or the Maghi Ganeshotsav 2019 will be celebrated from February 8 and continue till February 9. Ganesh Jayanti wishes and greetings are sent across to family and friends. People from the Maharashtrian community primarily get the idol of Lord Ganesh and worship him just like during Ganesh Chaturthi festival. Thus a lot of people search for Magha Ganeshotsav wishes in Marathi to send good wishes to everyone. WhatsApp stickers are also a popular way of sending wishes. We give you some Magha Ganesh Jayanti wishes in Marathi, which you can send to your family and friends. Magha Ganesh Jayanti 2019 Date: Significance and Puja Shubh Muhurat of Magha Shukla Chaturthi.
The festival of Ganesh Jayanti or Magha Ganeshotsav is widely celebrated in the state of Maharashtra and Konkan areas. The day of Magha Shukla Chaturthi is also called Varad Chaturthi. This day is the actual birthdate of Lord Ganesha, thus it is celebrated in equal enthusiasm. The festival is even celebrated in a few public places in the same manner as Ganesh Chaturthi, only the duration is for a day. Below are some Ganesh Jayanti messages in Marathi. Magha Ganesh Jayanti 2019: Is Magha Shukla Chaturthi Actually the Birthday of Lord Ganesha?
Magha Ganesh Jayanti 2019 Messages in Marathi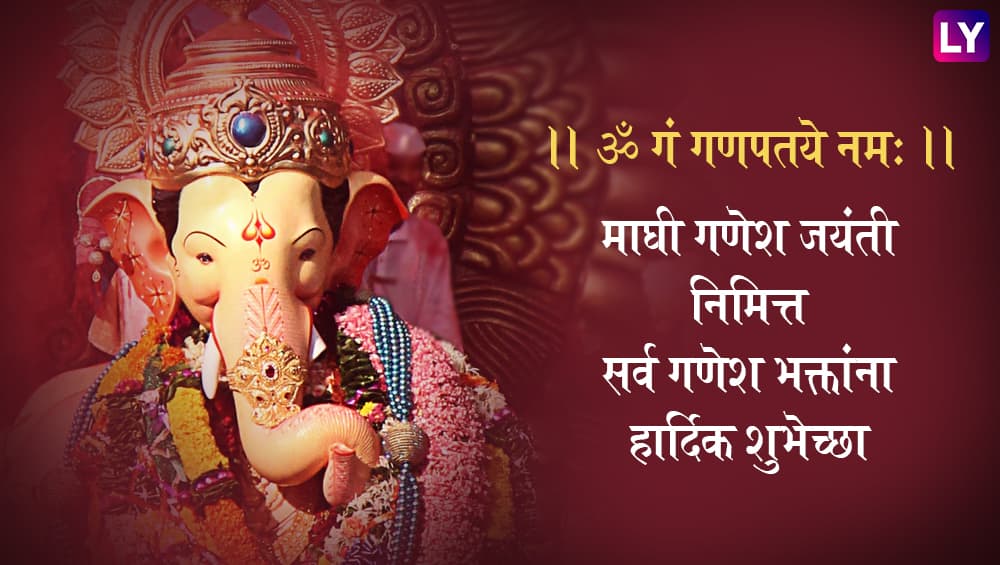 Message reads: ।। ॐ गं गणपतये नमः ।।
माघी गणेश जयंती निमित्त सर्व गणेश भक्तांना हार्दिक शुभेच्छा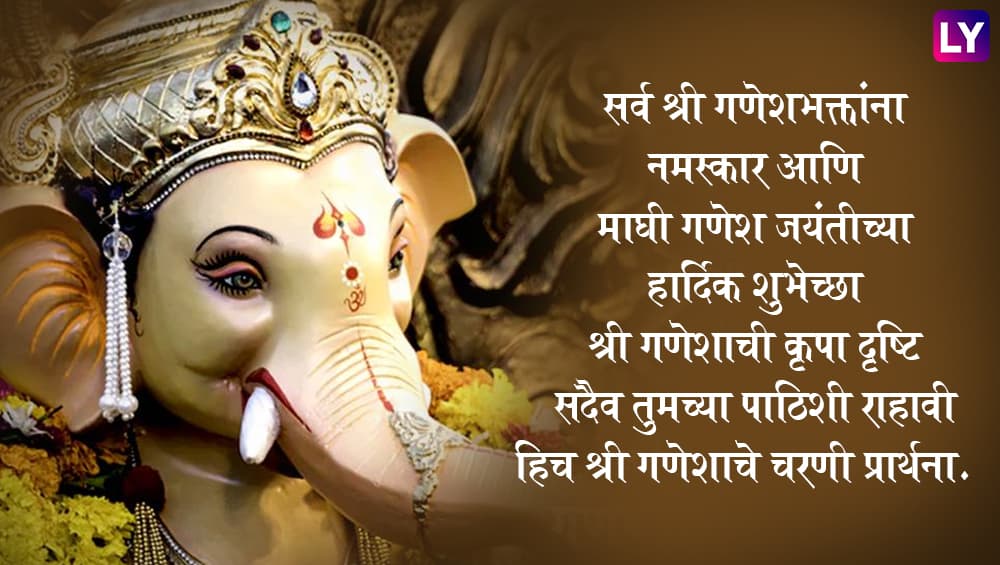 Message reads: सर्व श्री गणेशभक्तांना नमस्कार आणि माघी गणेश जयंती च्या हार्दिक शुभेच्या. श्री गणेशाची कृपाद्रुष्टि सदैव तुमच्या पाठिशी राहावी हिच श्री गणेशाचे चरणी प्रार्थना.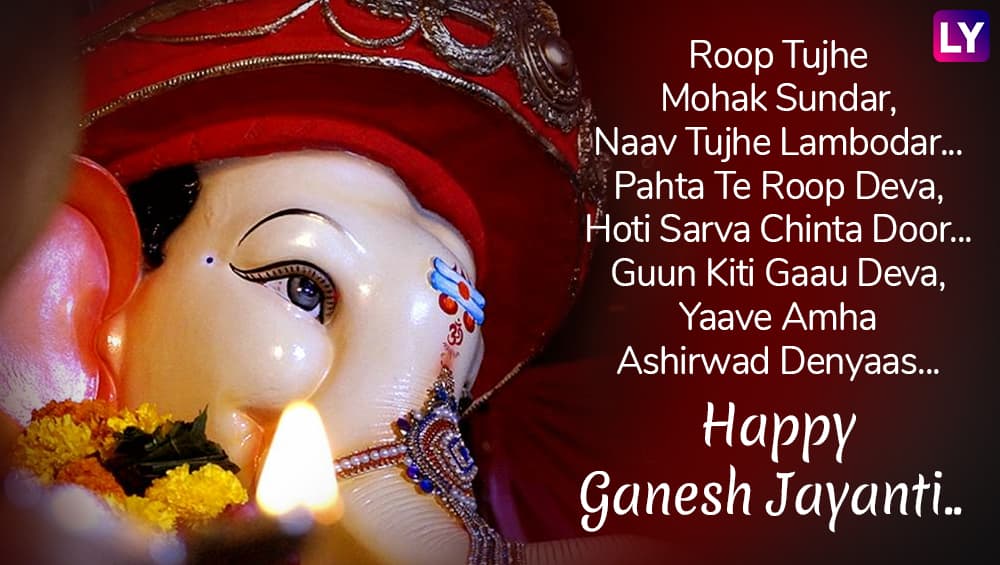 Message reads: Roop Tujhe Mohak Sundar, Naav Tujhe Lambodar...
Pahta Te Roop Deva, Hoti Sarva Chinta Door...
Guun Kiti Gaau Deva, Yaave Amha Ashirwad Denyaas.. Happy Ganesh Jayanti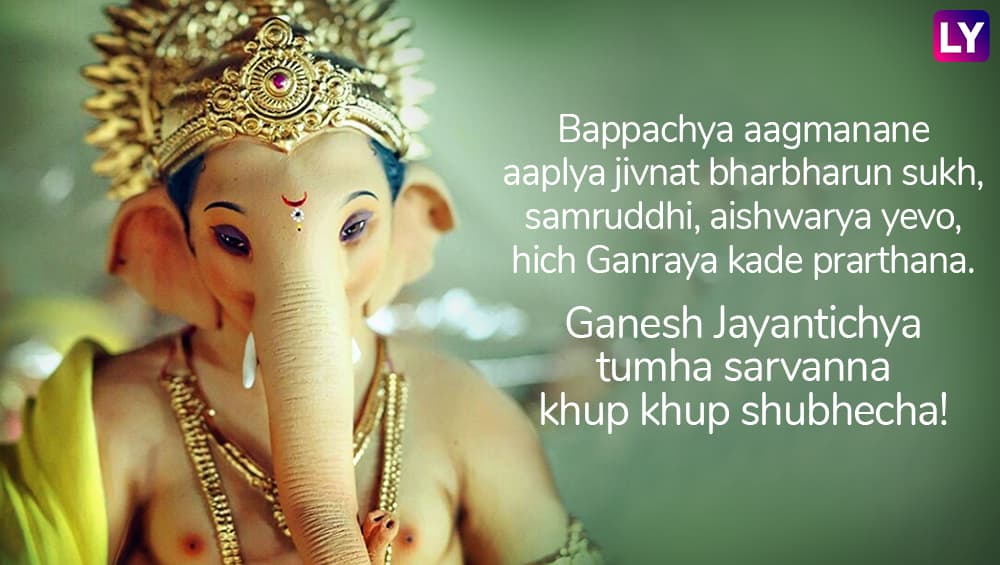 Message reads: Bappachya aagmanane aaplya jivnat bharbharun sukh, samruddhi, aishwarya yevo, hich Ganraya kade prarthana. Ganesh Jayantichya tumha sarvanna khup khup shubhecha!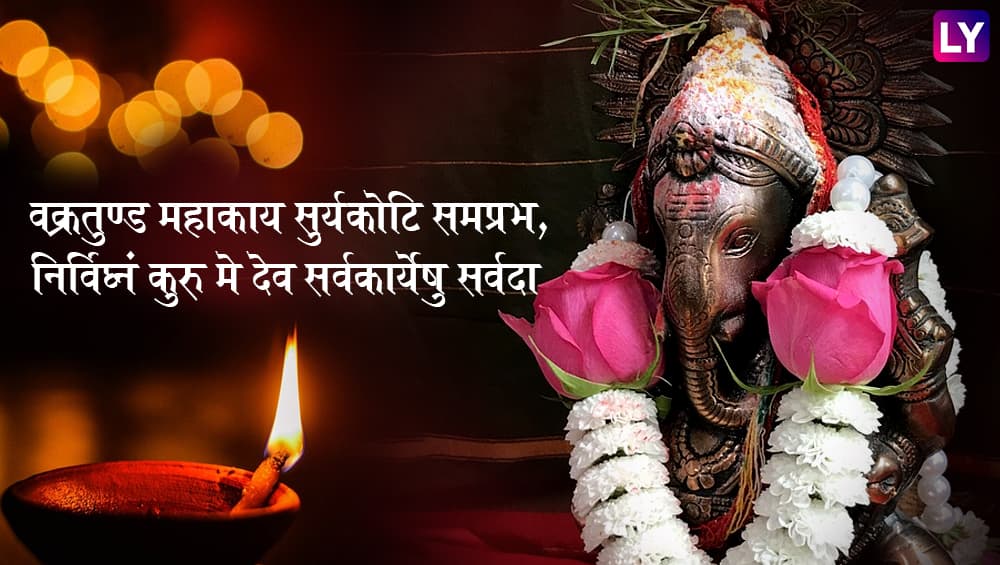 Message reads: वक्रतुण्ड महाकाय सुर्यकोटि समप्रभ, निर्विघ्नं कुरु मे देव सर्वकार्येषु सर्वदा
माघी गणेश जयंती च्या हार्दिक शुभेच्या !!
Ganesh Jayanti GIFs
Happy Ganesh Jayanti
Ganpati WhatsApp Stickers
WhatsApp stickers are another way of expressing your wishes to a lot of people at one time. It has become a lot easier to search for Ganpati stickers and send them to your contacts. You can download Ganesh stickers from the Play Store and send them via WhatsApp.
Since Ganesh Chaturthi goes on for more days it is possible to pay a visit to those who have got the Lord Ganesha idol at home. But Magha Ganesh Jayanti is just a celebration of 2 days and it is not always possible for people to go and visit. In such a case, you can always send out Happy Ganesh Jayanti messages and wishes to greet everyone on the auspicious occasion.