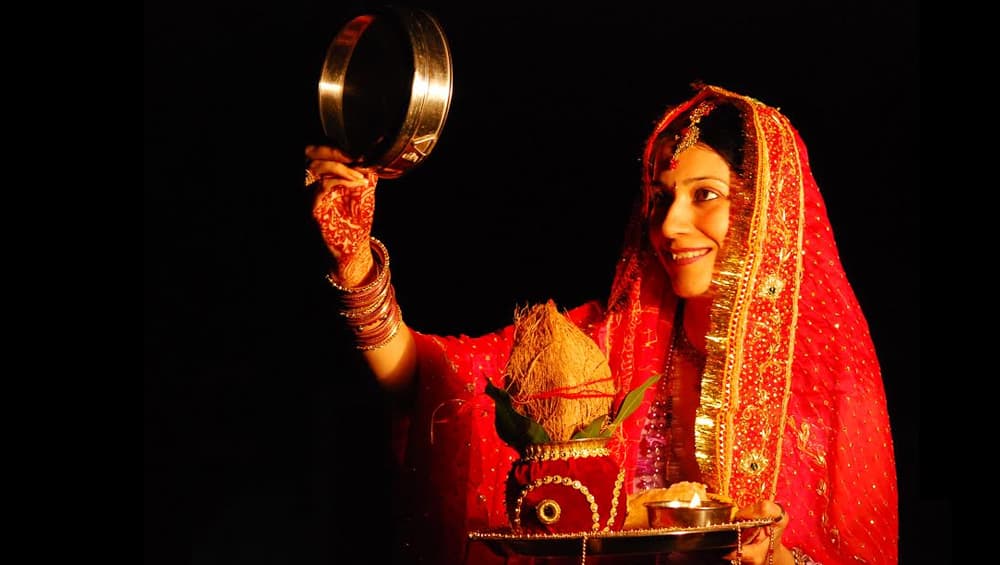 Karwa Chauth is a Hindu festival celebrated by married women for the long life of their husbands. On this day, married women observe a nirjala fast which means without any consumption of food or water for an entire day. This year, Karwa Chauth will be celebrated on October 17. The festival is generally observed in Northern India. 'Karwa' stands for an earthen pot, and 'Chauth' means fourth in Hindi. Every year, the festival falls on the fourth day after the full moon Purnima in the Hindu month of Kartika. Moonrise timings of different cities are significant on this day as the fast ends with chand puja after the moon rises. Karwa Chauth 2019 Wishes For Husband & Wife: WhatsApp Stickers, Romantic Facebook Greetings, GIF Images, SMS and Love Quotes For Karva Chauth!
Traditionally, women from the states of Rajasthan, Himachal Pradesh, some parts of Uttar Pradesh, Haryana, and Punjab primarily follow Karwa Chauth but nowadays, the festival is observed all over the country. In present times, even unmarried girls also observe Karwa Chauth. Married women wear new clothes and in the evening they sit together in groups and listen to the story of Rani Veeravati.  Karwa Chauth 2019 Date and Puja Timings: Karva Chauth Significance, Puja Vidhi And Celebrations Related to Hindu Festival For Married Women.
As per rituals, women end their fast only after seeing the moon at night. Women also perform puja when the moon rises. They look at the moon through a sieve. Then husbands help their wives to break the fast by offering them water and food. The festival is celebrated by women with great enthusiasm in Punjab.
List of Moonrise/Chandrama Timing in Amritsar, Jalandhar and Patiala on October 17, 2019:
Amritsar Moon Rise Timing on Karwa Chauth 2019: 8:20 pm
Jalandhar Moon Rise Timing on Karwa Chauth 2019: 8:18 pm
Patiala Moon Rise Timing on Karwa Chauth 2019: 8:16 pm
The dates may differ every year according to the Gregorian calendar. The fast lasts for more than 12 hours. Karwa Chauth coincides with Sankashti Chaturthi a fasting day observed for Lord Ganesha. After four days of Karwa Chauth, Ahoi Ashtami is observed for the long lives of sons.