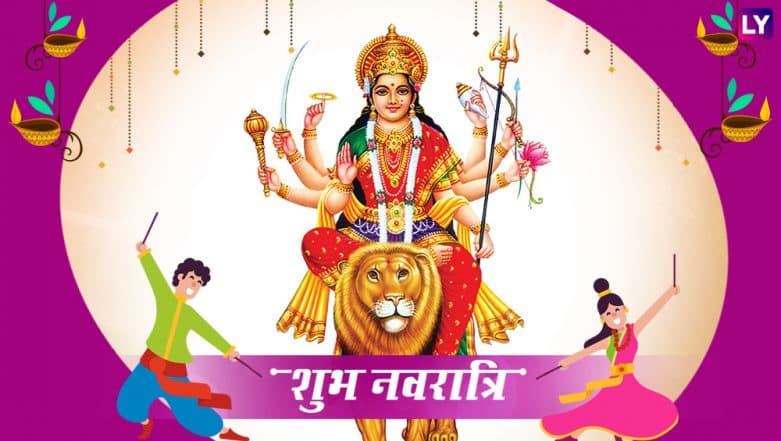 Get ready to welcome Maa Durga for the bright and colourful Navratri festival beginning from October 10. While the last-minute preparations to celebrate Navaratri festival is keeping us busy, we are pondering over beautiful greetings to wish Shubh Navratri to family and friends. Just like chanting 'Jor Se Bolo Jai Mata Di' to please Sherawali Mata (Goddess Durga), sending Navratri greetings to our loved ones is a part of this happy festival. Especially, Navratri messages in Hindi as the greetings in form Navratri mantra, Shayari or aarti is always extra special. We bring to you lovely Navratri wishes in Hindi, Navratri 2018 images in HD, wallpapers, Durga Puja GIF images, Maa Durga photo, Navratri SMSes, Sharad Navratri status for WhatsApp, Facebook and Instagram. Navratri 2018 Wishes and Photo Greetings: WhatsApp Messages, GIF Images, Jai Mata Di Facebook Status, Quotes & SMSes to Wish Happy Navaratri.
Navratri is the celebration of women power. During this festival, Goddess Durga is the primary deity. She is Maa Shakti, the absolute divine feminine. Durga is kind, loving and protective mother who will go any extent to save her vulnerable children (us) from the wrath of evil powers. When the sin in the world increases and humankind is at risk, she takes a ferocious avatar to eradicate the negative forces. Understanding her soft heart and powerful persona, devotees pray to Maa Durga and her nine avatars during Navratri with much dedication, devotion and pure love to seek her godly blessings. Navratri Colours 2018 to Wear During Nine Days Festival: Images and List of 9 Colours for Each Date of Sharad Navaratri.
Coming back to greetings for family and friends, it is important to wish each other on the special occasion of Navratri. One must connect with their near and dear ones, who they have not met or spoken in a while. Here we bring to you Navratri wishes in Hindi with images, Navratri wishes pics, Navratri wishes greetings, Navratri quotes in Hindi with images, Navratri wishes in Hindi with images, happy Navratri wishes in Hindi font, happy Navratri images in Hindi, and Navratri wishes to friends.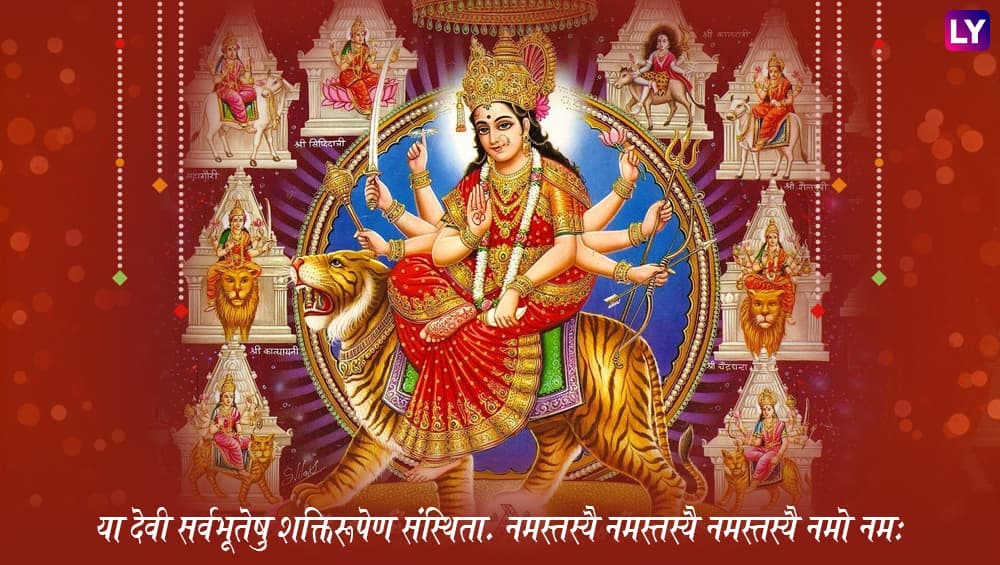 Navratri 2018 Greetings in Hindi: या देवी सर्वभूतेषु शक्तिरूपेण संस्थिता. नमस्तस्यै नमस्तस्यै नमस्तस्यै नमो नम: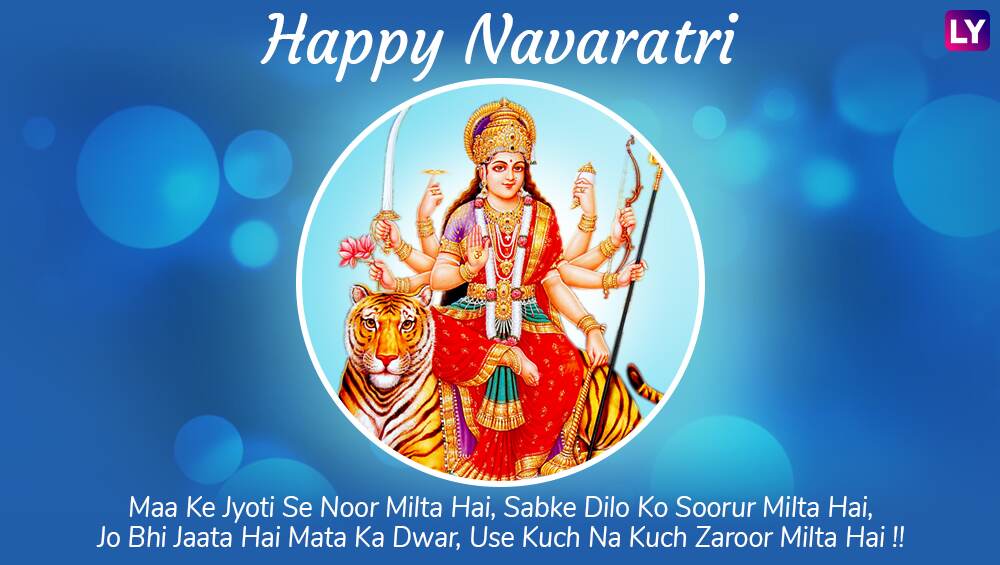 Navratri 2018 Greetings in Hindi: Maa Ke Jyoti Se Noor Milta Hai, Sabke Dilo Ko Soorur Milta Hai, Jo Bhi Jaata Hai Mata Ka Dwar, Use Kuch Na Kuch Zaroor Milta Hai!! Navratri Ki Hardik Shubhkamnaye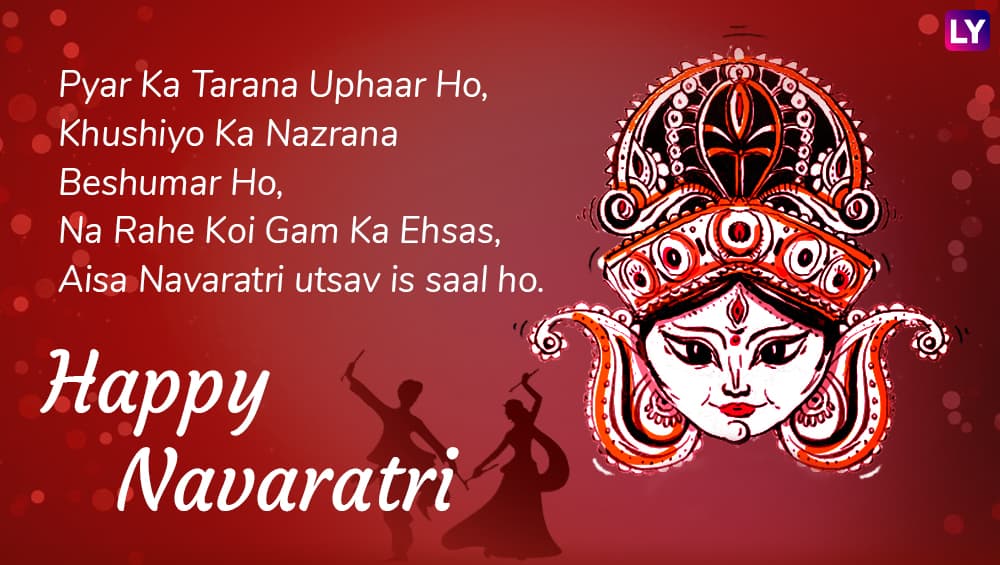 Navratri 2018 Greetings in Hindi: Pyar Ka Tarana Uphaar Ho, Khushiyo Ka Nazrana Beshumar Ho, Na Rahe Koi Gam Ka Ehsas, Aisa Navratri Utsav Is Saal Ho. Happy Navratra.
Navratri 2018 Greetings in Hindi: सारा जहां है जिसकी शरण में, नमन है उस माँ के चरण में, हम है उस माँ के चरणों की धूल, आओ मिलकर माँ को चढ़ाएं श्रद्धा के फूल। शुभ नवरात्रि.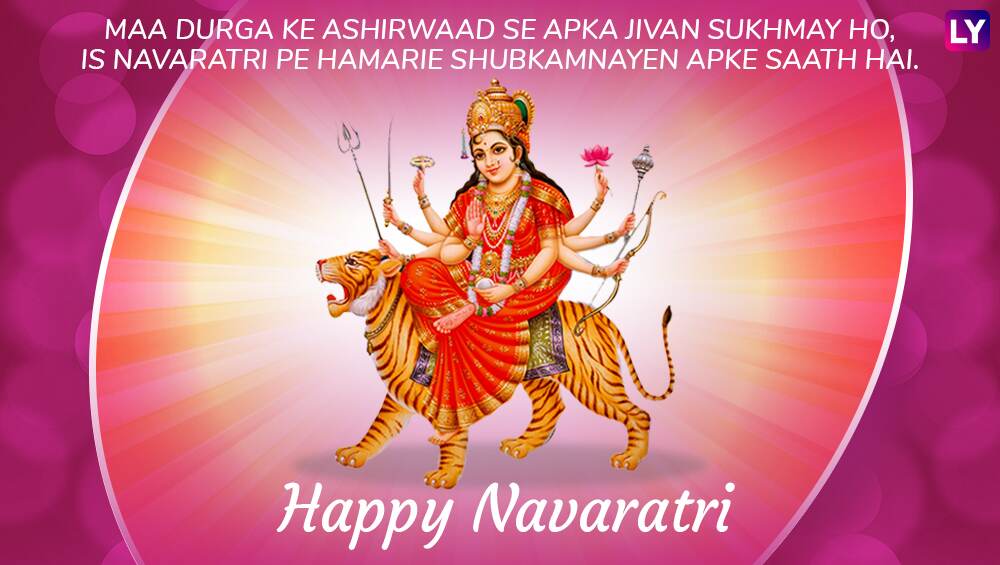 Navratri 2018 Greetings in Hindi: Maa Durga Ke Ashirwaad Se Apka Jivan Sukhmay Ho, Is Navratri Pe Hamarie Shubkamnayen Apke Saath Hai. Happy Navratri 2018.
Durga is known by 108 names. She is Maa Parvati or Adishakti – the consort of Lord Shiva. We all have grown up listening to great mythological stories about Maa Durga. During Navratri, her nine forms are worshipped on each day of the festival. Those nine manifestations are – Shailputri, Brahmacharini, Chandraghanta, Kushmanda, Skandamata, Katyayani, Kaalratri, Mahagauri and Siddhidatri. These avatars govern celestial bodies, capable of blessing you with powers that are unheard of. You can download Navadurga images for puja ceremony, take note of mantras and shubh muhurat time. Wishing all of you a very Happy Navratri 2018.