It is the onset of Hindu New Year, and people in India are all in their festive mood right now. Majorly the northern and southern parts of India welcomes the New Year with much enthusiasm, following different traditions and names. The land of festivals have a lot to offer; however, April is the best time to witness the various cultures and traditions that captivates the individuals of the country. While the Sikh community celebrates Baisakhi, Assamese people observes Bohag Bihu, Bengalis across the nation calls for their traditional new year with the celebration of Pohela Boisakh also spelt as Poila or Pahela Baishakh. It is the occasion of the Bengali New Year 2019, that people search for numerous Pohela or Pohila Boishakh greetings especially in their regional language, Bengali to wish their Shubho Noboborsho. Therefore, you are at the right place, as we bring you Pohela Boishakh wishes and Shubho Nobobarsho 2019 messages that you can share with your friends and family through Facebook and Instagram, celebrating the Bengali New Year. Besides, Pahela Baishakh WhatsApp stickers are also available to download for free along with super-handy Bengali New Year GIF images. Share Happy Vishu 2019 Messages in Malayalam. 
The Bengali New Year festival date is decided according to the lunisolar Bengali calendar as the first day of its first month, Baishakh. According to the Gregorian calendar, Pohela Boishakh 2019 falls on April 15. The same day is celebrated elsewhere as the traditional solar new year and a harvest festival by Hindus and Sikhs, Vishu in Kerala and Puthandu in Tamil Nadu. The Hindu New Year is celebrated with processions, fairs, family time and never-ending greetings. On the occasion of Poila Boisakh, share these Shubho Noboborsho 2019 messages and wishes to your friends and family and enjoy the onset of another new year.
WhatsApp Message Reads: Sopno sajao ronger melai, jibon vashao rongin velai, phire cholo matir tane. Notun shure notun gane, notun asha jagao prane, khuje nao bachar mane. Sobai k Nobo Borsher onek onek shubhecha!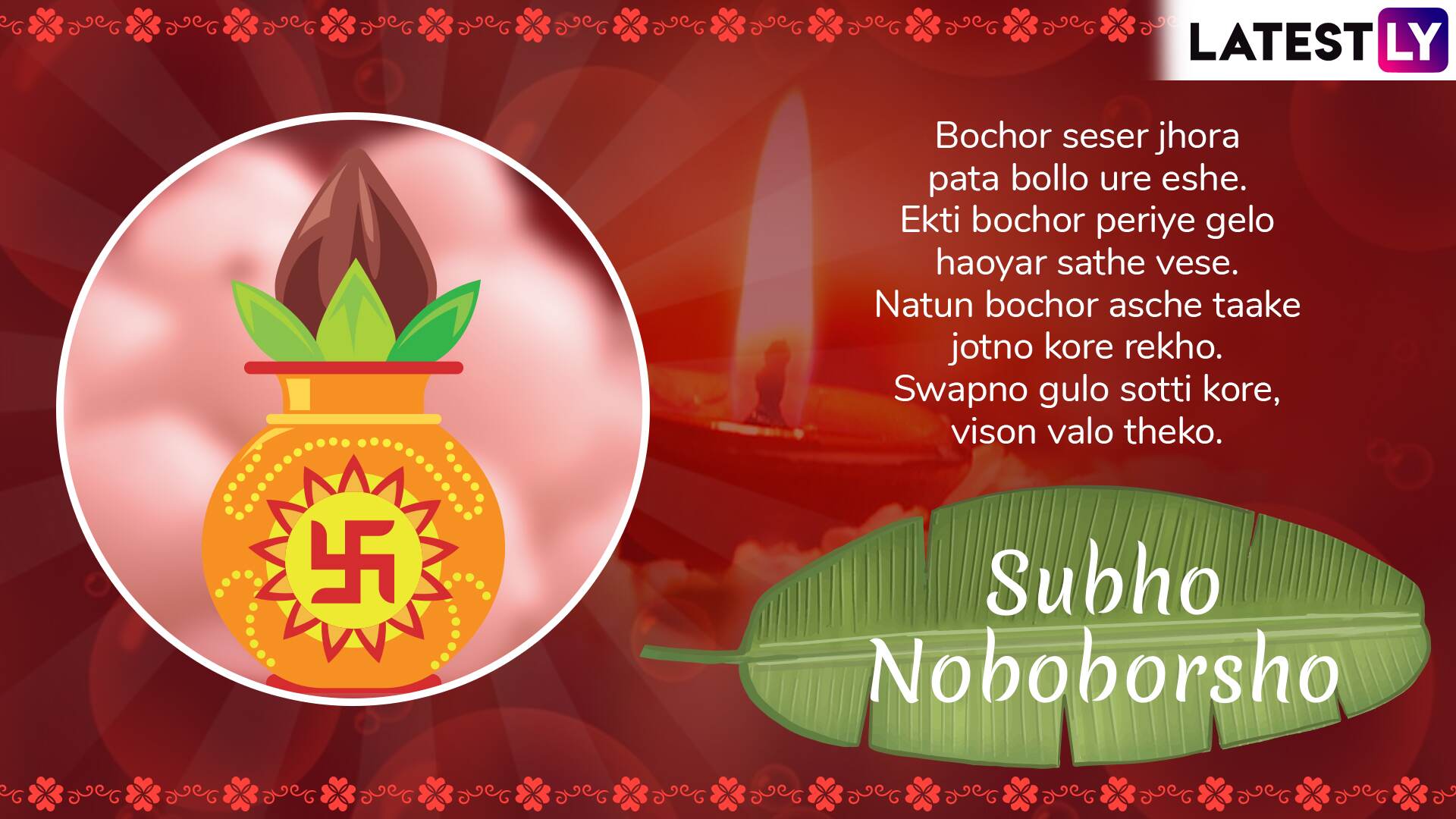 WhatsApp Message Reads: Bochor seser jhora pata bollo ure eshe. Ekti bochor periye gelo haoyar sathe vese. Natun bochor asche taake jotno kore rekho. Swapno gulo sotti kore, vison valo theko. Subho Noboborsho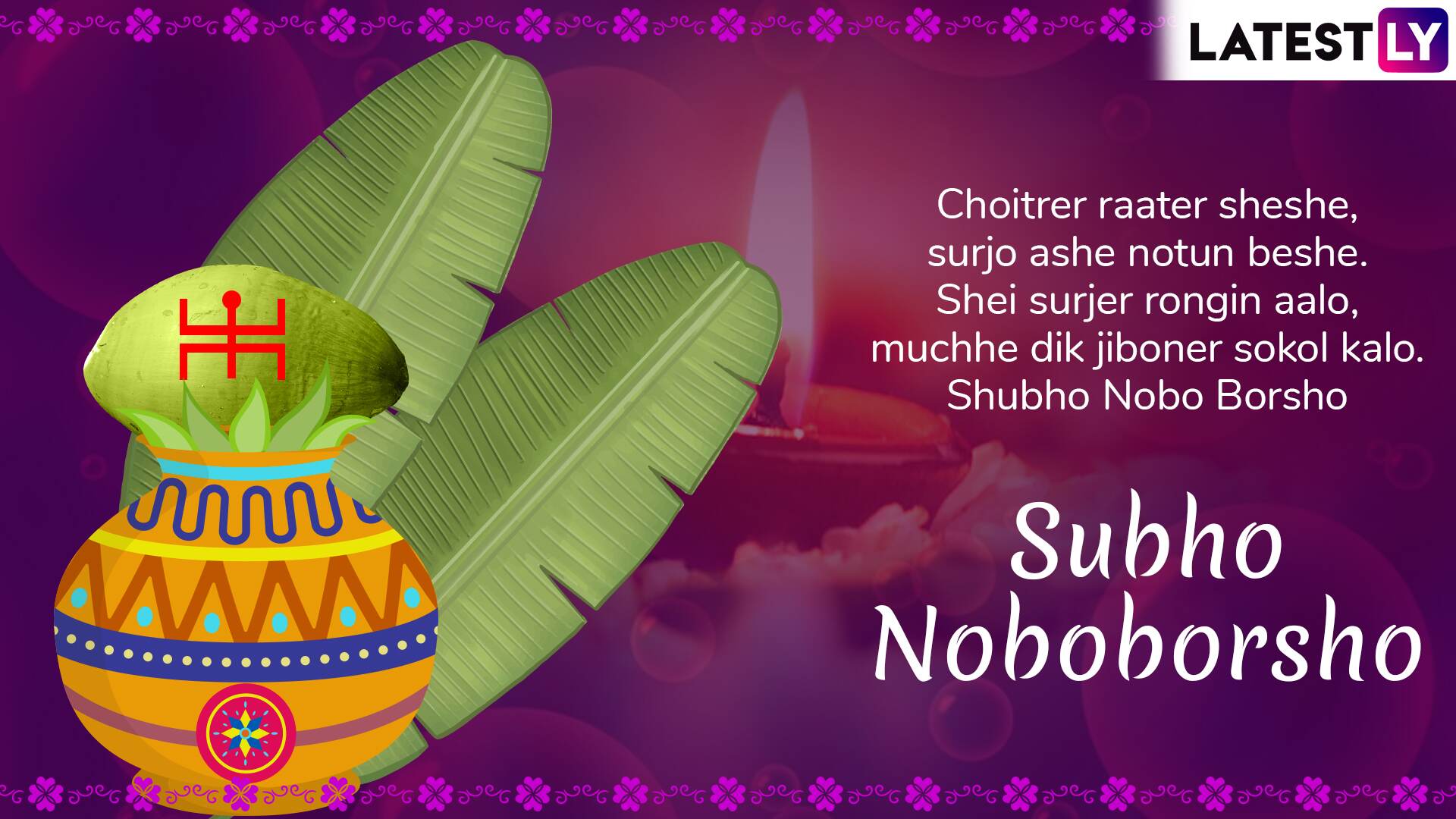 WhatsApp Message Reads: Choitrer raater sheshe, surjo ashe notun beshe. Shei surjer rongin aalo, muchhe dik jiboner sokol kalo. Shubho Nobo Borsho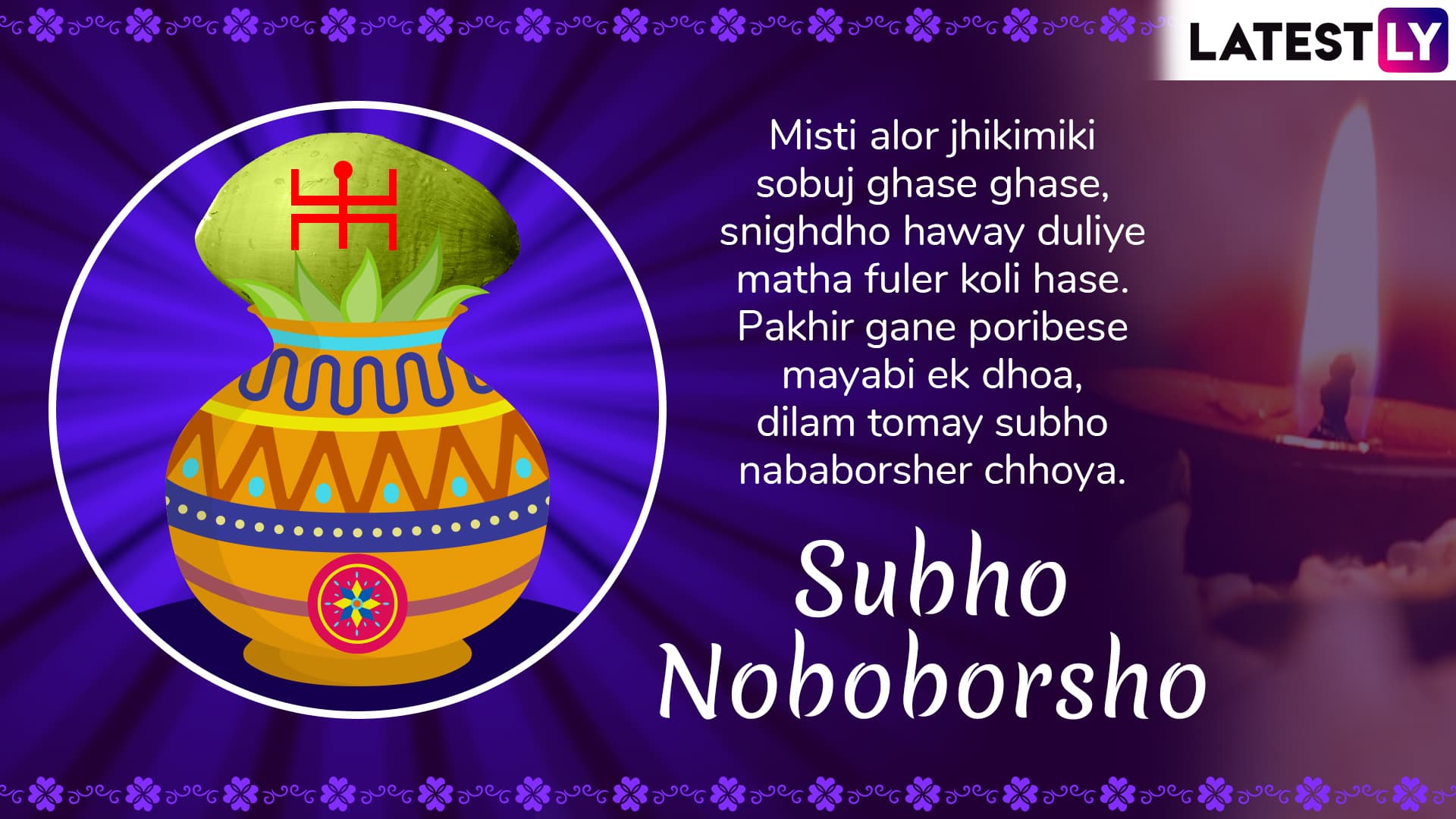 WhatsApp Message Reads: Misti alor jhikimiki sobuj ghase ghase, snighdho haway duliye matha fuler koli hase. Pakhir gane poribese mayabi ek dhoa, dilam tomay subho nababorsher chhoya.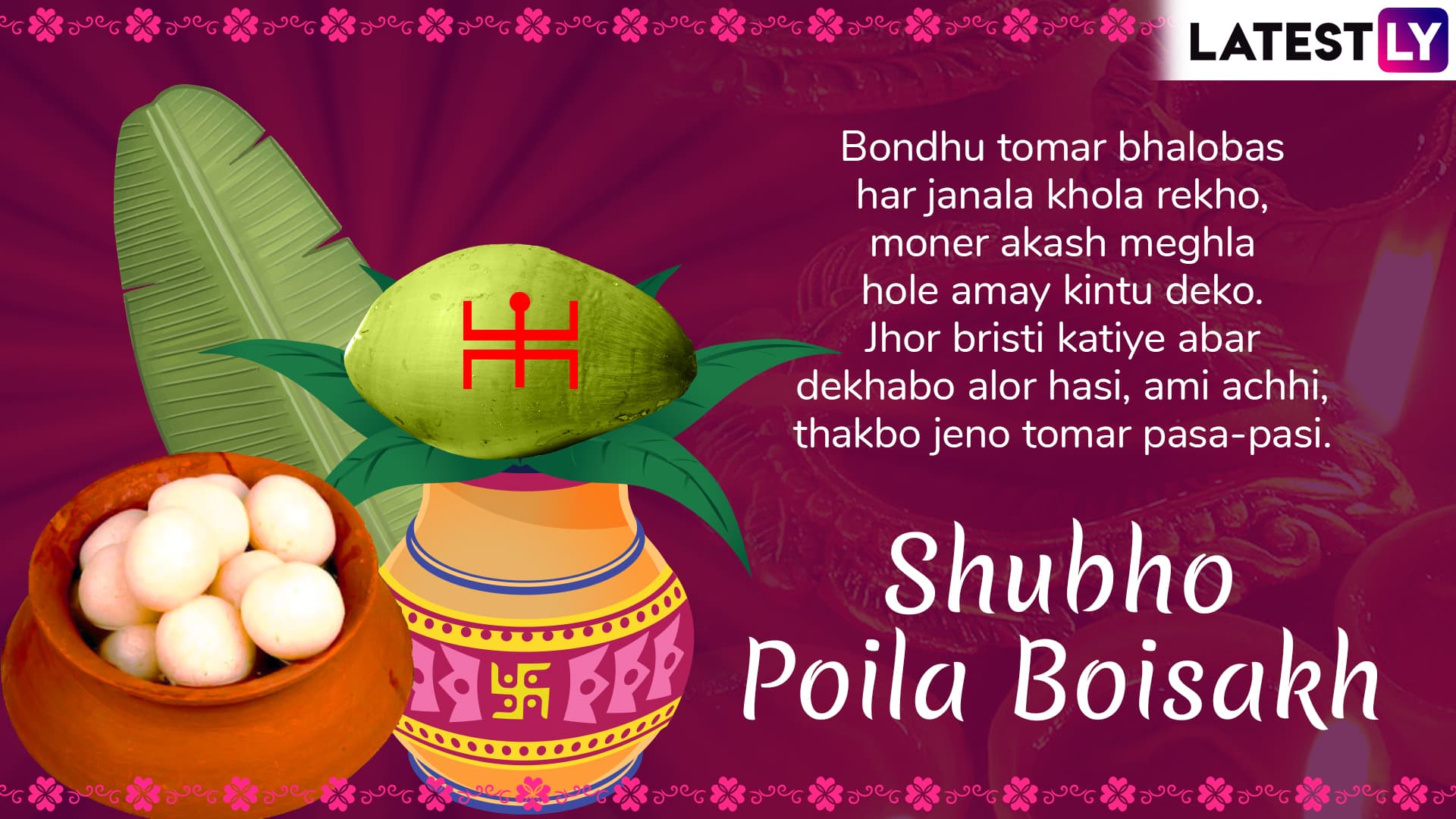 WhatsApp Message Reads: Bondhu tomar bhalobas har janala khola rekho, moner akash meghla hole amay kintu deko. Jhor bristi katiye abar dekhabo alor hasi, ami achhi, thakbo jeno tomar pasa-pasi. Shubho Poila Boisakh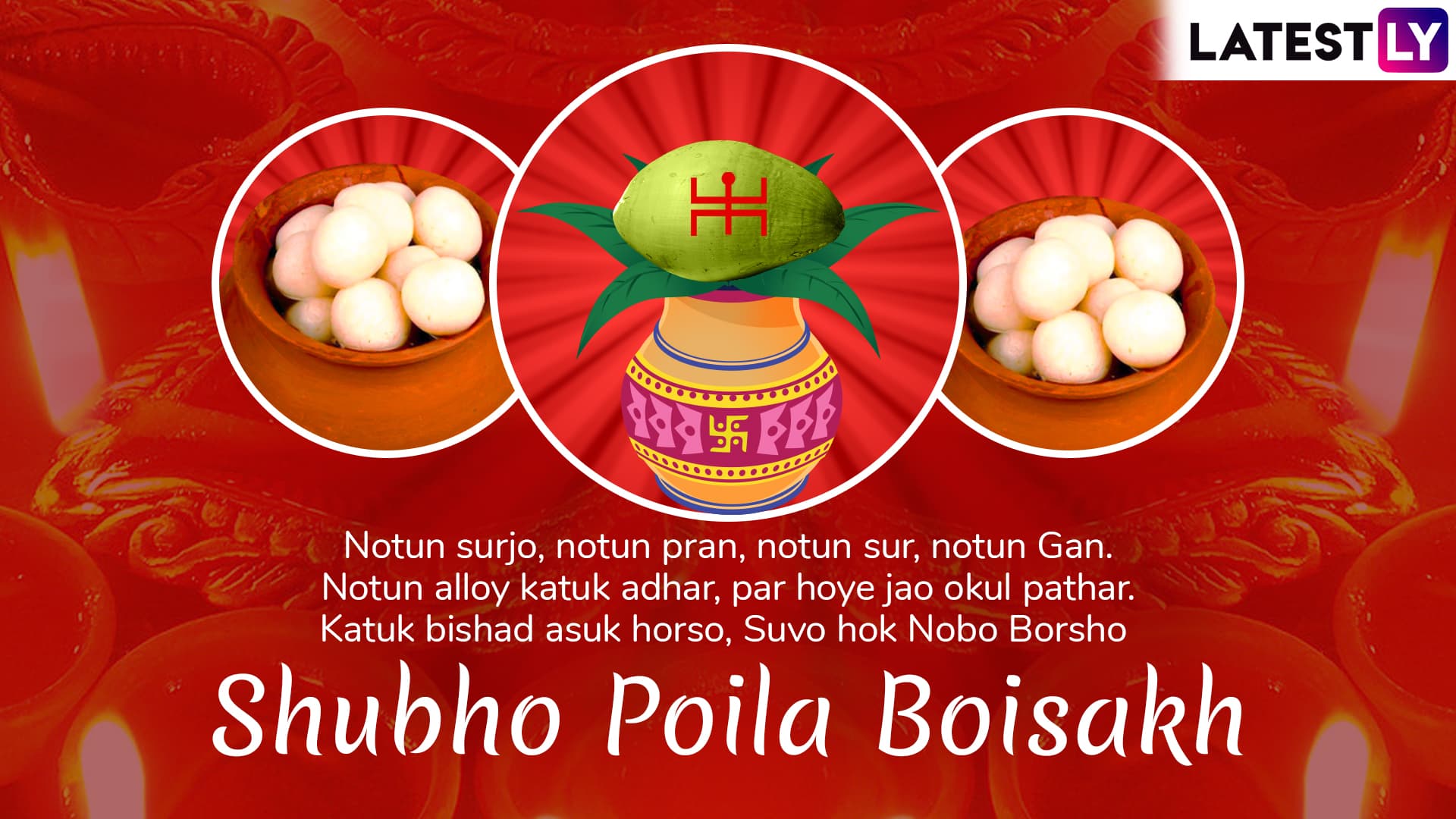 WhatsApp Message Reads: Notun surjo, notun pran, notun sur, notun Gan. Notun alloy katuk adhar, par hoye jao okul pathar. Katuk bishad asuk horso, Suvo hok Nobo Borsho
Pahela Baishakh GIF Image Reads: Rong be rongge sejeche jatii, dak dholer chora chorii. Jiibone ashuk Notun Priti. Sukhe ghoro jibon ti. Shuvo Noboborsho.
Pahela Baishakh GIF Image Reads: Dak dhol madoler tale, rong beronger moner deyale, bangali songskriti ujjibito thak juge juge. Shubho Noboborsho.
Download Pohela Boishakh 2019 WhatsApp Stickers
Just like other Hindu festivals, WhatsApp also has a super cool collection of Pohela Boishakh 2019 stickers to set the festive mood right. You can download Poila Baisakh or 2019 Shubho Nobobarsho WhatsApp stickers on the Play Store app by clicking here.
The Bongs across the nation eagerly await Pahela Baishakh. People offer prayers for the well-being and prosperity of the family and observes the festivity with a great fanfare. Above all, the Bengali cuisine captivates the individuals on the occasion of New Year. We hope that the above Pohela Boishakh 2019 greetings will be useful to you while you share aspirations and positivity to your near ones. Shubho Noboborsho everyone!
(The above story first appeared on LatestLY on Apr 13, 2019 07:00 PM IST. For more news and updates on politics, world, sports, entertainment and lifestyle, log on to our website latestly.com).