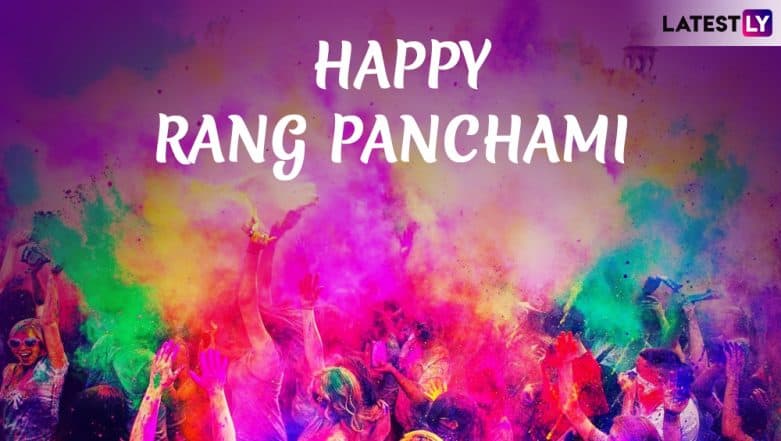 Five days after the celebration of Holi 2019, people in India today will observe Rang Panchami; another Hindu festivity of fun and colours. Rang Panchami celebrated with much enthusiasm in Maharashtra and Madhya Pradesh, and some parts of North India. According to the Hindu calendar, this year, Rang Panchami falls on March 25, in Maharashtra. However, the dates may vary in different states/ region, where Rang Panchami 2019 is celebrated with much enthusiasm. Much like the celebration of Holi 2019, there is a substantial history related to Rang Panchami, that comprises many religious significances as to why this day is celebrated. Rang Panchami 2019 Greetings: WhatsApp Stickers, SMS, GIF Image Messages and Quotes to Send Wishes on The Last Day of Festival of Colours. 
As per the Hindu and Gregorian calendar, Rang Panchami is observed every year on the fifth day of the Krishna Paksha, the waning phase of the moon during the Hindu month of Phalguna. Just as we mentioned above, this year, people will be celebrating the festival on March 25, observing various religious rituals.
Rang Panchami 2019: Date and Tithi
In 2019, Rang Panchami tithi began at 20:51 on March 24 and the same will end at 19:59 on March 25. The celebration of this day is similar to the festival of Holi, by throwing gulal and splashing coloured water on people. Many consider this day to be the last day of Holi festivity.
Rang Panchami 2019: History and Significance
Rang Panchami 2019 has highly religious significance for the Hindus and is considered to be an auspicious ritual among the community. As we know, Holika Dahan; the observance done a day before Rangwali Holi is associated with setting a bonfire. The fire which is lit creates an aura of purification in the surroundings and fills the atmosphere with positivity which activates various Deities in the form of colours. Rang Panchami is a celebration to express the bliss of the purification. Rang Panchami 2019 is a symbol of victory over Rajas and Tamas (two of the three Gunas) and respects the 'Panch Tattva' which builds the universe (earth, light, water, sky and wind). It is said that the human body is also made of the five elements.
The festival of Rang Panchami invokes these five essential elements which help to restore balance in life. The worship on the fifth day after Holi, is carried out to revere the incarnated forms of god-heads with a unique set of ceremonial rituals.
Rang Panchami 2019 is celebrated in different ways. In Indore and some cities of Maharashtra, a procession headed by a water tank with high-pressure jet, two ritual cannons and a camel and circumambulation the town. Thousands of people gather in front of Rajwada, Indore to get coloured by the cannon. Again, devotees worship Lord Krishna and Radha on this day. In the temples of Bihar, Vrindavan, Delhi and Mathura, the celebration of Rang Panchami is a worth watch.