Vijaya Dashmi or Bijoya Dashami is observed on the tenth day of Durga Puja. It is believed that on this day, Maa Durga leaves her parental house along with her children and returns to Kailash. Vijaya Dashmi 2019 falls on October 8 (Tuesday). According to Hindu mythology, the day marks Durga's triumph over the demon Mahishasur. Before Maa Durga leaves for her heavenly abode, she is celebrated and worshipped. The festival calls for large scale celebrations across India. On this day people wish each other saying Subho Bijoya in Bengali. On Subho Bijoya we have compiled a list of Bijoya Dashami WhatsApp Stickers, Best Dashami 2019 Wishes, Happy Bijoya HD Images, GIFs, SMS, Status, Facebook Quotes to wish on the festival. Dussehra 2019 Wishes in Telugu: WhatsApp Stickers, Dasara Subhakankshalu Photos, Ravan Dahan GIF Images, SMS & Messages to Send Vijayadashami Greetings.
Every Bengali experience mixed emotion on the occasion of Subho Bijoya which in English means Happy Vijaya Dasami or Dashami. On one hand, it means it is time to bid adieu to Maa Durga and get back to the grind of our daily lives. On the other hand, if we look at things from a positive angle, it also means that for next year Durga Puja, only 365 days are left. Did You Know Spotting Neelkanth Bird Is Considered Auspicious on Dussehra? Significance of the Popular Belief Related to Indian Roller or Blue Jay.
We bring to you Subho Bijoya Dashami 2019 messages, Durga Dasami wishes in Bengali, Subho Bijoya pics, Durga Dashami images and wallpapers, Subho Maha Dashami 2019 images, Happy Maha Dashami mages in Bengali, Dasami pictures and quotes. These Subho Bijoya images and Subho Dashami images are free to download and you can share them with your loved ones on this auspicious occasion. Dussehra 2019 Ritual: Here's Why Apta Leaves or 'Sona' Are Exchanged on Dasara or Vijayadashami.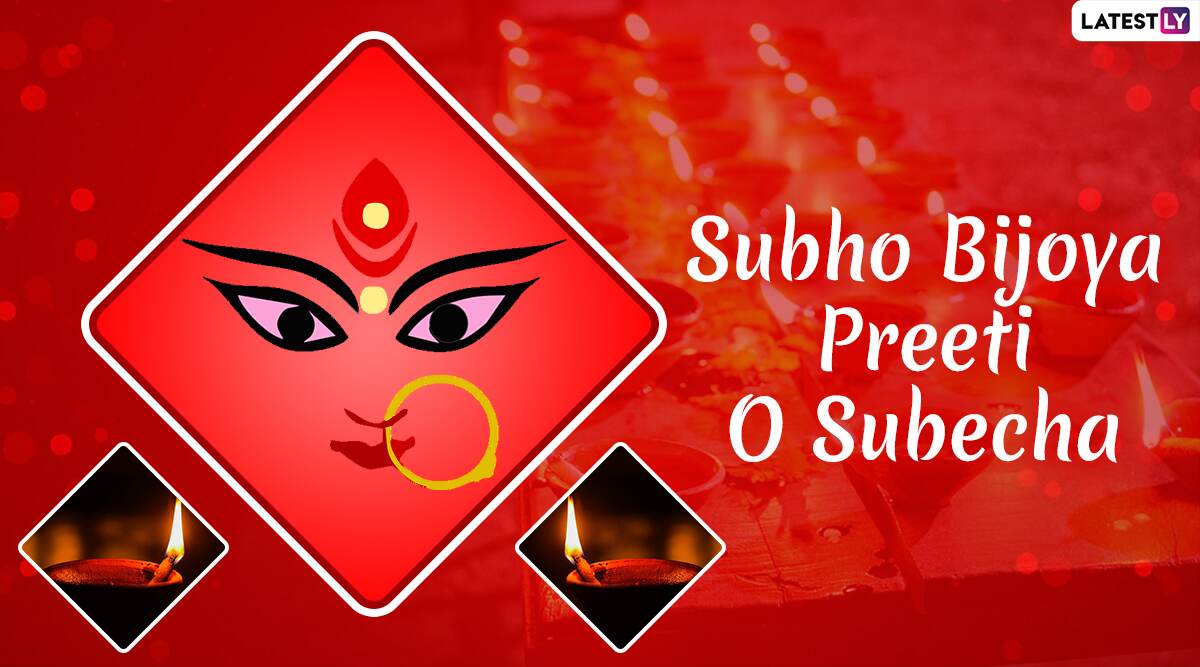 WhatsApp Message Reads: Subho Bijoya Preeti O Subecha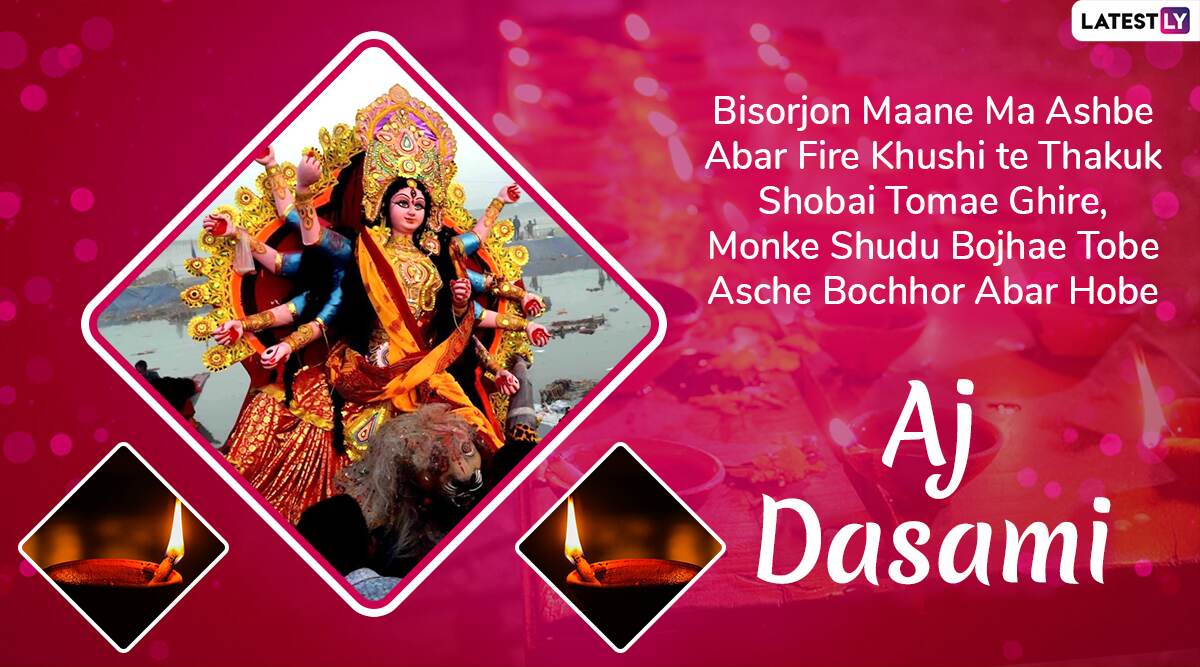 WhatsApp Message Reads: Bisorjon Maane Ma Ashbe Abar Fire, Khushi te Thakuk Shobai Tomae Ghire, Monke Shudu Bojhae Tobe, Asche Bochhor Abar Hobe- Aj Dashami!
WhatsApp Message Reads: Ma Je Tomar Chole Geylo, Ma Ke Abar Ashte Bolo, Sukh Dukh Mile Mishe, Subho Bijoya Janai Sheshe, WhatsApp Message Reads: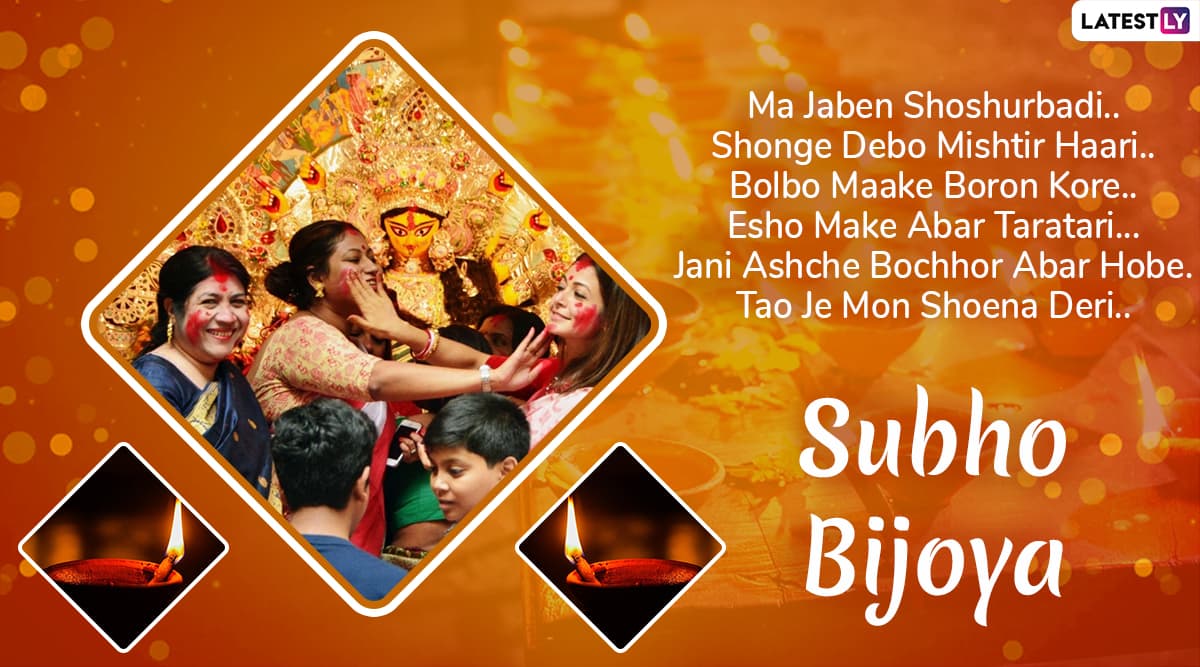 WhatsApp Message Reads: Ma Jaben Shoshurbadi..Shonge Debo Mishtir Haari..Bolbo Maake Boron Kore..Esho Make Abar Taratari...Jani Ashche Bochhor Abar Hobe.Tao Je Mon Shoena Deri...Subho Bijoya.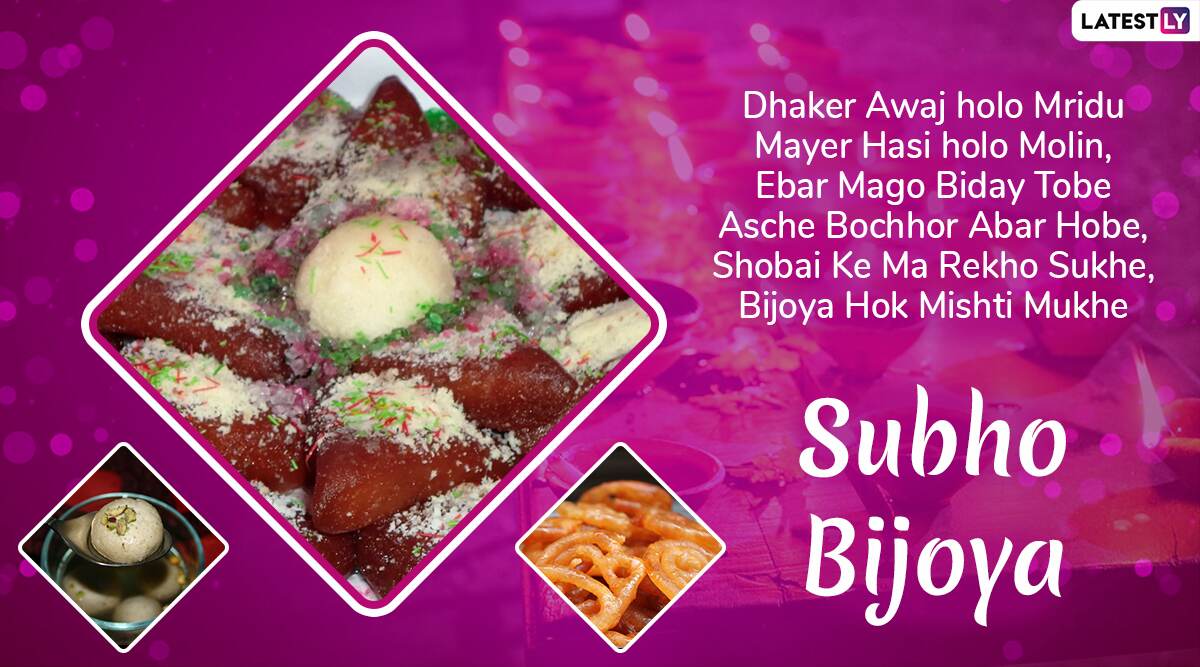 WhatsApp Message Reads: Dhaker Awaj holo Mridu, Mayer Hasi holo Molin, Ebar Mago Biday Tobe, Asche Bochhor Abar Hobe, Shobai Ke Ma Rekho Sukhe, Bijoya Hok Mishti Mukhe... Subho Bijoya.
In the morning, Bengalis perform the ritual of baran, where they smear the goddess's face with sindoor (vermilion), after which women celebrate the sindoor khela festival. Devotees embark on a huge procession carrying the worshipped clay idols to the nearby river or water body to immerse them.
With tears in their eyes, Bengalis chant 'aashchhe bochhor abar hobe' (it will happen again next year), thus giving us hope that only if Ma Durga goes this time, she will be able to return early for next year.  In the evening, in some houses till today, 'Sri Sri Durga Mata Sahay' is written with a red pen and then they touch the feet of their elders to seek their blessings. The custom of 'Kola Kuli' or hugging is also done among men on Bijoya among same-age groups.
The day ends with distributing sweets and wishing everyone- Subho Bijoya. Here's wishing all our readers a very Happy Subho Bijoya.
(The above story first appeared on LatestLY on Oct 08, 2019 08:40 AM IST. For more news and updates on politics, world, sports, entertainment and lifestyle, log on to our website latestly.com).