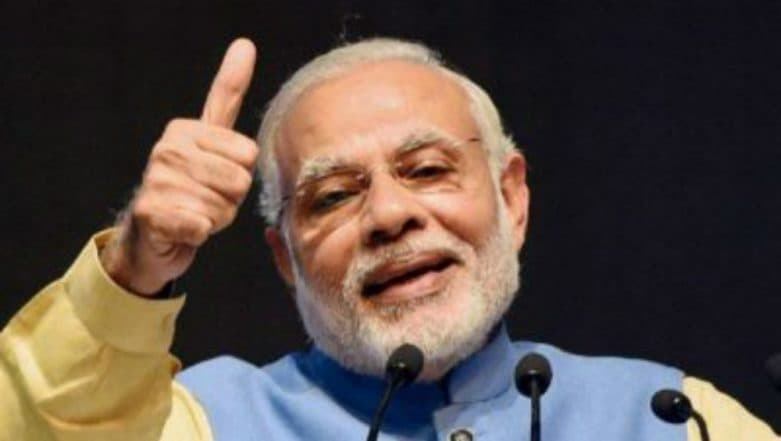 New Delhi, April 1: Prime Minister Narendra Modi, Chief Minister of Odisha Naveen Patnaik and several other leaders wished people of Odisha on the formation day of the state on Monday. The Prime Minister took to Twitter to extend the Utkala Dibasa greetings to people of the state. "Utkala Dibasa greetings to my sisters and brothers of Odisha", he tweeted on Monday. Utkala Dibasa or Odisha Day is celebrated on 1 April across the state with great fervour and gaiety in the memory of the formation of the state. Odisha became a separate province on April 1, 1936. Earlier, it was part of Bengal Presidency. Know the History & Significance of Odisha Day. 
Odisha Day is also called Orissa Foundation Day and Vishuva Milan. On this day, thousands of shops and Jhankis make this festival even more beautiful. There are several events organised by popular local politicians like fireworks competition among others. There is a restricted holiday on the day in the state.
Here's the tweet:
Prime Minister took to Twitter to wish people of Odisha on the occasion of Utkala Dibasa. Here's what he wrote:
Utkala Dibasa greetings to my sisters and brothers of Odisha. pic.twitter.com/3KAOO0eHIf

— Chowkidar Narendra Modi (@narendramodi) April 1, 2019
Odisha Chief Minister Naveen Patnaik shared a video on Twitter on Odisha Day:
ଓଡ଼ିଶା ଦିବସରେ ଦେଶ ବିଦେଶରେ ରହୁଥିବା ସବୁ ଓଡ଼ିଆ ଭାଇଭଉଣୀ ଏବଂ ରାଜ୍ୟବାସୀଙ୍କୁ ଆନ୍ତରିକ ଅଭିନନ୍ଦନ। ସ୍ଵତନ୍ତ୍ର ପ୍ରଦେଶ ଗଠନର ପୁରୋଧାମାନଙ୍କୁ ମୋର ବିନମ୍ର ଶ୍ରଦ୍ଧାଞ୍ଜଳି। ଆସନ୍ତୁ, ଓଡ଼ିଆ ଜାତିର ସ୍ବାଭିମାନ ଓ ଓଡ଼ିଶା ଜନନୀର ସମୃଦ୍ଧି ପାଇଁ ଆମର ମିଳିତ ଉଦ୍ୟମକୁ ଆହୁରି ଶକ୍ତିଶାଳୀ କରିବା। ବନ୍ଦେ ଉତ୍କଳ ଜନନୀ। #UtkalaDibasa pic.twitter.com/gLqo0H4KBg

— Naveen Patnaik (@Naveen_Odisha) April 1, 2019
According to details available, after losing its political identity completely in 1568 following the defeat and demise of the last king Mukunda Dev, efforts resulted in the formation of a politically separate state under British rule on a linguistic basis on 1 April 1936.
The main revolution in this separate state continued for three decades from the very day of formation of Utkala Sammilani that led to the foundation of a separate Odisha Province.