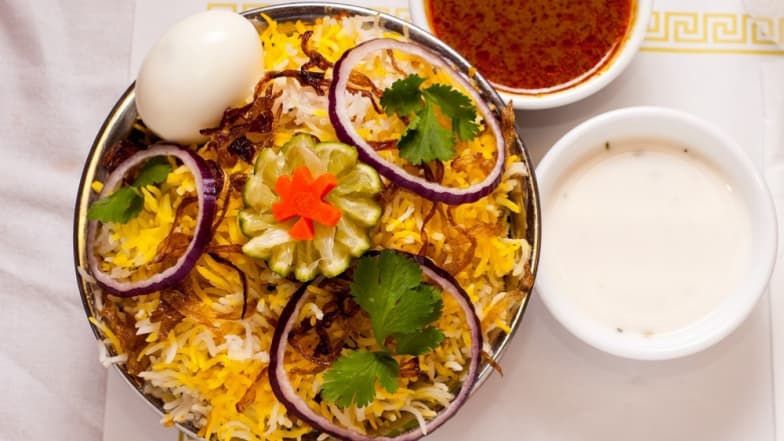 Hyderabad's Paradise Biryani restaurant chain which is known for its world-famous biryani has made its entry to the Limca Book of records 2019 for 'Most biryani servings in a calendar year'. According to Limca Book of Records, the Paradise Food court has sold more than 70 lakh plates of biryani. To be precise, the food chain sold 70,44,289 plates of biryani between January 1, 2017, and December 31, 2017. Not only this, the restaurant chain was also awarded best biryani at the Asia Food Congress in Mumbai.
"Limca Book has recorded that Paradise Food Court has sold 70,44,289 biryani servings between January 1, 2017, and December 31, 2017...The achievement is recorded in the 2019 edition of the Limca Book of Records," the restaurant said in a press release issued last week. Chicken Biryani Beats Pizza to Become the Most Ordered Food of 2017!
Ali Hemati, Chairman of Paradise Food Court was awarded 'Lifetime achievement award' for his contribution to food, restaurant and hospitality services at Asian Food Congress. Going back to history, Paradise restaurant was founded in Hyderabad in 1953. Initially, it began as a 100 seater small cafe serving tea and snacks but later as the popularity grew it became world-renowned. The restaurant has multiple branches in Hyderabad, Bangalore and Chennai.
"Entering the Limca Book of Records and being rated as the Restaurant Serving Best Biryani by the Asia Food Congress give us twin joy, and a testament to the love our loyal customers shower on us," Gautam Gupta, CEO, Paradise Food Court, told Business Line.
The restaurant chain has recently won the Telangana State Hotels Association's 'Pride of Hyderabad' award as well as 'Swiggy Public Choice for Biryani – Delivery' award.