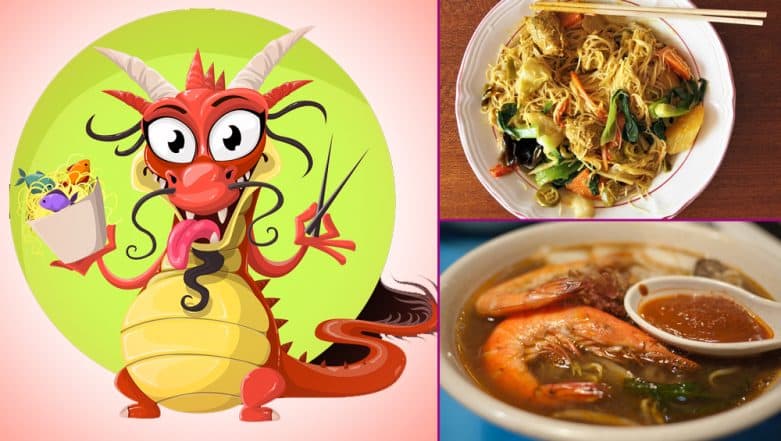 It is time for the Chinese New Year 2019. Also called as the Spring festival, this is going to be the Year of the Pig. Contrary to the western world, the Chinese follow the lunar calendar. So the new year begins according to the cycle of the moon. It is indeed one of the widely celebrated festivals in the world. Not just in China, worldwide there are certain celebrations associated with the Chinese New Year. And no celebration is complete without a special food menu. Chinese cuisine is immensely popular even in India and we have some of the best restaurants catering to your Chinese food cravings. Several places also keep a special menu to bring in the Chinese New Year. We give you a list of the best Chinese restaurants in Mumbai and Delhi so that you can enjoy delectable Chinese cuisine on this festive occasion. Lucky Food for Chinese New Year 2019: Eat These 5 Dishes for Wealth, Prosperity and Good Luck in the Year of the Pig.
The Chinese also follow a 12-year cycle and each year has an animal signifying to it. Chinese New Year 2019 animal is Pig. Cultural gatherings, social activities, lantern festival are all a part of ringing the beginning of their new year. Chinese cuisine is so popular, that we, in fact, have Indianised a few dishes here to suit the taste of Indians. You can relish your cravings of Chinese food at some of the best food joints of Chinese food and join in the celebrations.
Best Chinese Restaurants in Mumbai and Delhi
Yautcha in Bandra, Mumbai: It is one of the fine-dine places in Mumbai to enjoy Chinese food. A bit on the expensive side, Yautcha is famous for its dumplings, noodles and mocktails. For Chinese New Year, they often have a special menu and even decorate the place to add to the vibe of the celebrations.
Hakkasan in Bandra, Mumbai: Hakkasan has its roots in London but the brand has expanded globally and has its chain in Mumbai as well. They have already started their Chinese New Year celebrations and they will go on for the month of February. The Hakkasan Chinese New Year is on till 24th of February, where people can enjoy a special dinner menu. They have an extensive menu of vegetarian dishes along with their signature dishes. A high-end luxury restaurant they cater to all their guests with excellent service.
China House in Santacruz, Mumbai: Located in Grand Hyatt, Santacruz, China House is another high-end Chinese restaurant in Mumbai. They have a specially crafted menu for the Chinese New year 2019 until February 25. They will be serving traditional delicacies like spinach pinet dumpling, Truffle prawns dumpling, wok-tossed edamame prawns, steamed fish with chicken stock, wok-fried snow peas and lotus are some of the dishes on this menu. These are specially curated dishes by their chefs.
Street Monk in Gurgaon, Delhi: One of the budget-friendly and best places to enjoy Chinese food in Delhi is Street Monk. Lovers of Chinese cuisine call it heaven. Among the most popular dishes here are five spice chicken fried dim sum, chilli garlic dim sum, honey fried noodles and chilli potato. It is affordable and also satiates your craving with its taste.
The Golden Dragon, New Delhi: This is one of the oldest Chinese restaurants in Delhi which has its chain in Mumbai as well. Specialising in oriental cuisine, they have a speciality for every month. They have a different assortment on their menu and the fish dishes are among the most popular ones here.
Shang Palace in Janpath, Delhi: A luxurious place located in Shangri-La's Eros Hotel in Janpath, the ambience of the place will add to your food experience. One can enjoy the feel of the food as it is being prepared and brought on your table.  They have Shangtastic Dim Sum Lunch which has about 14 varieties of dim sums available for people.
These are some of the famous joints in Mumbai and Delhi that are known for their Chinese cuisine. Some of the places are hosting a special menu for the Chinese New Year and we are sure you don't want to miss out on these offers.