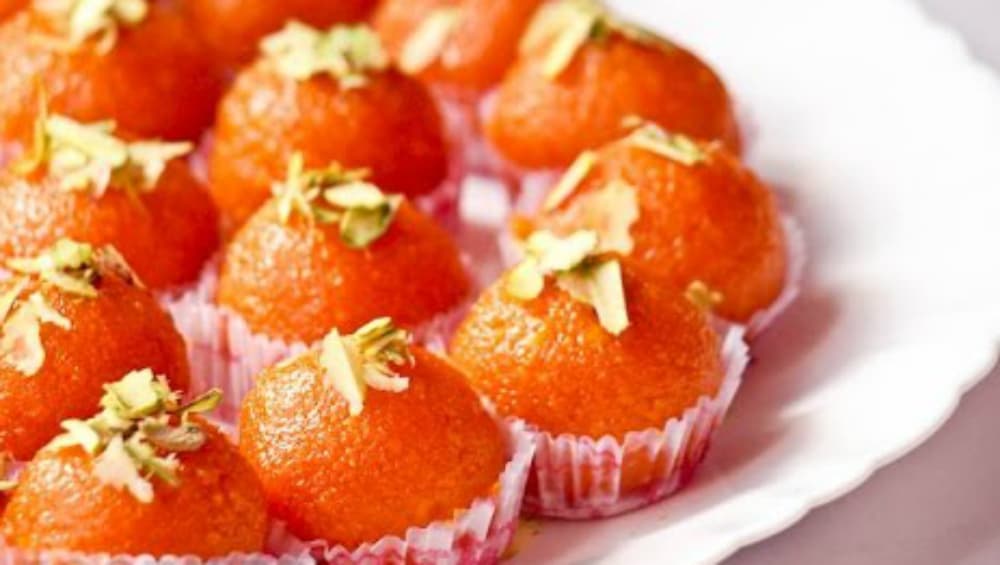 The auspicious festival of Diwali is here. Each corner of the country is adorned with colourful lights and earthen lamps to mark the festival of lights. With the celebration comes the delicious sweet delights. No Indian festivals can ever be complete if not indulged in traditional sweets, and the festival of Diwali is no less. Gujiyas, barfi, soan papdi, gulab jamun, you name it the plateful of sweets are ready, gracing the Diwali parties. Of all is motichoor ladoo, the round-shaped sweetmeat made from fine tiny balls of besan and graciously offered to Goddess Lakshmi on Diwali. This is the favourite sweet delight of all, and every household happily prepares it. The festival of lights is fast approaching, and we understand that there is a lot to make. But it does not take much time and effort to prepare this sweet dish. Here we present you the recipe for Motichoor Ladoo. Follow these quick and easy steps to make the traditional sweet delight at home and enjoy Deepavali celebration. We have also attached a video tutorial for a much clearer understanding. From Namak Pare to Chakli, Here's How to Make Quick Party Snacks for Deepavali Celebration. 
Motichoor Ladoo is commonly offered as prasad. And once you take a bite of it, you cannot just hold back at one. Deeply fried in ghee or oil, motichoor ladoo is the favourite festive treat across our country. The word 'motichoor' translates to crushed pearls. It just could not have a better name for the delicacy. Below in this article, we have provided quick and easy steps to make motichoor ladoo for the festival. How to Make Balushahi For Diwali 2019? Easy Sweet Recipe That You Can Make At Home For Deepavali Festival. 
Motichoor Ladoo Recipe:
Step 1: Prepare the sugar syrup first. Heat water in a large pan over medium flame. Add sugar and stir it until fully dissolved. Add milk and let it cook for nearly three to five minutes.
Step 2: Once the sugar syrup attains two string consistency, add cardamom powder and orange food colour. Again, stir well for a few minutes and keep aside.
Step 3: Take a large bowl, mix besan flour and milk until smooth. Add baking soda and mix it nicely.
Step 4: Heat ghee in a large frying pan.
Step 5: Now place a pierced vessel on top of the ghee and add some of the batters. Ladoos are more delicious when you prepare the boondis in ghee. It enhances the flavour and aroma of the ladoo.
Step 6: Allow them to fall in the hot oil and cook until golden. The boondis should be soft. Place them on a tissue and let it soak the extra oil.
Step 7: Now mix the sugar syrup well.
Step 8: Let them cool slightly and shape them into small or medium ladoos. Your motichoor ladoo is ready to serve. You can store them in an airtight container.
Watch Video: Motichoor Ladoo Recipe
These were the quick steps to prepare the richly flavoured sweet. The festival of lights will be incomplete if Motichoor Ladoo is not included in your recipe. Relish in the deliciousness of the sweet delight and enjoy Diwali celebration.