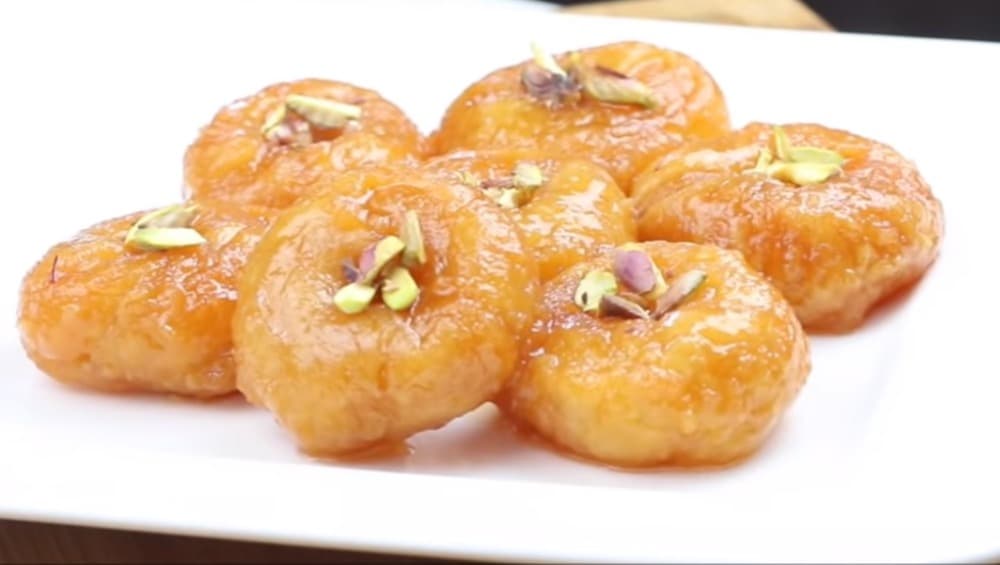 Diwali is synonymous to sweets and delectables in India. From ladoo, jalebi, chakli to nankhatai, an array of sweets are prepared at home ahead of the festival. And one of the popular sweets prepared at Indian households during the festival is Balushashi. It is a famous North Indian sweet made during Deepavali and other celebratory occasions. Soft and flaky, the fried sweet which is dipped in sugar syrup melt in the mouth. As Diwali 2019 approaches, we bring to you the recipe to prepare Balushashi at home. Diwali 2019 Recipes: How to Make Chakli, Besan Ladoo for Faral This Festive Season at Home (Watch Videos)
Balushashi originated in the kitchens of Moghul emperors and is a popular sweet in Indian households today. While making Balushahis may require a lot of time and effort, we have found an easy and quick recipe to prepare it. Show off your culinary skills by making this sugar-dripping sweet at home this Diwali. Diwali 2019 Healthy Recipes: Diabetic-Friendly, Low-Calorie, Sweets for Anyone with a Sweet Tooth.
Ingredients to prepare 16 servings of Balushahi
6 cup all-purpose flour
3 cup water
8 cup sugar
2 cup ghee
1 cup baking soda
2/3 cup ghee
1/2 cup pistachios
Recipe to Prepare Balushahi at Home
1. Mix flour (maida) and 2/3 cup ghee with a pinch of soda in a large bowl till it becomes a stiff dough.
2. Make small dough balls from the dough and roll it into bite-sized balls.
3. Take a deep fry pan and add some ghee. Once the ghee is hot put the balls into it and fry them till they are brown. Take the brown balls out of the oil and put it on a tissue paper to absorb the excess ghee.
4. Heat a small vessel over medium flame and add some sugar and water to them. Let it heat till it becomes a thick syrup; add some saffron strands to it.
5. Add the fried balls into the sugar syrup and let it absorb the sugary syrup. Take the balls out of the liquid and garnish it with pistachios. Once it cools down, you can serve Balushahi with tea.
How to Make Balushashi at Home:
Balushahi is popular in states like Bihar, Rajasthan, Uttar Pradesh among others. In South India, it is known as Balushahi or Badusha. It is also known as Indian doughnuts due to its shape and appearance. However, it tastes nothing like doughnuts with the taste and texture of the sweet dish being completely different.