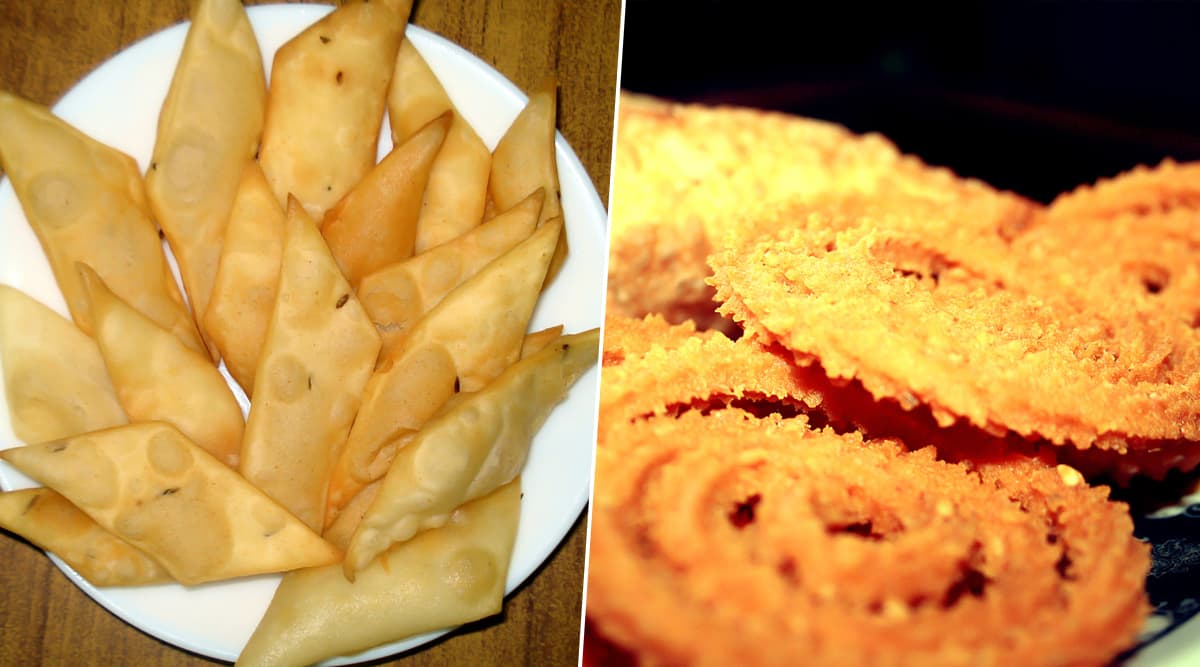 Can there ever be any festival without the list of scrumptious food? We all say, no! Because India is a land of traditional food and festivals. No celebrations can ever be complete without the delicious recipes. So, how well prepared are you for Diwali? The festival of lights is just a very few days away. You are already engaged with the traditional decorations and other preparations for the festival. But it is fresh namkeen and snacks that take more time and effort. It is easy to get those snacks and sweets delivered from your favourite halwai. However, preparing it in your home, is what adds traditional charm to the festivity. So, why not try it! Here we have got you sorted with the best Diwali namkeen recipes. From Namak Pare to Chakli, below is how you can make quick party snacks for Deepavali celebrations. Note that each Diwali 2019 snack recipe has been dedicated a video tutorial for your quick guidance. Brighten Up Your House With Diyas, Lanterns, Fairy Lights and Candles This Deepavali. 
Namak Pare
The texture of Namak Pare should be crispy and crunchy and is served best with tea. The essential ingredients for Namak Pare are maida, sooji, salt, ajwain and ghee. The trick to the crisp is to knead the dough as tightly as you can and deeply fry on very low heat. You can keep them in-store and enjoy the evening cup of tea or coffee with a small bowl of Namak Pare. Diwali 2019 Taash Party: Know How to Play Teen Patti, The Indian Poker Game, Rules and Ranking of Hands. 
Aloo Bhujia
Aloo bhujia is a dry snack which is made with chickpea flour and mashed potatoes. Add chilli powder or chaat masala and salt as per taste. To get the fine end, you are recommended to deep fry the chunks and remove from oil on a kitchen tissue lined plate. Once the tissue soaks the unwanted oil, store it in a container.
Chakli
Another delicious recipe, Chakli, is a spiral-shaped snack made with rice flour, gram flour, spices and herbs. To give a light texture to the chaklis, add fried gram to the process. Other ingredients include sesame seeds, cumin, ajwain, as per to your taste. From Kali Puja to Tamil Deepavali, Here's How the Festival of Lights Is Celebrated in Different Regions of India. 
Kachori
Dal Kachori is an absolute delight to any festivities. They are actually deep-fried bread made with ground dal sautéed along with spice and filled in a cover of maida and baking powder. Super crisp, flaky and utterly delicious, Kachoris are the ultimate snack that your guests will not be able to resist.
Pakode
Serving your guests a plate full of hot and crispy onion pakoda is the most sorted recipe. Diwali falls during autumn, and most parts of the country prepare themselves for the winter season. Hence, this quintessential snack made with flour, salt, light spice and the main ingredient being onion or any other vegetable as an alternative has to be the best recipe of all. It is effortless to prepare, especially when you have unexpected guests at home. 10 Precautionary Measures Every Parent Must Take to Keep Children Safe From Firecrackers This Deepavali. 
These are the best and easiest recipes to make during the festival of lights. Making food at home could be tricky at times, as each of the methods needs its special ingredients. But not for the above snacks! With all the basic items that you have at home, you can prepare these tasty recipes quickly and enjoy your Diwali party.