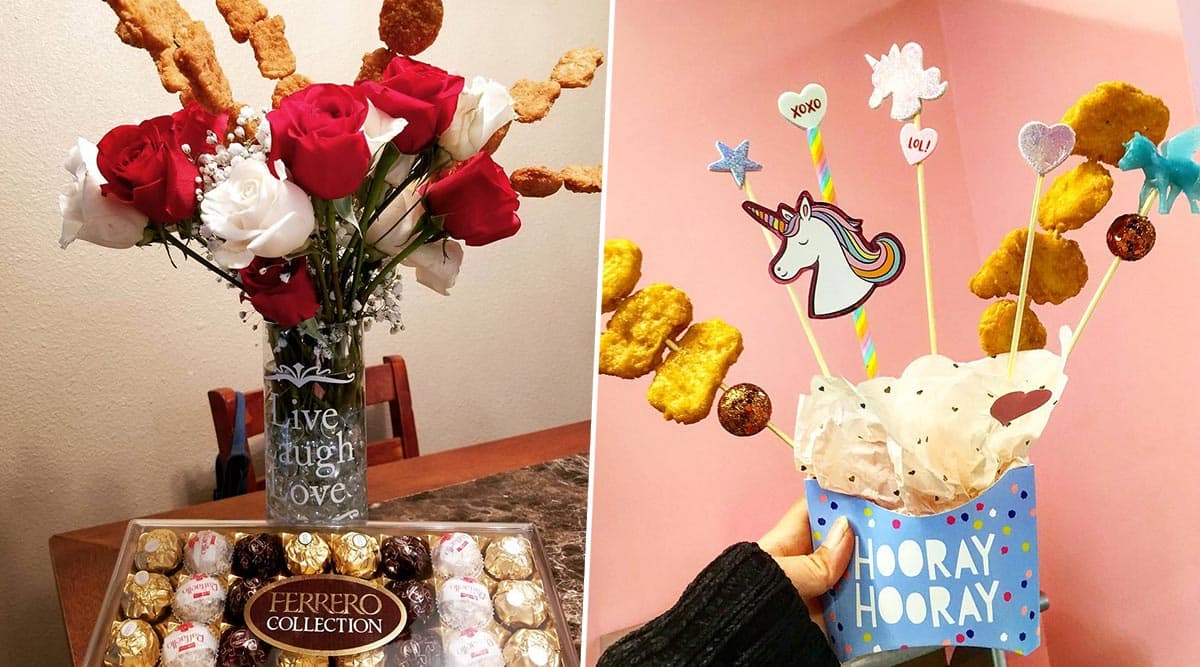 February is barely a week away and that means it's the time to prepare for Valentine's Day 2020. The day of love is soon approaching and many of you would be busy thinking about what to gift your partner? If you are planning on what would be the perfect gift then the recent trend points to chicken nuggets bouquets! If your partner is a foodie and loves chicken, then it is time to put away the traditional flowers and go for a chicken nugget bouquet instead. Pictures of chicken nugget bouquets are already popping up on Instagram feeds and some of you may want to Valentine's Day to come sooner because this gift sure looks delicious. McDonald's Employee Would Put 11 Nuggets in Every 10-Piece for Two and a Half Years! Netizens Say, 'Not All Heroes Wear Capes'.
Chocolates and flowers have always been a gifting choice among lovers. But how about going for a better edible gift starting this year? Chicken nugget bouquets are essentially nuggets skewed onto sticks and arranged like flowers in a bouquet, wrapped with a ribbon to give it a pretty appeal. Those who have received their bouquets in the past have flaunted them on their Instagram and even you'd want to get one of those if you are an absolute lover of chicken nuggets.
Check Some Pictures of Chicken Nugget Bouquets:
Oh So Yummy!
View this post on Instagram
So Pretty!
View this post on Instagram
Foodie Love!
View this post on Instagram
You Could Add in Flowers Too!
Chicken nugget bouquet is clearly emerging as an option for Valentine's gift and foodies will definitely love it. So on this Valentine's Day 2020, impress your partner with this delicious gift which both of you can share too.