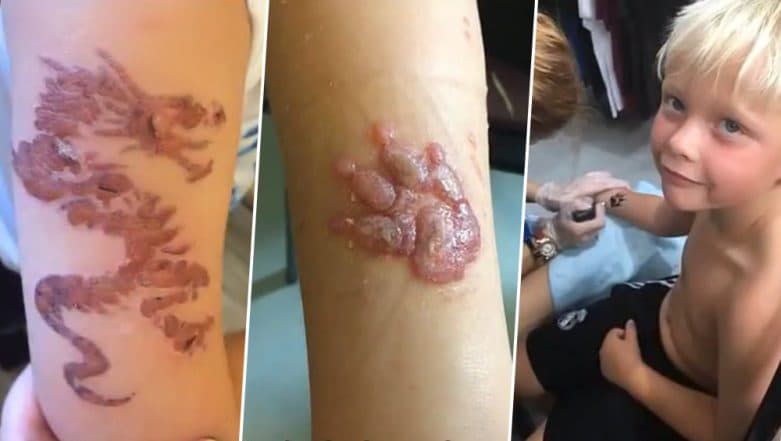 Henna tattoos can be really fun to get especially when you are on a holiday, and you want to return with the reminisces of the place. However, the same thought didn't go very well for an eight-year-old boy who suffered from major chemical burn because of the henna tattoo that he got during a vacay he went with his family to Spain. The 8-year-old may need skin grafting surgery after 'henna tattoos' from a family holiday left him with horrific chemical burns. The little boy named Owen Richardson met with the accident when he was seven that is last year, suffered from an injury in the shape of the tattoos he had gotten. He got a huge dragon and a paw on his right arm and a tribal tattoo on his chest. Symptoms began to show only after a week when the black picked flaked off, and allergic reactions erupted all over his body.
Take a look at a video of Owen Richardson with the allergic reaction.
The burn was caused by the presence of a common chemical in 'black henna' and hair dyes called Paraphenylenediamine (PPD.) His mum, Leanne, feels terrible to have allowed Owen to get the henna tattoo done. She says that decision will 'haunt me for the rest of my life'. She said to Metro: "We knew nothing about the dangers of black henna tattoos, when I finally Googled it my blood ran cold. It broke my heart knowing I allowed my son to be harmed in this way. He'd had them before in Florida and loved them and decided to have it done on the last day as he didn't want it to come off in the pool."