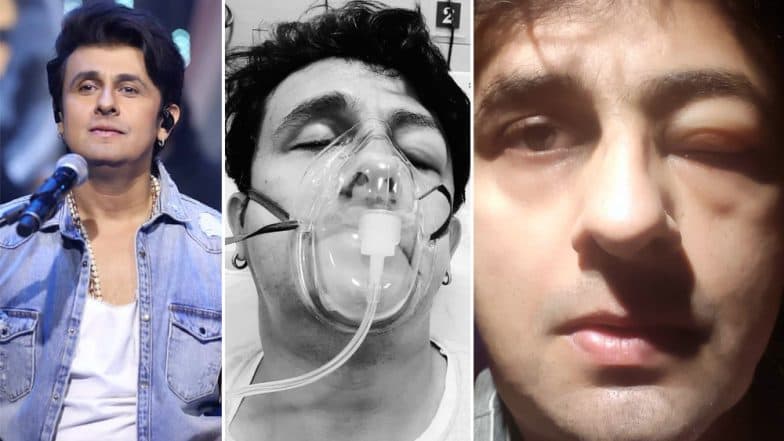 In a piece of shocking news, Bollywood's playback singer, Sonu Nigam shared a picture of himself from an ICU of Nanavati Hospital. A scary skin allergy because of seafood caused Sonu Nigam to be rushed to the hospital immediately. The famous singer was immediately admitted to ICU of Nanavati Hospital as his face turned unrecognisable because a kind of seafood allergy that caused his face to swell up in no time. Sonu Nigam finally has now shared some of his pictures updating his fans and loved the one about his well being and also thanking them for their love and concern. C-Section Babies Suffer From Allergies Since They Are Not Exposed To Vaginal Bacteria While Birth.
Reports have it that the Sonu Nigam was eating when he was attacked with severe skin allergy. Sonu Nigam also mentioned that the allergy was so severe that it could have caused his trachea to swell up further and lead to asphyxiation. The singer seemed like he was suffering from progressive rashes after which he was rushed to the hospital on an immediate basis. Some reports believe that Sonu Nigam was admitted in ICU of a hospital for two days and was discharged later.
Sonu Nigam's pictures from ICU
What is Seafood Allergy and Common Allergens?
Seafood allergies are becoming more and more alarmingly common these days. The prevalence of seafood allergies has increased especially in the last 2 decades. Allergic reactions to seafood can range from mild to severe and some can even be life-threatening anaphylactic reactions. Seafood is composed of diverse sea organisms, and humans can be allergic to many of them. Tropomyosin is known to be one of the most significant allergens in many shellfish, especially lobsters and molluscs.
Common Symptoms of Seafood Allergy are:
Tingling sensation in the mouth worsening over time

Abdominal pain, diarrhoea, nausea, vomiting soon after coming in contact with the allergen.

Feeling of congestion, breathing problems and wheezing.

Visible skin reactions including swelling, itching, hives, or eczema, swelling can be seen on the face, eyes, eyelids, lips, tongue, throat, ears, fingers, or hands.

Dizziness, lightheadedness, or fainting.
The singer said be feeling better now. He was able to share this incident with us while he was returning from Jeypore Odisha after a musical concert.