Swine flu cases have been increasing in India. As of March 3, 17,366 cases of the H1N1 infection and 530 deaths have been recorded in India. The viral disease spreads through the saliva or mucus of an infected person. As health authorities are scampering to contain the spread of swine flu, another viral menace has been rearing its head on social media – miracle Whatsapp remedies. These fake messages routinely show up on family Whatsapp groups, forwarded by well-meaning aunts and uncles. One of these misleading forwards has cropped up at an opportune moment – right before Holi when the nation is grappling a swine flu epidemic. The message claims that burning camphor and green cardamom in the Holika Dahan will effectively get rid of the deadly virus. Swine Flu: Symptoms, Causes and Treatment; Home Remedies To Prevent H1N1 Virus.
The message reads:
Sabhi se nivedan hain ki jab aap holika dahan main jaye toh kapur aur choti ilaichi saath me jalaye. Kyunki kapur aur choti elaichi ki khushbu se swine flu ka virus mar jaata hain.
(Requesting everyone to burn camphor and small cardamoms in the Holika Dahan pyre. Because the fragrance of camphor and cardamom can kill the swine flu virus.)
Holi pure desh main manai jaati hain. Ek saath pure desh main itna kapur va choti illaichi jalane par swine flu ka 70 pratishat virus hawa main hi samapt ho jayega.
(Holi is celebrated all over India. If the entire country burns camphor and small cardamom at the same time during Holi, 70 percent of the swine flu virus in the air will be killed.)
Is sandesh ko adhikh se adhikh logon tak pahunchaye aur desh ko swine flu se bachaye"
(Spread the message to as many people as possible and save the country from swine flu.)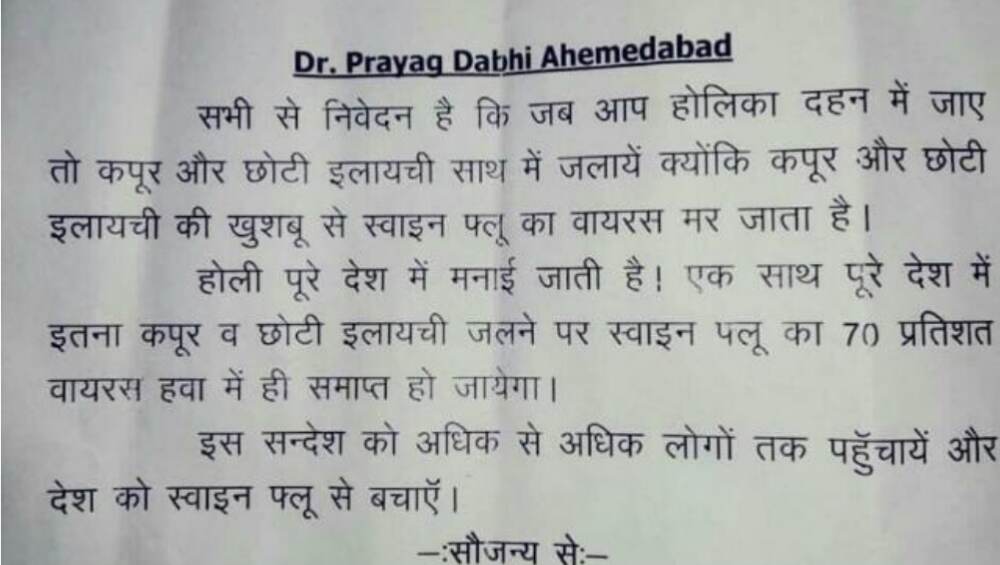 The message states that burning camphor and green elaichi or cardamom in the Holi pyre will be effective against the swine flu virus.
The message first appeared on WhatsApp in 2015 when a swine flu outbreak in the country claimed 1,000 lives. It was seen all over social media, especially around the time of Holi.
Is There Any Truth to It?
Do camphor and cardamom have antiviral properties to kill the swine flu virus? When LatestLY reached out to Dr Prayag Dhabi, the purported sender of the message, he clarified that it was indeed sent out by his team.
He said that camphor is a powerful antimicrobial that can kill bacteria, virus and other disease-causing pathogens. He also stated that since camphor produces high heat on being burnt, it helps in killing the disease-causing virus in the air. However, Dr Dhabi was not able to back up his claims with scientific proof.
Camphor is an organic compound commonly used in ointments and balms for its analgesic qualities. Studies have shown camphor to have antimicrobial qualities. A 2010 study showed that camphor-containing ointments can be used to treat toenail fungus.
A 2014 study published in the journal Bioorganic and Medical Chemistry does say that derivatives of camphor can inhibit influenza virus reproduction and offer some protection against the virus. But there's no way to ascertain whether camphor actually helps in killing H1N1 virus. Swine Flu: Best Foods To Strengthen Your Child's Immune System and Prevent H1N1 Infection.
Cardamom, on the other hand, is said to have antiviral qualities as per Ayurveda. Although the spice is used in the treatment of viral ailments like cough and common cold, there is insufficient scientific evidence to back claims that it can kill viruses.
Best Foods to Boost Immunity against Swine Flu Virus:
What You Should Know About Swine Flu Virus
Swine flu is treatable only with antiviral drugs. While there's no real harm in burning camphor and cardamom in the Holi pyre, there's no guarantee that it will kill the H1N1 virus. The only way to prevent getting an infection is to follow safety practices. According to the National Centre for Disease Control, the following preventive measures will go a long way in preventing swine flu:
Covering nose and mouth while coughing

Washing hands regularly

Avoiding touching nose and mouth

Drinking plenty of fluids

Avoiding self-medication

Avoiding shaking hands

Avoiding crowded places
Pregnant women, infants, senior citizens, immunocompromised patients, people who have undergone surgery recently and those who are on long-term medication are the ones who are particularly at risk.
(The above story first appeared on LatestLY on Mar 14, 2019 07:36 PM IST. For more news and updates on politics, world, sports, entertainment and lifestyle, log on to our website latestly.com).