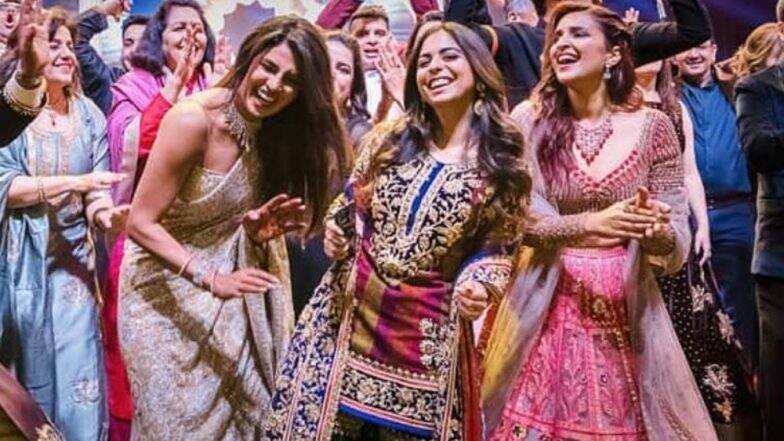 You might think that Isha Ambani Piramal and Priyanka Chopra are the new BFFs of the tinsel town but hey, their friendship goes back a long way. And you know the friendship means a great deal to them when Isha was invited for PeeCee's bachelorette in Amsterdam or the latter attended her soiree right after her wedding. Priyanka is extremely close to the entire Ambani family and their bond has only deepened with time. So when a down to earth girl like Isha is questioned about how she balances her equations with ordinary friends and the likes of Priyanka Chopra, she has a valid explanation to it. Did You Know Akash Ambani Gave His Wedding Dates to Darling Sister, Isha Ambani Piramal?
In her recent chat with Vogue India, when Isha was asked about her friendship with Priyanka Chopra, the girl simply elaborated on how she means more than a friend to her. "PC, I've known forever. But she is more like an elder sister to me. We actually got closer when we were both living away from home in the US. We again share a very real relationship—we see each other in real-life settings and not in like glamorous ones; we have real conversations. She's a really strong mentor and role model," she said. Isha Ambani Says She and Brother Akash Are Twins Born Through IVF 7 Years After Parents Nita and Mukesh Ambani Marriage.
Isha Ambani's new photoshoot for Vogue India
View this post on Instagram

"My dream is to create a museum in Mumbai and bring shows from all over the world to India. Art is a way of recording the history, culture and times. It's as important to preserve art of our times as it is to preserve art of the generations before us." Meet Isha Ambani Piramal (@_iiishmagish) in our February 2019 issue. Words by: Priya Tanna (@priya_tanna). Photographed by: Tarun Vishwa. Styled by: Anaita Shroff Adajania (@anaitashroffadajania) and Priyanka Kapadia (@priyanka86). Hair: Rebecca Chang (@iam_thechang). Make-up: Subash Vagal (@subbu28).
She further revealed how her entire family is blessed to be surrounded by people who are nothing but real to them. Her core group has always been the same since her childhood days and she's glad for finding some right and true friends that aren't necessarily sycophants. It would be naive to say that I've never come across such sycophants, but I always try and see the good in another person and assume their best intent. I haven't come across a "yes" person, who agrees to everything I say", she said when asked if she has ever come across anyone who has his/her interests vested in her.