Miss Philippines Catriona Gray is the winner of Miss Universe 2018. The 24-year-old was a huge favourite to win the coveted title at the 67th edition of Miss Universe beauty pageant at Impact, Muang Thong Thani in Nonthaburi Province, Thailand. With this Catriona Gray becomes the successor of Demi-Leigh Nel-Peters of South Africa who crowned Miss Philippines over Miss South Africa Tamaryn Green. The winning moment is truly beautiful, something that will stay with Catriona Gray for a lifetime. The pictures and videos from Miss Universe 2018 stage will be long-cherished by its new titleholder. She pipped Miss South Africa Tamaryn Green and Miss Venezuela Sthefany Gutiérrez to become the Miss Universe 2018. Miss Universe 2018 Winner Name: Catriona Gray from the Philippines is Crowned as Successor of Demi-Leigh Nel-Peters in the 67th Edition of the Beauty Pageant.
Catriona had won her first beauty pageant at the age of five. She was among top-five at the 2016 Miss World beauty competition. Despite being denied a win two years ago, the gorgeous Miss Philippines continued to pursue her dreams of winning a prestigious beauty pageant. Her confidence, hard work and winning attitude resulted in a fantastic win at the Miss Universe 2018. Be it the national costume round, swimsuit, gown rounds or the final Q&A, Catriona Elisa Magnayon Gray nailed it all. She sailed into top-20, top10, top-5 to bag the Miss Universe 2018 crown and sash with utmost ease. Catriona Gray Wins Miss Universe 2018 Crown: See Pics of Miss Philippines Who Won at the 67th Miss Universe Beauty Pageant.
You Can Watch Video of Interview with Newly Crowned Miss Universe Catriona Gray
Let us talk about the moment when final three beauty queens were waiting with a bated breath for the host Steve Harvey to announce their name as Miss Universe 2018. Catriona was joined in by Tamaryn Green of South Africa and Sthefany Gutiérrez of Venezuela. Harvey announced Venezuelan actress-model as the second runner-up and after that Catriona Gray and Tamaryn Green held each other's hands to wait for the final result. Enough said and now watch Miss Philippines' reaction when Steve Harvey announced Catriona Gray's name as the Miss Universe 2018. Who Is Catriona, Miss Universe 2018? Miss Philippines Wins the 67th Miss Universe Crown! (See Pics).
Watch Full Video of Miss Universe 2018 Crowning Moment
See Pics of Miss Universe 2018 Catriona Gray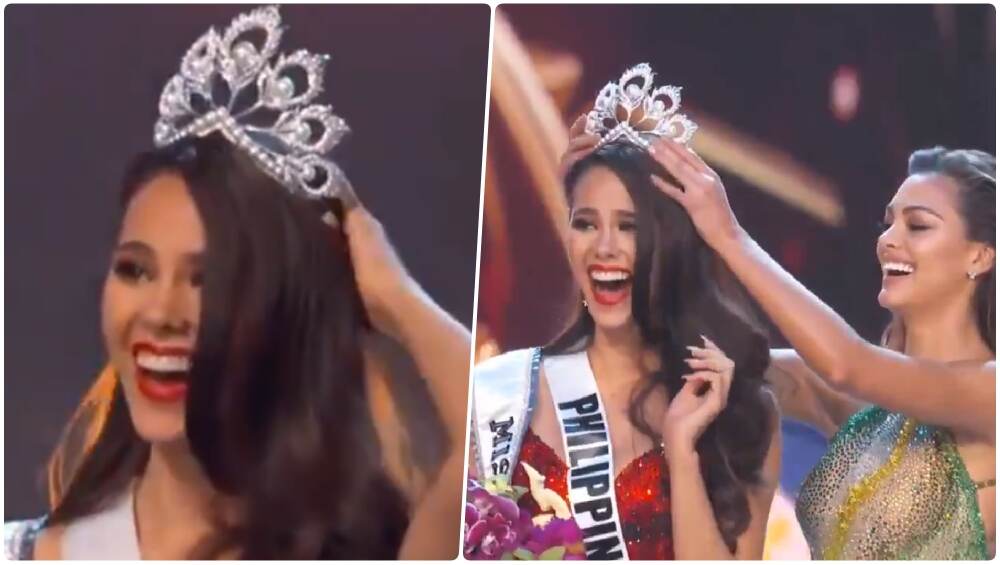 At the grand coronation, Miss Universe 2018 Catriona Gray said, "I stand here today because someone believed in me and we owe it to our children to believe in them." Australia-born Catriona Gray became the fourth Filipino to win the Miss Universe crown after Pia Wurtzbach (2015), Margie Moran (1973), and Gloria Diaz (1969). Congratulations, Miss Universe 2018 Catriona Gray!