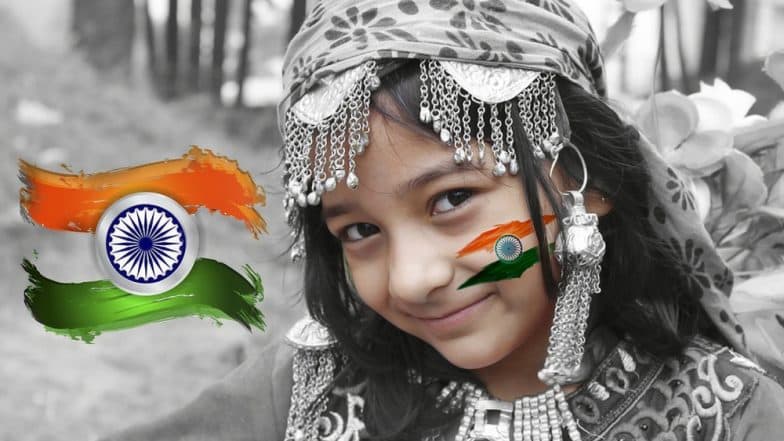 This year we will be celebrating the 70th Republic Day(26th January) of our country, honouring the date on which the Constitution of India came into effect. It was on 26th January 1930 that the National Congress proclaimed the Declaration of Indian Independence. Indians celebrate this day with great enthusiasm and love. With every nook and cranny decked up in tricolour, the day begins with flag hoisting and sweets distribution on this day. However, one of the very popular practices in terms of celebrating Republic Day has remained to dress up the desi way. Especially the kids who surely have some or the other function in their school or neighbourhood. Dressing the kids up makes them excited for the day as well. Republic Day 2018: Try Out These Tri-Colour Themed Dresses on January 26!
Here are a few no-fuss inspirations for parents to help dress their kids up for the celebration of 26th January.
You can dress your kid as different freedom fighters of India. Some of the examples can be Rani Lakshmibai, Bhagat Singh, Gandhi Ji, Bal Gangadhar Til, Netaji Subash Chandra Bose, etc. Here's a video that can suggest you some options that you can choose from.
If you don't want to go all out and about with a costume, you can make little tweaks with the accessory to give your child's look an Indian touch. For example, here is an easy way to make a tricolour headband that you can make your child wear. You can also use it as a wrist band for your child. Here's a video that can help you DIY a tricolour headband.
If your kid wishes to dress up like his or her favourite Prime Minister of India, you can easily give that option a chance. Depending on your child's favourite Prime Minister give him or her a makeover. Here's a video that can help you provide a sneak-peak on how to make your child look like our current prime minister, Narendra Modi.
More than the dress it is also about how your child carries the costume. Make sure the costume is easy to wear and does not contain something that can choke your kids.