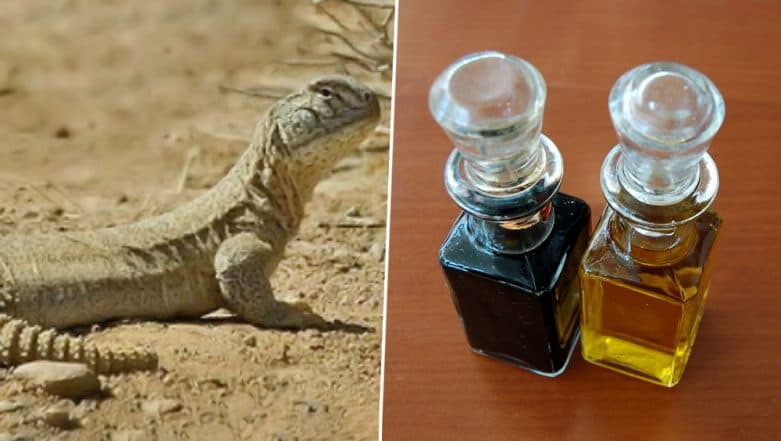 Sanda ka tel is the Hindi phrase used for oil derived from spiny-tailed lizards that are commonly found in the Kutch desert. The fat present in the body of a sanda (spiny-tailed lizard) is extracted and then used illegally as an aphrodisiac. Roadside quacks and babas who claim to "solve your sexual problems" usually sell it to misguided people as a natural or herbal remedy to increase penis size and erection duration. Well, not only is it absolutely cruel to kill those spiny-tailed lizards but also there is no scientific backing that it works. Sanda oil is marketed as the magical embrocation that can cure impotence and erectile dysfunction. You must know that claims like "rubbing the oil on the penis will increase its size, length, or erectile inflexibility" are wrong. Some quacks even sell these oil for prices as high as 10000 rupees a bottle. They make money playing on people's insecurities and provide them with fake medicine to increase penis size and sexual stamina. DIY Penis Enlargement Methods with Coconut Oil and Silicone in Papua New Guinea Worries Doctors. 
The Indian spiny-tailed lizard that is often called by its scientific name Saara hardwickii is actually named after Thomas Hardwicke, and it is not barred from being purchased or sold illegally, thanks to the efforts of Meneka Gandhi. So now if you are caught with the animal, you could actually fall in trouble. How to Make Your Penis Bigger in 45 Minutes? Penis Implants Are Now Available for Men Which Can Make a 'Huge' Difference.
What Happens When You Apply Sande Ka Tel on Your Penis?
There is no study or on-going research that has backed any of the claims made supporting the effects of sande ka tel on improved sexual performance. In fact, rubbing sande ka tel on your penis may invite other infections and issues. Moreover, buying such oil from some baba or roadside quack doesn't even guarantee the authenticity of what oil it exactly is. For all you know, the person could be selling olive oil. People who have a micropenis usually fall for such false claims.
Sande ka tel is such a famous "natural home remedy" for erectile dysfunction that YouTube and other social media platform is filled with information that sings its praises.
For example: Watch the video down below that shows you how to make sande ka tel at home.
While we always advise that you must not fall for such remedies, there are in fact, surgical ways of elongating your penis. But remember, not all these methods are effective and sometimes can have terrible consequences.