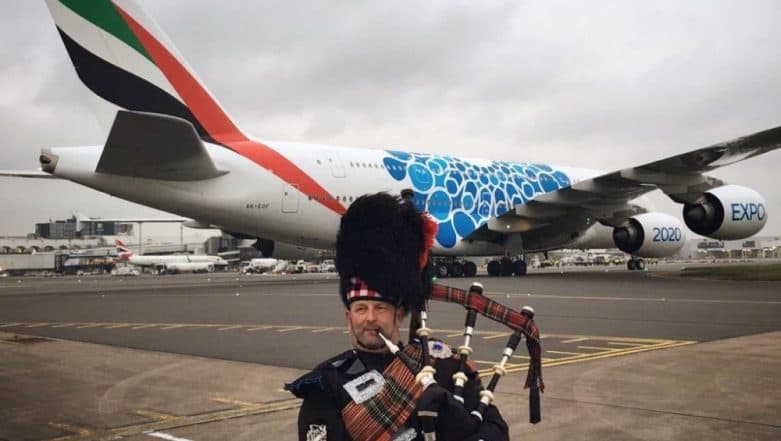 The world's largest commercial passenger plane landed in Scotland on Tuesday. More than Rs 75 crore (£8m) was spent for the arrival of Airbus A380 at Glasgow International Airport. The double-decker jet was welcomed by an array of onlookers with phones and cameras. A lot of engineering work was done to cope with the superjumbo at Scotland Airport. They had made significant changes to accommodate the plane including alterations to the airfield's layout and Scotland's only triple air bridge. Following a dip in sales, Airbus in February announced that it would end production of the A380 in 2021. Stratolaunch: World's Largest Aircraft by Aerospace, Takes Off its First Flight (Watch Video)
Operated by Emirates, Airbus A380 is now scheduled to fly between Glasgow and Dubai for six months. It has three classes onboard including Economy, Business and First, which are Emirates' private suites. Earlier, the twice-daily service was flown using a Boeing 777-300 aircraft. Standing at more than 24m high and with a wingspan of almost 80m, A380 is the world's largest commercial aircraft. A380 has been to Glasgow Airport previously too. Celebrating 10 years of Emirates flying into Scotland's second city, the Superjumbo has first visited the airport in April 2014. Chinese Farmer Who Couldn't Afford a Plane, Makes Replica of Airbus A320 and Names It 'Dream' (Watch Video)
Watch the arrival of Superjumbo at Glasgow International Airport:
Did you see the A380 land at Glasgow Airport? Share your photos and videos in the comments below! #HelloA380 #GLA380 pic.twitter.com/bR7spWFxlb

— Glasgow Airport (@GLA_Airport) April 16, 2019
Checkout Superjumbo here:
What an incredible sight seeing the A380 landing at Glasgow Airport tonight! The start of a regular service. Tremendous! ✈️ pic.twitter.com/GOzNUPGgaX

— 𝕊𝕥𝕦𝕒𝕣𝕥 𝕄𝕔𝕃𝕖𝕝𝕝𝕒𝕟 (@StuartMcL4) April 16, 2019
It can carry about 550 passengers over 8,000 nautical miles and has a maximum takeoff weight of 575 tonnes. During the launch announcement, Mark Johnston, managing director of Glasgow Airport had said, "The decision by Emirates to introduce the A380 is not only a huge milestone for Glasgow Airport, it marks what is a first in the Scottish aviation industry. We have forged a valued relationship with Emirates since its inaugural flight in April 2004 and the introduction of Scotland's first-ever scheduled A380 service represents a major vote of confidence in the city."