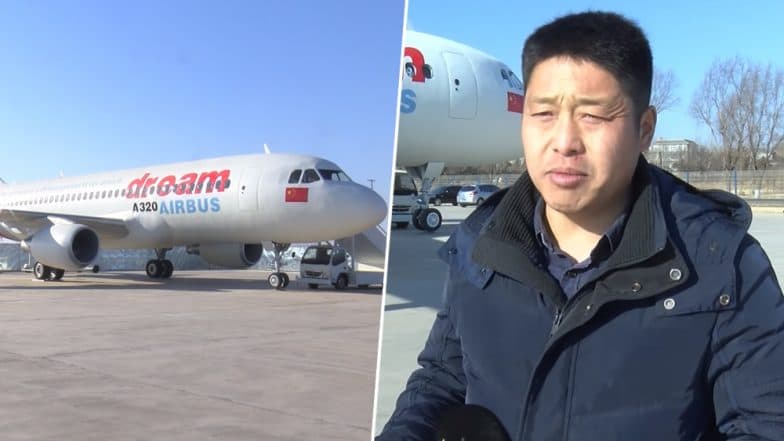 Zhu Yue, a farmer from China dreamt of owning a plane as a child. Although he couldn't afford it, he wanted to have this own plane. So, later in his life, he decided to make one for himself. Zhu did various jobs including farming, only to make enough money for a plane. After becoming financially stable, along with the help of five friends, he set out on his journey.
However, his journey did not go as planned with different problems accompanying his big dream. Zhu Yue said, "I have liked aircrafts since I was a child, but I couldn't afford them then. So I went to junkyards to find usable parts, and make my own plans with mud and plastic." Pune Man Covers His Auto Rickshaw With Grass and Flowers to Beat The Heat, Watch Video.
Zhu's Airbus 320 in the making:
He started building the plane in 2016 and spent over three million yuan (Rs 3.1 crore) on his beloved plane. Zhu named the aircraft which is a replica of Airbus A320 as 'Dream'. He said, "I can recall more than 200 setbacks. Among the most impressive was in 2017, when we installed the wings, we found out hat the original yard was not big enough for it. That was the biggest failure." Kerala Man Makes Cute Mini Auto Rickshaw for His Kids to Play; Social Media Praises His Skill (Watch Video)
The plane was recently opened for public viewing.
Watch the video below:
More than 80 tons of steel has been used in the making of the plane. While the aircraft looks absolutely real on the interiors and exteriors, it cannot fly. Zhu hopes his plane can fly in the skis like other planes. We hope Zhu's 'Dream' comes true!