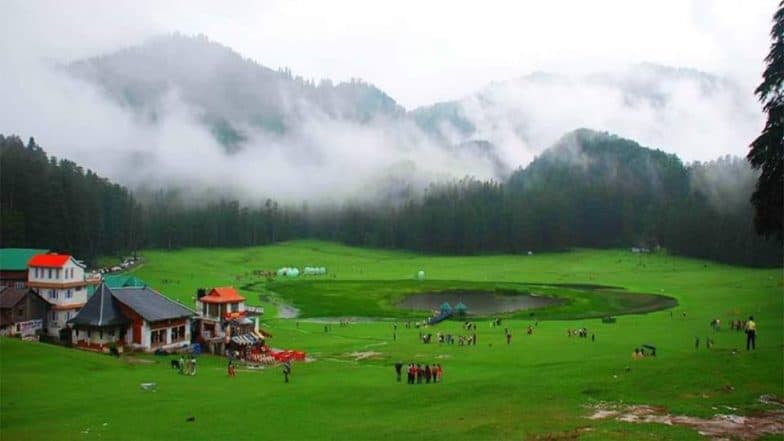 Have you constantly fancied over the beautiful snow-capped mountains of Switzerland that we have seen enough in Yash Raj movies? The Swiss Alps standing tall in front of the beautiful pastures painting a lovely scenic picture. Do you still have that plan on your 'things-to-do' list but are worried about the work leaves and expenditure? Then worry not, because you can get a very similar experience in India too! Yes, India too has a beautiful spot amidst the mountains, which spells sheer beauty, straight out of a painting. Khajjiar, a hill station in Himachal Pradesh is rightly called the 'Mini-Switzerland of India.' A nature lover's heaven and adventure junkie's playground, this little hill station atop a plateau has so much to offer. Let us tell you all the details about Khajjiar, how to get there, the best time to visit, and things to do. Snowfall in Himachal Pradesh Photos: Winter in Himalayan Shanag Village and Spectacular Images of Snow-Capped Mountains.
Located in Himachal Pradesh, Khajjiar is very near to Dalhousie in Chamba district. A plateau surrounded by pastures, mountains on all its sides, Deodar plantations around and a lake in between, the place probably gets all  scenic elements together. It is at 6,500 feet above the sea level and in the winters, the snowfall transforms it into a winter wonderland. Planning Your Holidays? These are the Best Pictured Indian Tourist Destinations on Instagram.
How to Reach Khajjiar
Khajjiar is located in the Chamba district of Himachal Pradesh. It is about 22 kms from Dalhousie and 24 kms from Chamba. The nearest airport to Khajjair is Kangra. The nearest railway station to get here is Pathankot. No direct buses go to the main spot of Khajjiar, so you will have to rely on private cars. There are efficient cab services from Dalhousie and Chamba. It is just an hour and a half long drive from Dalhousie.
Best Time to Visit Khajjiar
We would suggest the best time to visit Khajjiar depends upon you. If you really want to experience the snow-capped mountains and what winter heaven feels like then December- February would be an ideal time to enjoy the snow here. (Mind you, the temperatures drop really low at night time). If you are not much of a fan of winters, then you can enjoy the green cover in the summers. You can go closer to the Khajjiar lake in the summers. Plus, during summers you can enjoy the fun activities like paragliding and horse riding, which are otherwise closed during snowfall. From a grass laden meadow in the summers to heavy snow cover in the winters, this place is beautiful whenever you go.
Here's How Khajjiar Looks During the Winters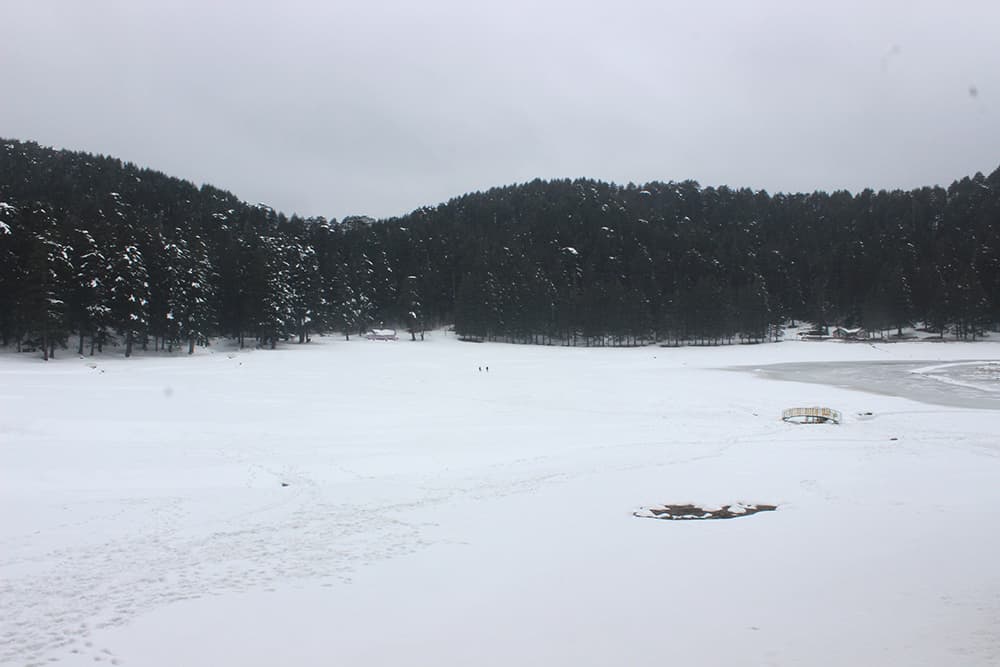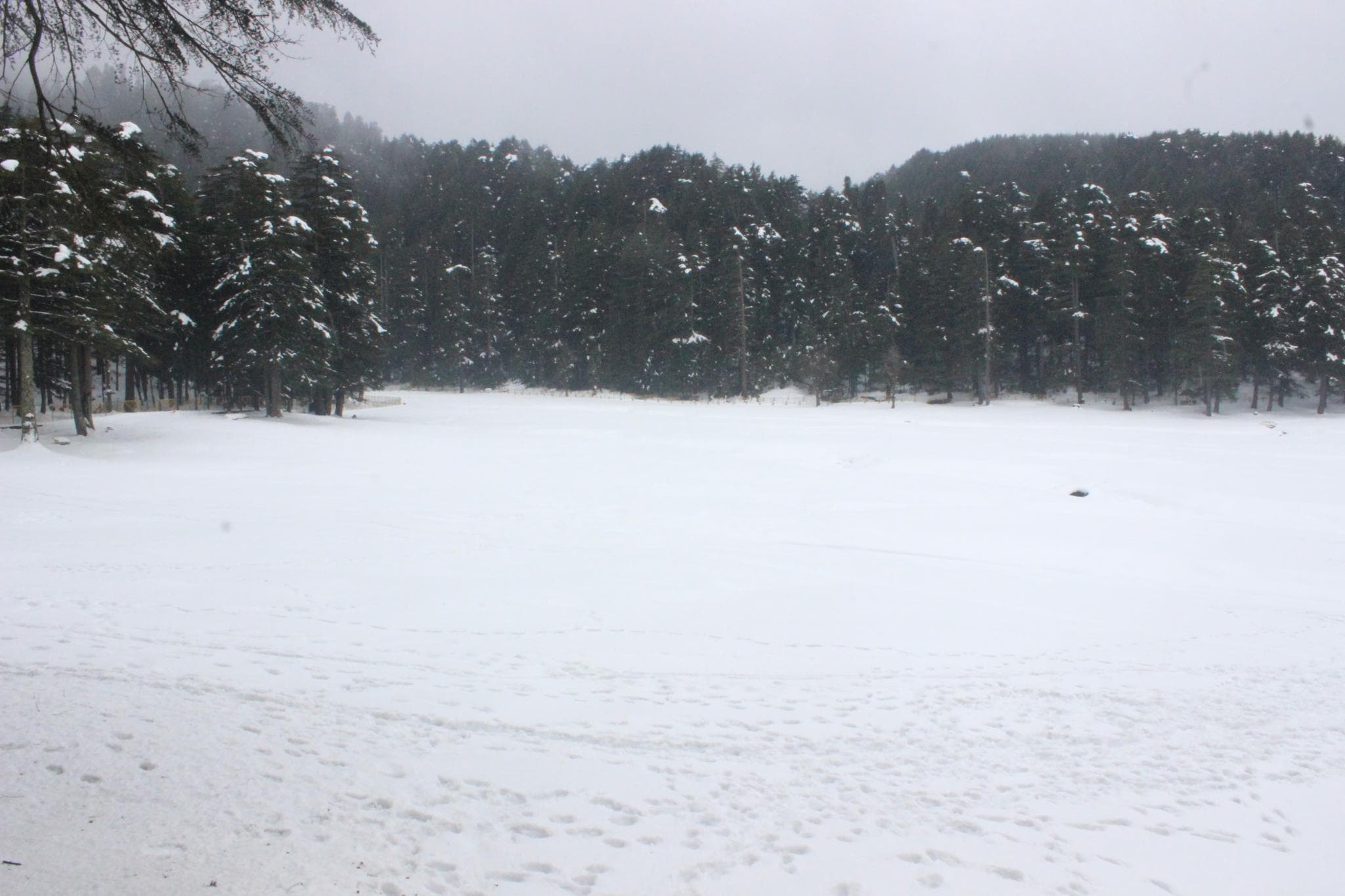 Things to Do in Khajjiar
If you are an adventure junkie then Khajjair has a lot for you. You can enjoy paragliding, zorbing activities near the Lake point. There are also some trekking points here, where you can go with a guide and explore the beautiful viewpoints. During the early winters too you can chance upon doing a small snow hike up here.

On the way to the viewpoint, there is a Khajji Nag temple, a beautiful structure that dates back to the 12th century. Its architecture is a perfect mix of Hindu and Mughal styles. The temple has idols of Lord Shiva and Goddess Hadimba along with idols of snakes.

Kalatop Khajjiar Sanctuary will cater to your wildlife spotting. With dense deodar trees covering every part, you can spot a black bear, deer, Barking Goral, jackal and a variety of other birds. It is also a rich place for flora and fauna.
Here's How Khajjiar Looks During the Summers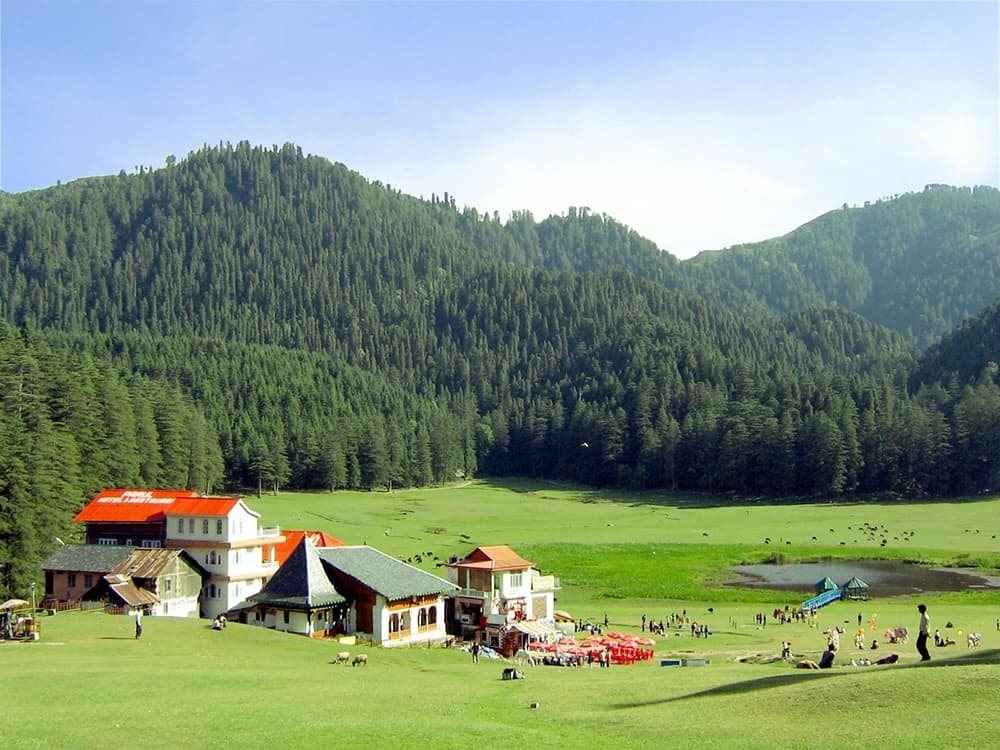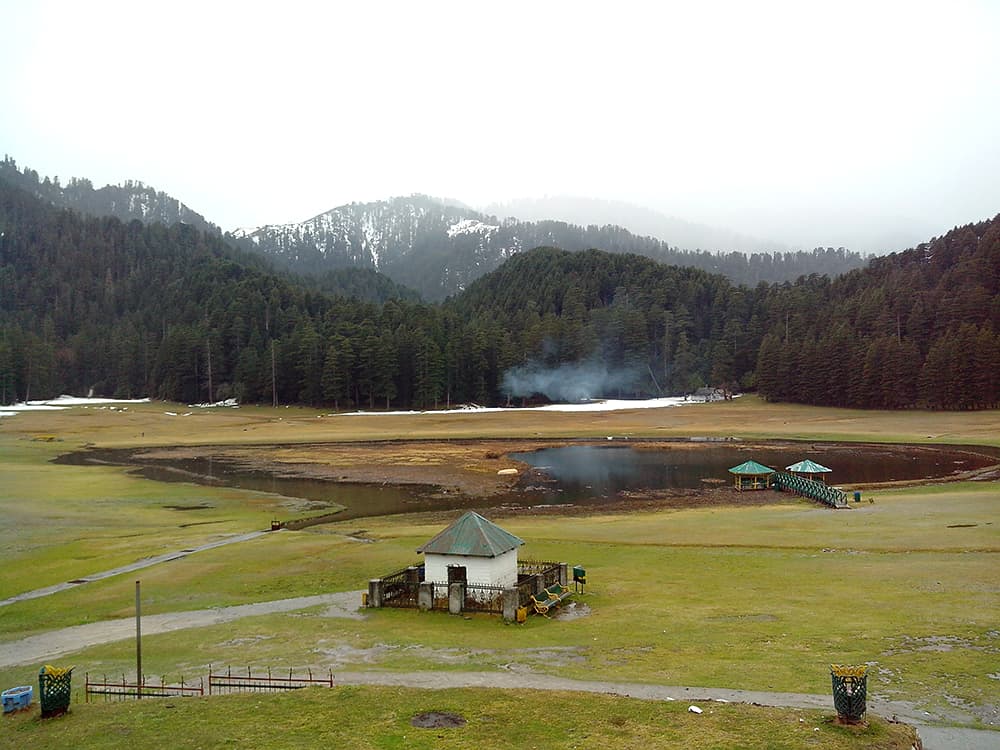 Accommodation Facilities in Khajjiar
There are some staying facilities in Khajjiar which suit all budgets. And needless to say, being a hill station, most of these hotels do have an excellent view of the mountains. From budget-friendly hotels to semi-luxurious resorts, Khajjiar has good accommodation facilities. If you are going in the peak season of summers, we advise you to book well in advance. In winters, there is less crowd comparatively.
Fun fact: Khajjiar got its tag of 'Mini Switzerland' in the year 1992 when Mr Willy T. Blazer, Vice Counselor and Head of Chancery of Switzerland called it so. He put up a yellow signboard here which shows the distance to Switzerland. It reads Switzerland 6194 km. He also took a stone from here and put it in a collage at the Swiss Parliament, to show its visitors that it is indeed the Mini Switzerland of India. He was the one who brought this place on the world map.
A place that beacons to every traveller Khajjiar deserves your visit. So if you have been aiming for the Swiss Alps, go enjoy similar scenic views within India first. We hope the above information helps to plan your holiday to India's Mini Switzerland.