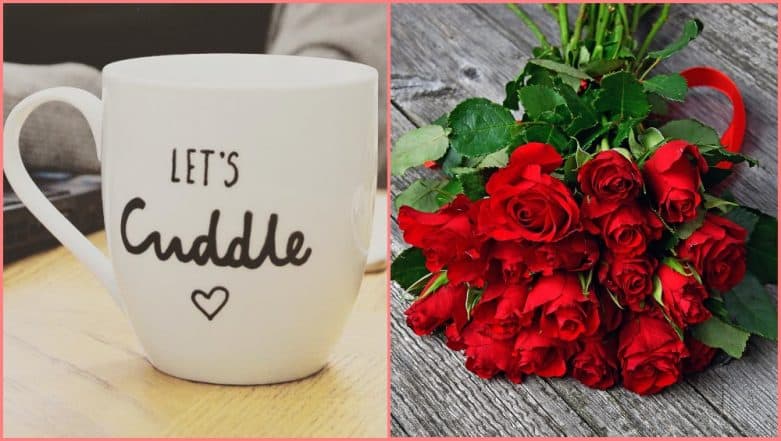 It is Valentine's Day 2019 and the town is already painted red with hearts and roses. It is a time when couples indulge in a lot of display of love and thus present gifts to each other. So what to gift your girlfriend/boyfriend for Valentine's Day is always a question. The budget is also an issue, especially for college going students and those who are just newly working. If you are looking for Best Valentine's Day gifts then we have some suggestions. Gifting to your boyfriend or girlfriend, or husband and wife is a great excuse to make them feel extra special on February 14. If you are confused and looking for last-minute gift options for your partner, then here's what you can present them. Valentine Week 2019 Calendar PDF Download Online. 
It is not necessary to spend a lot of money on Valentine's Day 2019 presents. You can keep a budget and make a stand out choice while purchasing gifts for your better half. Since, it is only a few days away, here we have compiled fantastic gift ideas for him and her. All under Rs. 500 for Valentine's. Funny Memes and Jokes for Singles Who Are Just Too Cool for the Lovers' Day Celebration. 
1. Calligraphy Coffee Mug
View this post on Instagram
In the hustle of everyday life, there is always time to take a sip of coffee. While you can always personalise the coffee mugs, it is incredibly cool to look for some calligraphy. They are super cute, available online and in your nearby shops and will not cost you more than Rs. 400.
2. Chocolates
View this post on Instagram
Chocolates and chocolate gifts have transformed the lifestyles of billions since the very first discovery. Be it him or her; everyone loves to take a bite of the most favourite of treats. Look for a chocolate gift baskets or DIY one (it does not require any skill) and express your sentiments better to your partner, a lot more than words can.
3. LED Shot Glasses
View this post on Instagram
LED shot glasses are the latest trend and best idea to enjoy booze in stylish. Both trendy and classy, there are sure to grab eyeballs and make a perfect present choice for your partner who likes to grab a shot on special occasions, like Valentine's Day and many more. They are available online and extremely affordable.
4. Scented Candles
View this post on Instagram
Candles are the ideal Valentine's Day gift for your better half. Whether used as artful décor pieces or strictly for fragrance, these little home decors are prime examples of flexibly-affordable luxury. The midnight-hued votives can also be a great company on your special date night(s).
5. Books
View this post on Instagram
Many incredible books have recently been launched for the bookworm of your life. It is the easiest route to win your lover's heart, this Valentine's Day. Also, books are a highly affordable way to shower your partner with affections.
6. Power Banks
View this post on Instagram
Portable devices are a lifesaver. Portable Power Banks come at all shapes and sizes and prices too. You do not have to be a tech expert to select the right one for your partner. Just take a quick glance at what the product has to offer and the reviews.
7. Flowers
View this post on Instagram
You can never go wrong, with a bouquet of some fresh flowers. They are beautiful, meaningful and most importantly, they fit every occasion. Yes, roses are a popular choice among romantic lovers, but there are so many other flowers which hold strong sentiments. If you are in a mood to go more specific, coordinate your flower colours to symbolise your feelings for your partner.
Love is valuable and priceless. But when romance is in the air in February, we do not see the glamour of money in a highly commercial way. The gifts listed above are both thoughtful and perfect for your lover. Spend some quality time with your better half and fall in love with each other all over again. Happy Valentine's Day!