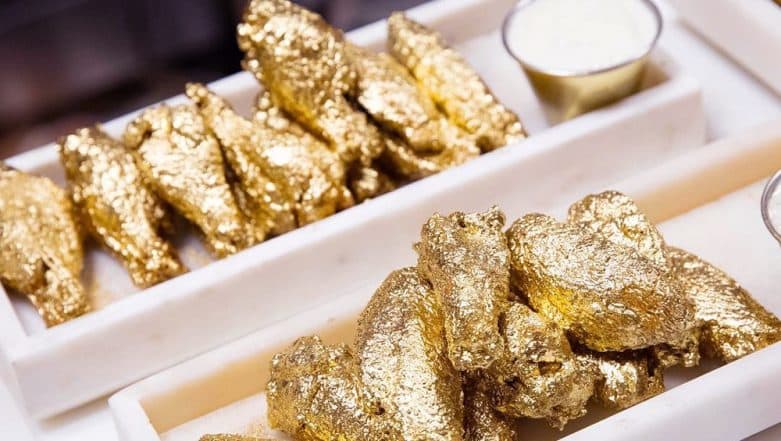 Food is the latest fad on the internet, second to travel, obviously. Trying exotic dishes, various cuisines, the rarest of it all has become social media's favourite thing. And the recent to add to the list is 24 Karat gold chicken wings! Yes, real gold foils are topped on the crispy brown chicken wings and are served on a plate.
The gold chicken was debuted by New York City restaurant chain The Ainsworth. It is now served at two Manhattan locations and describes it as "the most expensive and insanely tasty 24K Gold Wings in the world." This has to be most luxurious chicken wing ever.
Here is 24 Karat gold chicken wings:
And with real gold, the prices are quite on the higher side. A total of 50 wings with a bottle of Ace of Spades brand Champagne costs $1,000 (Rs 68,000). There is a bit of celebrity touch there with Ace of Spades being owned by Jay-Z. And if you don't want to splurge so much, you can still try 10 pieces at $30, $60 for 20.
Jonathan Cheban, a celebrity chef who calls himself 'Foodgod' made the culinary invention named it 'gold chicken wings'. Cheban is quite popular in the celebrity world. The man has appeared on Keeping Up With the Kardashians multiple times and is friends with Kim K. He recently got his name changed to Foodgod officially. The man has over 2.6 million Instagram followers where he frequently posts his culinary indulgences from around the world.