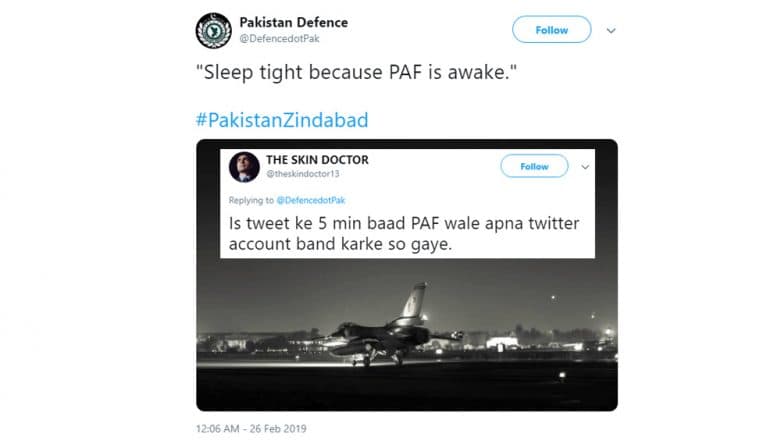 It is a celebratory morning for all Indians as we woke up to the news that the Indian Air Force destroyed Jaish-e-Mohammad (JeM) camps across the Line of Control (LoC) in Pakistan. Said to avenge the Pulwama attacks which killed more than 40 CRPF jawans, IAF's move is already being tagged as Surgical Strike 2. Social media is filled with compliments and praise for the Indian Army and everyone is congratulating the India Air Force. Meanwhile, a Pakistani tweet by a page called Pakistan Defence is going viral because of the stark irony. They tweeted, about PAF being awake at midnight and on the same night the big strike took place. How IAF Destroyed JeM Camps in Balakot, Chakothi and Muzaffarabad Across LoC in Pakistan: Timeline And Video of Surgical Strike 2.
The page called Pakistan Defence tweeted "Sleep tight because PAF is awake," just at midnight of February 26. But IAF swiftly managed to go with 12 Mirage 2000 jets which carried out the entire operation. As per reports, the IAF strike took place at 3.30 hours on February 26. So just at pre-dawn, the attacks took place, very ironic to the tweet of the Pakistan Air Force is awake. Twitterati has slammed and trolled the very tweet. 'How's The Jaish? F****d Sir!': Twitter Gives it Back to Pak Sympathisers After IAF Strikes JeM Camps Across LoC.
Check Pakistan Defence's Tweet About the PAF Being Awake
"Sleep tight because PAF is awake." #PakistanZindabad pic.twitter.com/Wlriv5ZJRr

— Pakistan Defence (@DefencedotPak) February 25, 2019
They Slept!
Is tweet ke 5 min baad PAF wale apna twitter account band karke so gaye.

— THE SKIN DOCTOR (@theskindoctor13) February 26, 2019
What Did You Do?
Jaag ke kya ukhaad liya? 😂😎😂 #SurgicalStrike2 #Balakot https://t.co/NAubyHlzd5

— Sir Jadeja fan (@SirJadeja) February 26, 2019
Chal Jhoota!
— संस्कारी राफेल (@Being_Sanskaari) February 26, 2019
Irony Irony Everywhere
This has to be the most ironic tweet ever

— Abhimanyu Srikant (@srikantabhi_001) February 26, 2019
Oh Awake PAF!
PAF aircraft... awake... alert...! pic.twitter.com/CATqfYqSBi

— ishan bhardwaj (@ishanKone) February 26, 2019
Slept in Peace!
We came, we bombed, we left. Want some tomatoes? 🍅 🍅 🍅

— Ugra 🇮🇳 (@_ugra_) February 26, 2019
The enthusiasm about IAF's success at destroying JeM's camp is clearly seen on social media. Well, clearly it wasn't only a surgical strike but even irony struck hard on PAF the same night.