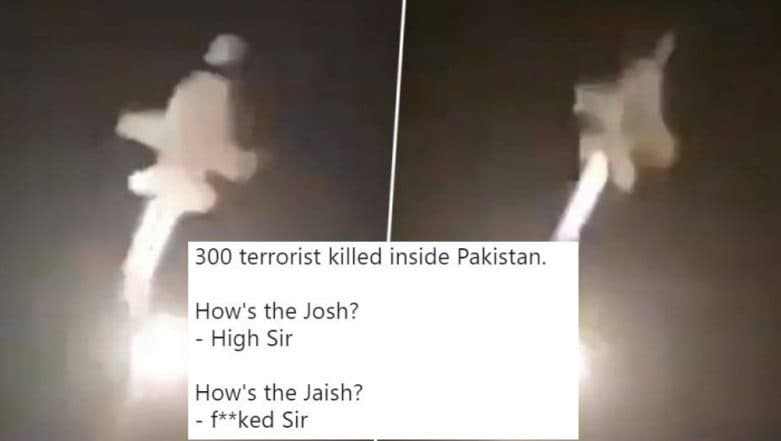 Spirits are high ever since the news of the Indian Air Force's surgical attack on Jaish-e-Mohammed terror camps came out in the morning. The strike was carried out in retaliation to the Pulwama terror attack that happened barely a fortnight ago on February 14. In the wake of the attacks, many Twitter handles sympathising with the terror outfit and Pakistan had put up the hashtag #howsthejaish to taunt the tragedy. The hashtag was a sarcastic spin on the "How's the josh?" line popularised by Uri: The Surgical Strike. After IAF's attack on the Jaish terror camps in the morning, the hashtag #howsthejaish is trending again, but from the opposite camp! Indians are taking to Twitter to give it back to Pak sympathisers with the same hashtag.  AMU Student Posts Objectionable Tweet Praising Jaish-e-Mohammad After Pulwama Terror Attack, Suspended by University.
Well Done IAF!
DEAD

(Well done Indian air force)

Pakistani army and terrorists right now be like- pic.twitter.com/htjG0CKVrq

— Sayan Mukherjee (@Sayan20000) February 26, 2019
Indeed!
Kids sent this on whatsapp 👇

👮‍♂️- "How's the Jaish" ??

🙋‍♀️🙋‍♂️"Dead Sir" #Surgicalstrike2

— Major Surendra Poonia (@MajorPoonia) February 26, 2019
How's the Jaish Now?
How's the Jaish??

History, Sir!!#PulwamaRevenge

— Priti Gandhi (@MrsGandhi) February 26, 2019
The Irony
Sleep tight because PAF is awake - pakistan defence tweeted on 12:06am.

Now Sleep Forever - Indian Air force answered through action at 3:30 am.#IndianAirForce #howsthejaish pic.twitter.com/NQvKpm9U2g

— Abhishek Shejale (@OfficialShejale) February 26, 2019
LOL!!!
They are crying for tomatoes and Indian army delivered the catchups #howsthejaish @vickykaushal09 @GautamGambhir

— raj bohra (@Raj001Bohra) February 26, 2019
300 Jaish Guys Sent Packing!
More than 300 Jaish guys transported from #Balakot by #IndianAirForce to meet their 72 Hoors 😂😂 #IndiaStrikesBack pic.twitter.com/1xqE59mIte

— Rosy (@rose_k01) February 26, 2019
How's the Josh?
#IndiaStrikesBack #IndianArmy #howsthejaish bloody dead sir#HowIsTheJosh damn high sir@republic @ArnabGoswamiRtv @narendramodi @nsitharaman

— Jagannathdas Rath (@jrathindia) February 26, 2019
Pretty Much
300 terrorist killed inside Pakistan.

How's the Josh?

- High Sir

How's the Jaish?

- f**ked Sir

— Kapil Mishra (@KapilMishra_IND) February 26, 2019
Haha!
How's the Jaish? DEAD SIR

— Nupur J Sharma (@UnSubtleDesi) February 26, 2019
ROFL
Pakistan #Airforce readying to take revenge now. 😂🤣 #balakot #PakistanArmy #iaf #howsthejaish @ThePlacardGuy pic.twitter.com/OO1QyV3sOI

— Sushant Sharma (@sush4nt) February 26, 2019
The Josh is pretty damn high because #Surgicalstrike2 ka time aa gya!#howsthejosh #howsthejaish pic.twitter.com/KQRDDQXQ6X

— Yuvraj Gogia (@dbsbhnde) February 26, 2019
That's Right!
DIED SIR 😂😂😂😂#HowsTheJosh pic.twitter.com/4bqDKeGMhd

— Ankur (@TheAnkurMehta) February 26, 2019
What a Strike!
What a strike! @narendramodi pic.twitter.com/RCx99ZgDIb

— Trendulkar (@Trendulkar) February 26, 2019
According to the ANI, at around 3:30 am, a group of Mirage 2000 Indian Fighter jets struck a major terror camp on the LoC. Pakistani media reports also suggest that around 200 have been killed following the attack. Sources also suggest that the Pakistani F16s scrambled to retaliated but fled looking at the size of the Indian formation. But as far as Twitter is concerned, a different type of warfare is in the offing.
The hashtag war has already begun on Twitter. Almost all the hashtags are centred on the surgical strike and words like josh and jaish.
Here are all the top trends in India: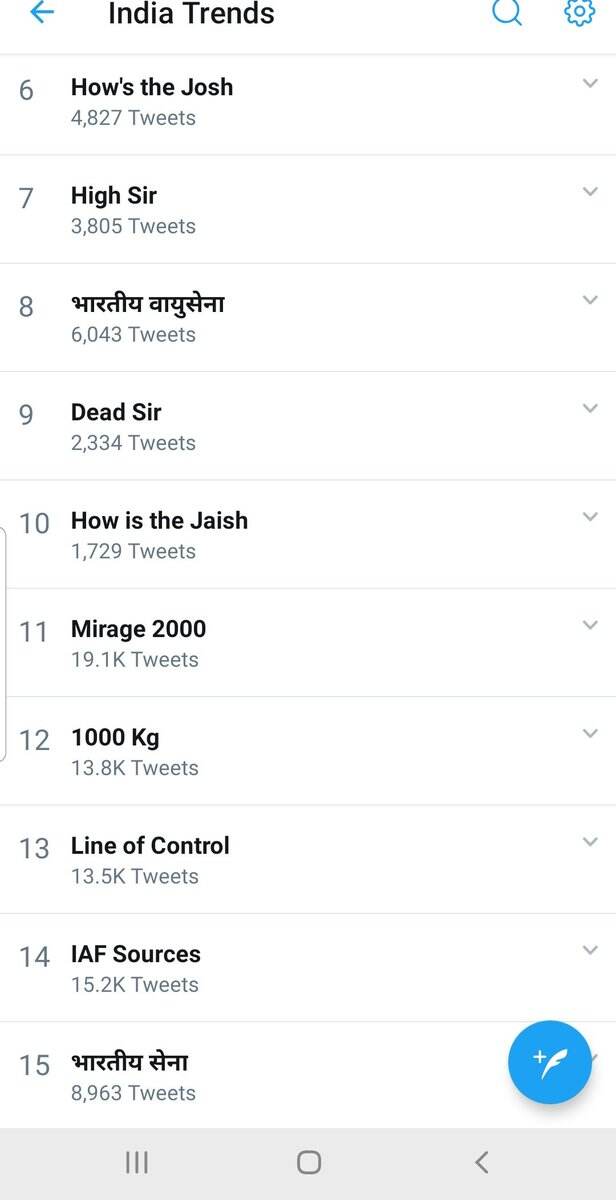 The Pulwama terror attack was one of the most audacious terrorist attacks on Indian soil. Over 40 CRPF jawans lost their lives in the suicide bombing, when a JeM militant drove an explosive-strapped vehicle into the CRPF convoy. Every since then, India and Pakistan have been locked in a bitter battle of words, which culminated in the IAF strike.