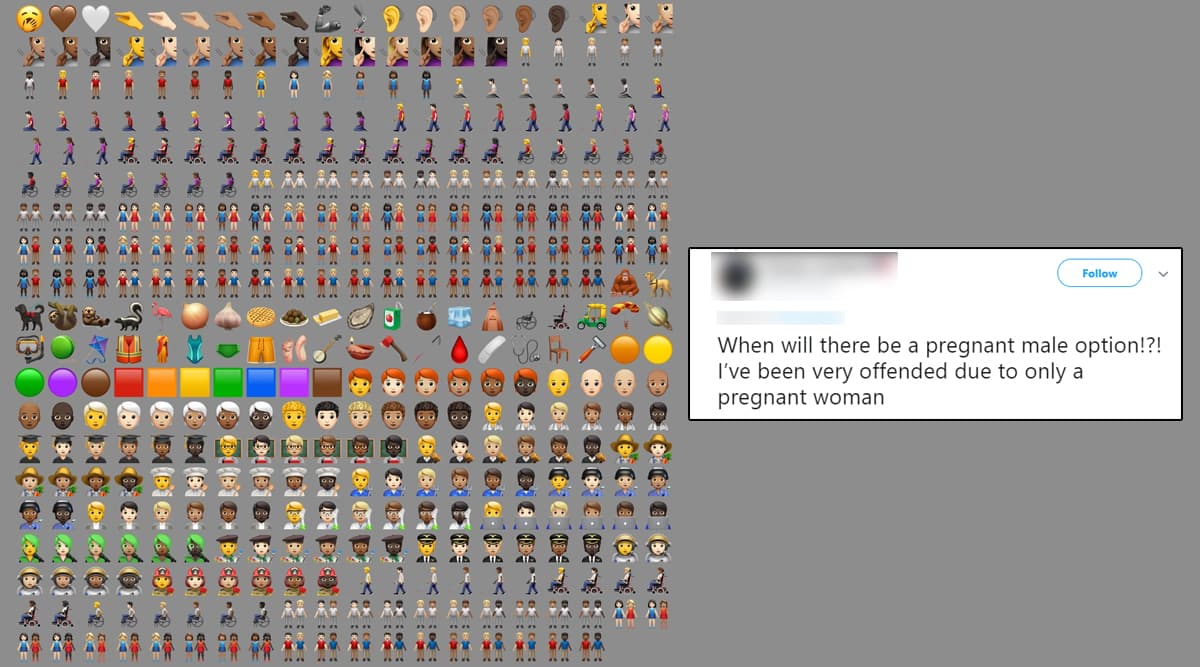 When all of us are hooked to our smartphones for communication, use of smileys is very apparent. In fact, many of us feel incomplete without using emojis or emoticons in conversations. When there are new emojis introduced, it is even more exciting to converse. Apple released iOs 13.2 and it's given a new set of emojis, over 398 more emoticons to use in your chats! From gender-neutral, people with disabilities, way to select skin colours and new animals, these emojis are exciting to the Apple users. And much as the users are excited, some of them have given funny reactions on this new set.
The newest emojis are of an otter, ringed planet, skunk, pinching hands, a sloth bear, waffles, service dog, flamingo among many others. They also feature inter-racial couples, disability-themed emoji, offering more diversity with skin tones, occupations and flags. And glimpses of the new sets of emojis have been shared on Twitter with some funny reactions. Emoji Mashup Bot Takes Over Twitter, People Have Field Day Creating Bizarre Emoji Combinations That Make Zero Sense.
Here's a Glimpse of New Emojis on iOs 13.2:
📲 iOS 13.2 is out now with these 398 new emojis https://t.co/mYK0uXJ8t1 pic.twitter.com/eGwIH7g8ip

— Emojipedia 📙 (@Emojipedia) October 28, 2019
The Gender-Neutral Emoji Set:
New in iOS 13.2: A gender-neutral option for nearly all human emojis 🧛‍♀️ / 🧛 / 🧛‍♂️ pic.twitter.com/ZFKhQhNhwk

— Emojipedia 📙 (@Emojipedia) October 28, 2019
While everyone is excited about using these, some of them have given funny reactions with their own interpretations to these emoticons. Check some of the funny tweets on Apple's new emojis set. World Emoji Day 2019: Are You Using Them Right? Most Commonly Misunderstood Emojis Explained.
Excited About The Otter
iOS 13.2

What Apple want us to be excited about: Deep Fusion

What we're actually excited about: Otter emoji#ios132 pic.twitter.com/0kiV1Er3ae

— Rob Henderson (@robtweet) October 28, 2019
Hahaha! These Funny Interpretations
Well, with the new iOS update, ladies, you now have a defense against the dick arts. I present to you, the one emoji response to unsolicited dick pics! pic.twitter.com/EV9hLfMgwZ

— Undead💀Sloth (@dreaddsloth) October 28, 2019
Stinky Monkey is Switching Minds
I need to buy a new phone just so I can use the Uh Oh Stinky emoji pic.twitter.com/cWwdG4HmIc

— i'm evil monkey no one alive (@crystal_matter) October 29, 2019
The Emoji is Contagious
Why TF I'm yawning just by seeing this emoji - https://t.co/iRISSch64G

— Lose You To Love Me🥀 (@diptidasdz) October 29, 2019
Some Funny Expectations
When will there be a pregnant male option!?! I've been very offended due to only a pregnant woman

— Tanner Lambert🇺🇸 (@ASAPTanner) October 28, 2019
Where Are The Cats?
We just want different colored cats, ok?

— Christopher (@ChrisGroove1) October 28, 2019
Why Can't There Be a Pink Normal Heart?
wHEN are we gonna get a normal pink heart is that too much to ask for

— 𝖊𝖒 (@em_taila) October 28, 2019
Spirit Animal Emoji is Here Too!
Finally a sloth my spirit animal

— Alberto (@Albertosaurus89) October 28, 2019
Is This For Global Warming?
Global warming emoji

Global warming emoji pic.twitter.com/MTtordNnbs

— The Great Scrap Metal (@SpiceeRustieBoi) October 29, 2019
With close to 400 new additions, people are clearly excited about all of these, while some still have demands of emoticons which are not yet there. Other than these emojis, the update will also have Deep Fusion, a feature that'll boost the phone's excellent camera performance. It said to reduce the noise in a photo.