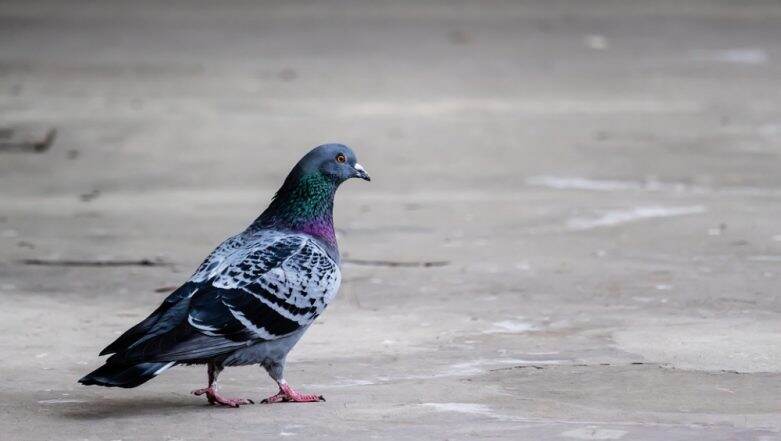 Back in the day pigeons were used to send messages and a form of communication. But who would have thought that in the age of advanced technology, a pigeon would fetch a price in million dollars? If it is a racing pigeon, then it can go even in million dollars. Yes, a pigeon called Armando has been sold for nearly $2 million at the Pigeon Paradise auction house. The racing pigeon has made a new world record within a day after it was put up for bidding. An anonymous buyer from China bought Armando after competing with another Chinese man. Armando is now being compared to Lionel Messi, given the price he was purchased in. Pictures of Pigeons Sitting As Humans Go Viral on Twitter; the Reason Might Break Your Heart! (View Pics).
Armando, a record-breaking racing champion was owned by Joel Verschoot. Nikolaas Gyselbrecht, the CEO of Pipa or Pigeon Paradise was himself shocked with the price the pigeon fetched. "It was unreal, the feeling - it was something out of this world," he told the BBC. "In our wildest dreams, we had never hoped for a price like that. We hoped for around €400,000 (USD 454018) to €500,000 (USD 567500), and we only dreamed of €600,000," he added. Two bidders from China almost got into a war of bidding and the price escalated to million dollars. With its price, he has been compared to F1 Lewis Hamilton. Gyselbrecht also called him Messi and Ronaldo in the field of football. Fish With Pigeon Head Found in China, Watch Video of The Weird Looking Mutant Species!
Check Tweets Regarding Armando Pigeon's Auction
Armando the pigeon, the beautiful Lewis Hamilton pigeon of pigeon racing pic.twitter.com/M3TEXlLvsi

— Tom Rabe (@Rabe9) March 19, 2019
Armando can only be compared to Lionel Messi or Lewis Hamilton. He is a racing pigeon and sold for over £2M.#U30CEOSummit#WeAreInfiniteCom pic.twitter.com/FS228xkysL

— #WeAreInfiniteCom (@NelsonSsenyange) March 19, 2019
Well, Armando is such a great racer that it maybe it deserves the price. It has won three races at the number one position. He won 2018 Ace Pigeon championship, the 2019 Pigeon Olympiad and the Angoulême. The investor can recover this money with Armando racing again. Earlier, Armando's offsprings were also auctioned for average USD 24409 each.