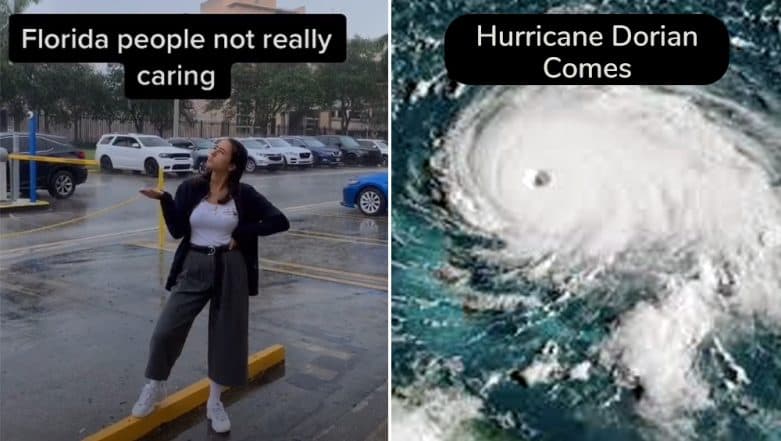 The United States of America is currently in the threat of experiencing severe catastrophic storm in some of its parts. The wind is reportedly the strongest anywhere on the planet this year. Described as the Category 5 storm, Hurricane Dorian is at its highest speed now and after striking the Bahamas on Sunday, the storm next threatens to bring force winds to the east coast of Florida and Southeast US. Schools are shut, and people have been barred from stepping out of the houses. As the Hurricane is dangerously approaching towards the US state, citizens are making funny TikTok memes in an attempt to lighten their mood.
In these videos, the teenagers are seen making fun of other states for being so worried about Florida while also poking the state for being so chilled! Again in some of the creations, the teens even have become the hurricane. Power cuts, internet disruption, school cancellation, enough food stored in the mart and everything serious paved way for some light-hearted memes. And they are absolutely good to go viral.
Florida People Don't Really Care!
They Are Too Cool About it!
Never change, Florida. Never change. pic.twitter.com/Dz39eJWPZI

— Kalhan Rosenblatt (@KalhanR) August 31, 2019
Buy the Essentials, Quick!
Hurricane Dorraine Hacks!
On a serious note, the US National Hurricane Center said that the storm had reached to 185 miles per hour, making it catastrophic and devastating. They further warned that no one should venture outdoors. People living near the coastal areas are evacuated to safety. The centre also confirmed in reports that the Hurricane Dorian is moving "dangerously" close to Florida east coast late Monday through Tuesday night. In addition to the wind and surge, rainfall is also projected in the area.