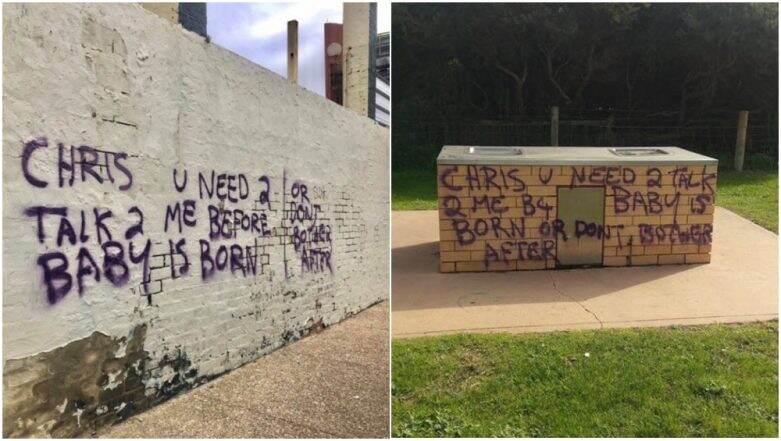 A mother-to-be in Victoria, Australia has resorted to desperate measures to talk to the father of her child. Mysterious graffiti asking 'Chris to talk to her' has been spray-painted across the town of Frankston and now even the residents are looking for this man named Chris. The walls, local parks, public bathrooms have all been vandalised by this woman who is resorting to such ways in order to get her Chris to talk to her. The residents of Frankston are too taking to social media appealing to Chris to talk to this woman before she destroys the whole city. Adelaide Pilot Draws Penis and 'I m Bored' Graffiti in Sky on Test Flight, View Pic!
Pictures of these spray-painted walls were shared on Facebook, all of them bearing messages pleading to a guy named Chris. The messages read, 'Chris u need 2 talk 2 me b4 baby is born or don't bother after'. With so many walls in the city now bearing the same messages, the plea has been shared on social media and people too want to unite these former lovers, to save their own town from further damage. Woman Spray Paints Abuses and Breaks Windows of Man's Mercedes-Benz S63 Worth Rs 2 Crore (Watch Video).
Check Pictures of Spray-Painted Vandalism in City by Desperate Mum:
The pictures soon went viral with people tagging their friends named Chris, asking if he's the one. Well, the situation turned completely hilarious in the comments section of the post. And thanks to the reach of the medium, the search has also gone global. Now everyone wants to know if this Chris ever got back to this woman. Meanwhile, some others were annoyed that she could go around destroying the property for her personal search. They questioned if she would be paying for cleaning all that up. The mother of the baby has now involved people on the internet for searching for her Chris.