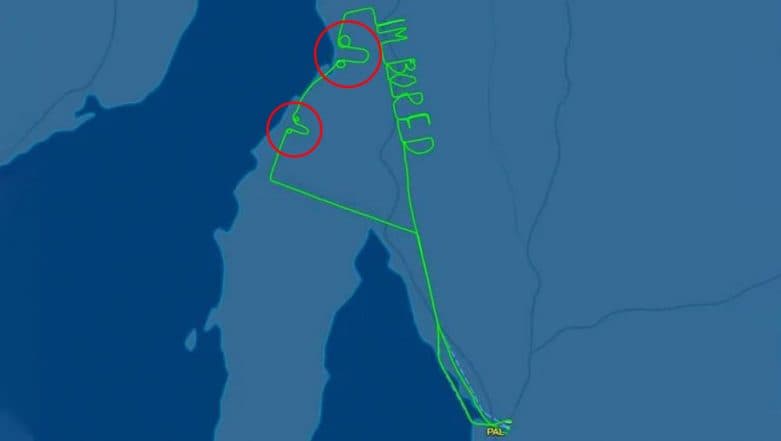 Even if you love your job, there are days when you just don't feel like working or get bored with what you have at hand. Any work routine gets boring after some time. A pilot from Adelaide took his boredom to new heights, too literally, A pilot who was flying a test flight, The Diamond Star plane, operated by Flight Training Adelaide took to skies to make an explicit graffiti like the shape of a penis and then went on to write 'I m bored.' Flight tracking program Flight Aware managed to catch the route on its radar. The pilot was apparently running a new engine. Delta Pilot Messages Passenger on Dating App Grindr During Flight, Chat Goes Viral.
The pilot who was working out of Parafield Airport was flying for 3 hours. He was obviously bored with the task and took to vent about it while he was on the job. Those on the ground could not see the message but the aviation followers who live-track the flight route and flight status managed to capture the message. The pilot was flying from 8.53 am to 11.57 am. Before that, he created several loops which resembled explicit design like the shape of a penis and made the graffiti over the Princes Highway. It was although a harmless message. Penis on a Dry Lake Etched by an Australian Prankster, is So Big That It Can Be Seen from the Space! View Pics.
Check The Picture of the Path of Pilot Who Wrote 'I m Bored' on Flight Radar
According to some local reports, he was given the task of flying the single propeller plane for two hours at a single speed. He was bound to get tired of the task and took out his frustration on the radar. Civil Aviation Safety Authority spokesman Peter Gibson said pilots drawing pictures on their flight radar is not something too new. "All pilots plan a track for their aircraft to get between where they're going from and to — now what that track looks like once it shows up on radar of course is another thing entirely," he said to ABC Australia. He also mentioned that as long as the pilot follows all the aviation safety rules and brings along the aircraft safely, it should not be a concern as what the path looks like.