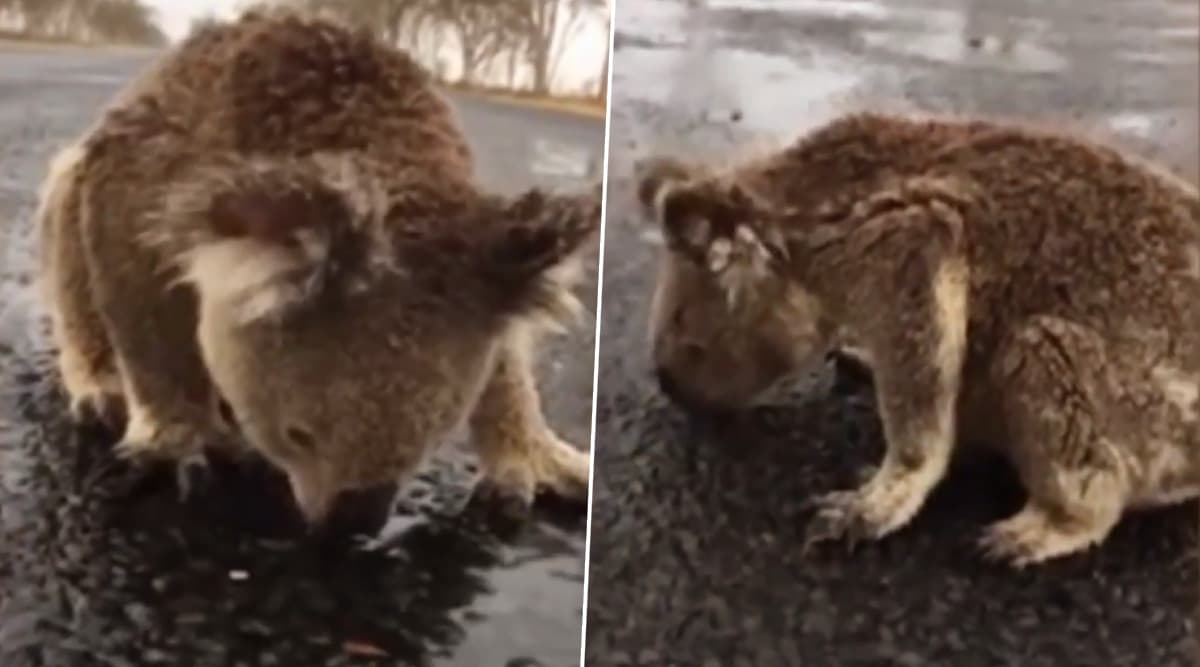 Heavy rain hit the bushfires, reportedly in eastern Australia on January 17, 2020, for a second consecutive day, offering further relief from a months-long crisis. The week's wet weather has given the firefighters a major boost in battling the unprecedented blazes, and animal survivors are coming out of the wild, to appreciate the slightly better atmosphere. A dehydrated koala that survived the Australia fires was spotted licking water off a country road in New South Wales, post the first significant rainfall in months. The video shows the thirsty animal slurping the rainwater off the road. It is a heart-warming sight that is surfacing on social media. 'Taylor' the Dog Goes Viral for Rescuing Koalas Sniffing Their Poop! Other Times Canines Helped Saving Animals From the Wildfires. 
Pamela Schramm and her children were on their way back home when they spotted the koala, reportedly at the Moree to Croppa Creek Road in NSW this week. At first, they thought that the animal was injured, so she got out of her car and walked closer. Schramm saw the marsupial, licking rainwater from small puddles. She was relieved and happy to see the animal, peacefully lapping up the water. Here's How You Can Donate and Help Those Affected by Destructive Australian Wildfires. 
In the video, the koala can be seen walking around on the wet road, licking from the tiny puddles, occasionally pauses to look to Schramm and her children and then continuing to slurp the rainwater. Just to ensure if the animal was doing fine, she went to look for a wildlife carer. Once she came back to the spot, Schramm told Daily Mail, that the koala was high up in a tree. She further urged motorists to slow down and look out for the local wildlife.
Watch Video:
Following months of hot and dry weather that fuelled the fires, people experienced the heaviest rainfalls in nearly a decade. While the rainfall has reportedly given some relief to the Aussies, dozens of blazes remained out of control. Rains have wholly missed the Kangaroo Island. The Australian bushfires have killed 28 people and over a billion animals are feared to have died.