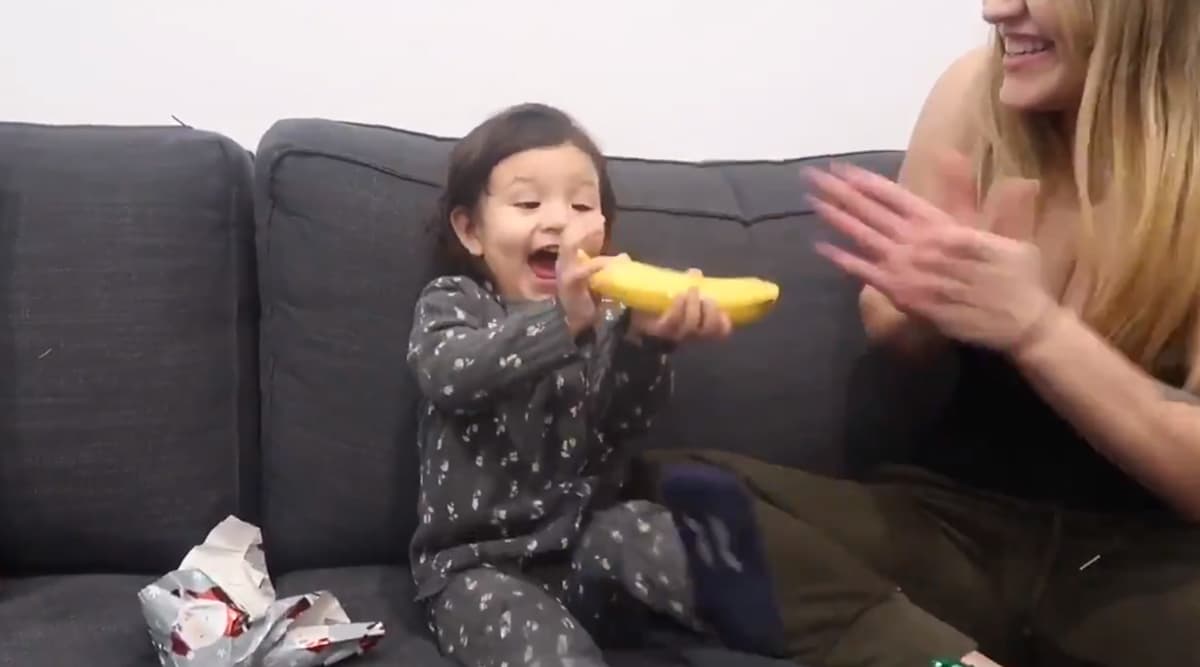 'Tis the season to be all jolly as Christmas is two days away! Are you'll excited? People are probably still shopping for the perfect Christmas gifts to give to their friends and family. But a father decided on pranking his toddler by gifting her a banana! However, the baby's reaction to receiving this gift has surprised even the father. The little girl was very excited about getting a banana and her reaction has been captured on a video. The video was uploaded on social media and the child's cute reaction is winning all hearts. The video is going crazy viral with over 20 million views in just three days! Baby Talking in Gibberish Complaining About His Mom Leaving For Work Without Giving Him Goodbye Kiss is Hilarious; Video Goes Viral.
A father from Los Angeles, decided to purposely give the worst gift to his daughter by presenting her a banana fruit. He packed it in wrapping paper and gave his daughter. When the little one opened it, she was overwhelmed to receive the gift and her excitement has been captured on video. Her expressions are full of happiness and she even immediately eats it. The father himself was surprised to see her happiness. This Baby's Grumpy Face During Her Newborn Photoshoot Is Too Adorable to Miss! View Pics.
Watch The Viral Video Here:
I Tried Giving My Daughter The Worst Xmas Gift Ever & I Didn't Expect This Reaction 😢 pic.twitter.com/44cJytI83m

— LGND (@iamlgndfrvr) December 20, 2019
She's so cute, right? The video is going crazy viral and people are loving it with over 1.4 million likes. Check some of the reactions.
How Would Your Child React?
My child would be like pic.twitter.com/h34h1NAwFv

— Mino giizhigad (@SlaylaLee) December 20, 2019
*When I gift banana to my kid*

My kid's reaction : pic.twitter.com/ptCbYC3K8W

— ㅤ ㅤ ㅤ ㅤ ㅤ ㅤ ㅤ ㅤ ㅤ (@theesmaarkhan) December 20, 2019
She's a Minion
They're our minions after all pic.twitter.com/rm73KBpnI7

— Sue Anna Joe (@sueannajoe_) December 21, 2019
Children are So Grateful
just goes to show you that children are grateful for ANY and EVERY thing you give them 💕

— liddo fuckin bitt 🎯 (@liddobittt_) December 20, 2019
The Greatest Gift
Food is love .... food is a gift ...

But that kid's gratitude and excitement is the greatest gift we can ask for!

— Fr. Leo Patalinghug (@FatherLeoFeeds) December 20, 2019
The video is indeed a lesson for all of us to learn to be happy with what we have. She conveys her heartfelt reaction and it's her happiness that is cheering up everyone else on the internet. This Christmas, let us learn to be happy with whatever gifts we get in this festive season.