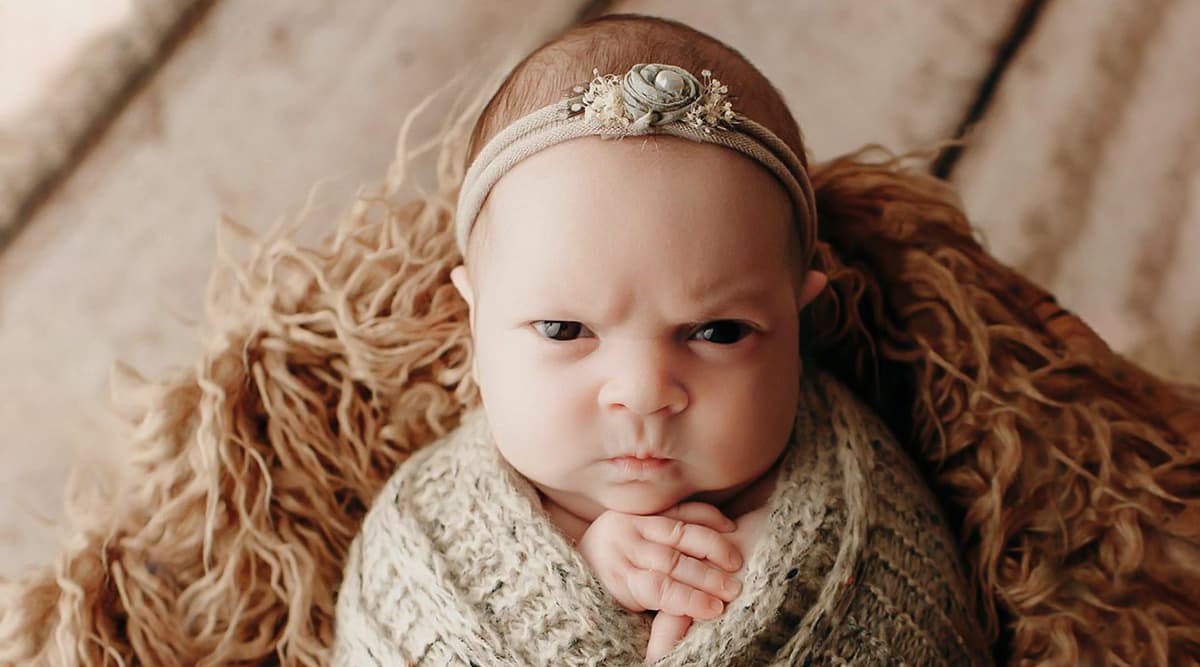 Usually, babies' newborn photoshoot is absolutely adorable as they nestle in the soft clothes while posing for the shoot. In most cases they are unaware! But it is not same with all the kids. This three-week-old baby, Luna Musa of Westerville, Ohio is one among millions who were visibly alert during the entire shoot and seemingly watched every move of the photographer. A set of bright, untrusting eyeballs, looking all awake, alert and occasionally annoyed, as the photographer clicked away. The little one's grumpy expression may not be a typical baby photo catalogue, but something just as cute. With that look, Luna has become the internet's new favourite as her adorable pictures have since gone viral. Photographer Edits Photos of Babies With Teeth And The Result is Cute. 
Photographer Justine Tuhy was assigned to take the pictures of the two-week-old Luna. Despite the constant stare, Tuhy claims she was not upset or fussy during the photo shoot at all. Tuhy uploaded more pictures of baby Luna and her hilariously upset expression. In the first image, where the girl was wrapped in green and on a woven basket, offers a one-eye-wide stare. She captioned the image, "Two weeks new... Luna!! She wasn't impressed with this whole newborn photo session thing so she wanted to be awake and watch my every move!"
Just Look At Her!
This is the epic one, and we bet you don't see very often. Tuhy called it the best baby facial expressions that she had ever captured. She writes, "These might just be the best baby facial expressions I have ever captured! Mom and Dad both said she came out with this same face! I just love it!"
That Grumpy Look!
Her Stare Game is So On Point!
View this post on Instagram
Instagram users were quick to sing the praise of the young one. People filled the series of pictures with the best ever comments; they could ever come up. One of the Instagram users said, "The sass is strong with this one." While many others shared love and heart-eyes emojis for the baby.
Welcoming a newborn into your family is the most amazing and wonderful moments. Parents and photographers aptly capture all the sweet details of the new babies while they are still little so that they can cherish these precious moments for a lifetime. And for Luna, her parents will surely have beautiful days, every time they see her grumpy and adorable expression.