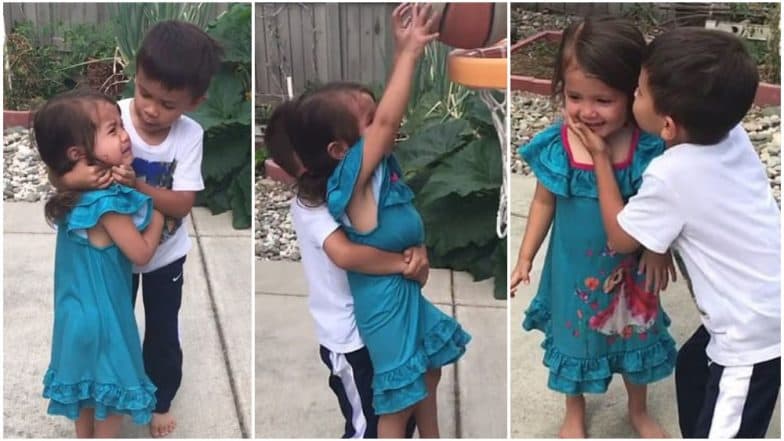 There couldn't be anything more adorable than this, trust me! A video going viral on social media shows a little girl playing basketball while he older brother stands next to her. The little one tries to toss the ball in the net, but gosh it circles the brim and falls to the ground. Disappointed, the girl begins crying only to be consoled by her older brother. He ran towards her, embraces and kisses her. The boy in an encouraging tone showing his fist and in an empowering tone tells her, "It's OK, you're strong!"
As the girl continues to sob, he goes and fetches the ball lying on the ground and gives it back to her. She then wipes her tears and holds the ball. Saying, "Now I'm going to carry you" he lifts her helping her in reaching the net easily. She throws the ball and it easily lands through the net bringing smiles on the siblings' face. The brother then happily plants a kiss on his brother's cheeks. This Video of a Kid Scratching Prince Harry's Beard Is Too Cute to Be Missed.
Watch the video here:
As the video went viral, people applauded the parents for inculcating such encouraging habits in their children. As the clip was shared widely on different social media platforms, their mother Sarahanne Mora took to Instagram sharing the video with the caption: 'My babies are going viral spreading a message of positivity, support, and love.' And let us confer him with Brother of the year award!