At the time of writing this article, many women across the world would be engaged, to hopefully the man she loves. The moment, when he bends down on his knees, open the box holding one of the precious rings she can ever have, is outstandingly romantic. However, it seems that engagement rings today, have become more of a status symbol. We get it, when you say that the jewel is a big deal, but does that mean, you will go way out of your league. Monetary wise! A couple from the United States, did something very close to that. To afford a purple diamond ring, the bride-to-be revealed that her fiancé sold their house. The now-viral Facebook post is getting trolled, as the netizens feel the ring looks "like something from a cereal box." Girlfriend Shows Off Her Engagement Ring Made of Fiancé's Hair, People Left Disgusted. 
The unidentified woman from the U.S. posted a photograph of her flowery purple diamond ring on "That's It, I'm Ring Shaming Facebook" page. The bride-to-be writes, "Love my ring but shame away. To get ahead of the comments, YES it is REAL and custom-designed. We sold our house to get the perfect ring. It's a purple diamond, look it up! No nail shaming! I work in retail which really has nothing to do with my nails, I'm just lazy and paint them every 3 months." Woman Considers Break-Up After Finding out Her Engagement Ring is Fake. 
Screenshot of the Viral Post: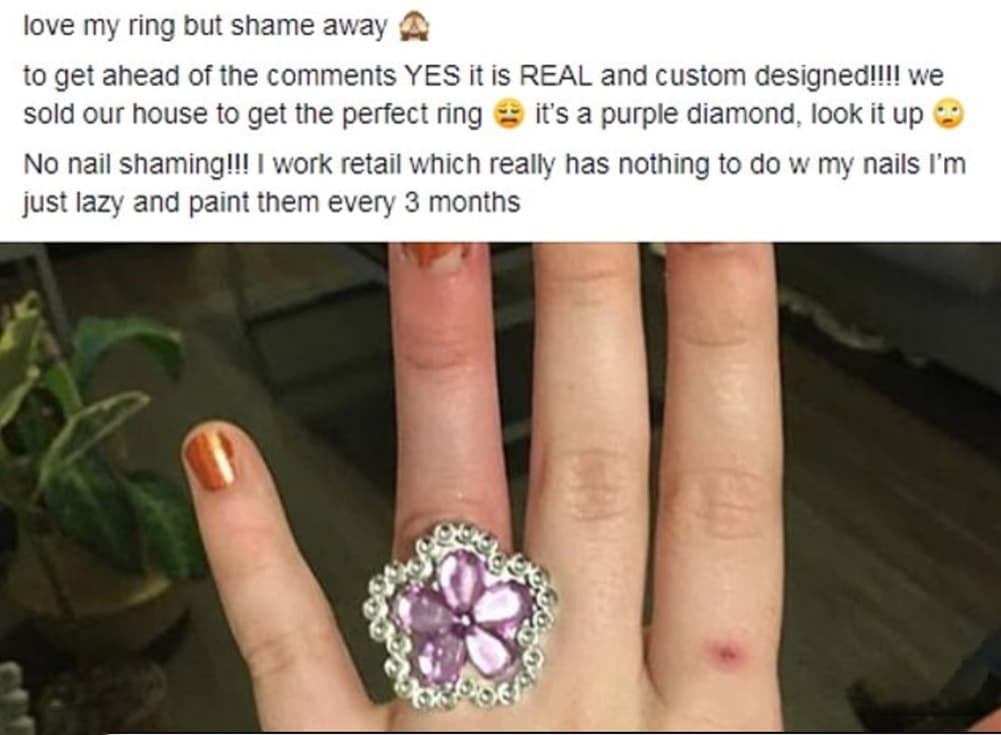 No, netizens had no problem with her, not appropriate manicured nails. But they were less impressed with the ring, for which the couple sold their house. "You want a ring that looks like it came from a cereal box?," LMAOs a user. Another comment reads, "Why would you sell your house for a ring. Let alone a ring that looks like part of a fairy dress up costume." A Facebook user writes that the ring looks, "part of a fairy dress up costume." Again, a third one wrote, "I think your finger is having an allergic reaction to all that ugly." While many could not move on with the fact that she had sold their house to buy her engagement ring. Now that they are not getting the house back anytime sooner, we wish the couple a happy married life and hope the woman lifelong cherishes her 'perfect' purple diamond ring.