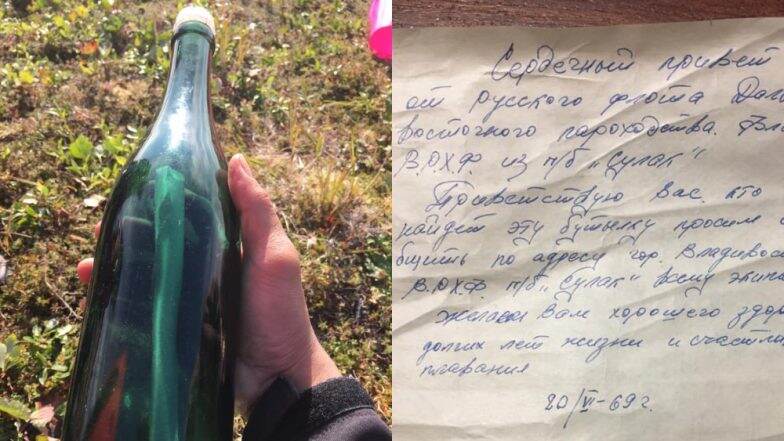 A man has discovered a bottle with a 50-year-old letter written by a Cold war sailor, on the shores of western Alaska. Written by a member of the Russian Navy in 1969, Tyler Ivanoff found the handwritten Russian letter earlier this month. He was gathering firewood near Shishmaref, about 966 kilometres north-west of Anchorage, when Tyler found the bottle. He said that the note smelled like old alcohol when he opened it. And guess what? Russian media network, Russia-1, tracked down the original writer, Capt Anatoliy Botsanenko! Woman With Cancer Who Found Inspiring Message in a Bottle at North Entrance Beach Trying to Track the 5-Year-Old Who Wrote It.
Russian speakers translated the message saying that it was a greeting from a Cold War Russian sailor dated 1969. The message included an address and a request for a response from the person who finds it. And they took the letter to Botsanenko who became very happy on seeing the letter. Botsanenko said, "It looks like my handwriting. For sure! East industry fishing fleet! E-I-F-F!" He sent the message while he was aboard the Sulak, a ship that was sailing from 1966 to 1970. Tyler shared pictures of the bottle and the note asking if anyone who understands Russian could translate it. He writes, "I found a message in a bottle today. Any friends that are Russian translators out there." Oldest Message in a Bottle Found in Australia, Other Such Interesting Message Mysteries Discovered Around the World.
Check Out The Facebook Post Here:
Ivanoff told The Guardian, "The green bottle has been in the ocean all these days and recently seems to have reached land. I was just gathering firewood. I just happened to stumble across the bottle, and I noticed it was a green bottle and had a cork top. Not really cork, it was a tight cap, and I could see inside the bottle there was a note." Botsanenko showed the reporters some souvenirs from his time found on the ship. It also included the autograph of the wife of a famous Russian spy including Japanese alcohol bottles.