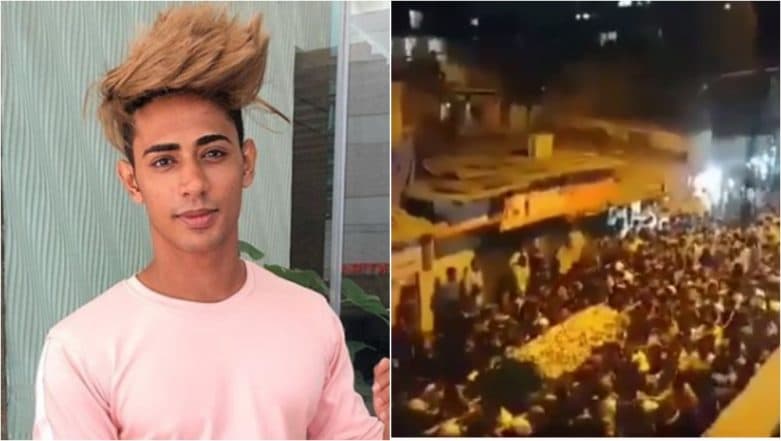 Danish Zehen, a YouTuber and social media influencer's death came as a shock to his family and fans. The 21-year-old was killed in a car accident on Thursday while returning from a wedding in Kurla, Mumbai. His car lost control on the Sion-Panvel highway and hit a roadside wall at around 12:30 am. The vlogger's funeral which was held in Bandra, Mumbai today was attended by thousands of fans. Videos and photos from funeral procession held before his last rites have gone viral on social media.
Many took to social media sending condolences to the late star. Actor Sara Ali Khan also took to Instagram remembering Danish. He was one of the popular faces in the ongoing season of MTV's Ace of Space hosted by Vikas Gupta. Danish was also known for his love for experimenting with hairstyles and often shared pictures with new hair colour on social media. He had over eight lakh followers on Instagram which has risen to more than 1.3 million post-demise. Danish Zehen, MTV Ace of Space Contestant Dies at 21 in Freak Car Accident! Check Photos and Videos of YouTuber That Made Him a Star.
Video of Danish Zehen's funeral held in Bandra:
Following the accident, Danish was rushed to a nearby hospital, however, he succumbed to his injuries, police said. His brother who was also travelling with him is currently undergoing treatment.
Danish who had to leave Ace of Space due to some emergency was to appear in wild card episode next. Vikas Gupta emotional post on Danish's reads, "Danish tu humesha Zehen main Rahega, how do I tell the other houseguests that you aren't coming back. You are the coloured hair king of AceOfSpace #Coolestbadboi You looked like a baby as I saw you lying down, thinking you could wake up anytime. You have long gone but you shall remain always in my #Zehen Thankyou for teaching me this word."