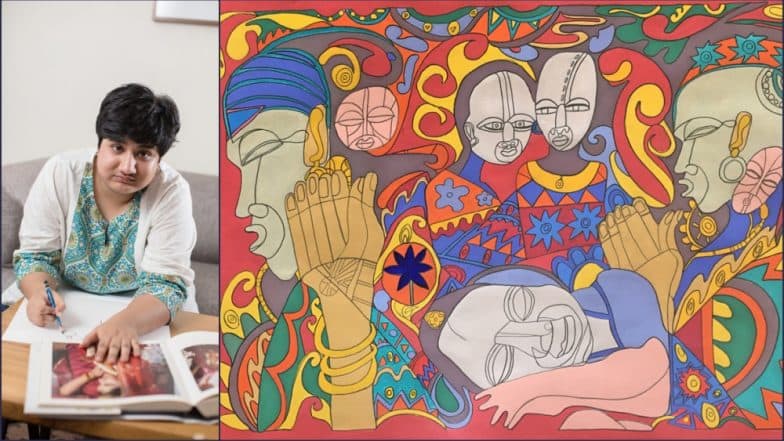 New Delhi, November 9: Works by Amrit Khurana, an autistic 24-year-old with acute observations of urban life, will be on display at an exhibition "Metro Diaries: Lives Extraordinaire" at the India Habitat Centre (IHC) from Saturday. The two-day exhibition will display a series of 92 works that combine figurative and representative art.
Largely non-verbal otherwise, Khurana's expression found an outlet in the sketches she did from a young age, her mother Aarti Khurana told IANS. She works with her mother at Noida's Pathways School, she added. Facebook Can Make Autistic Adults Happy: Did You Know These 5 Health Benefits of Social Media?
The show includes her "Postcards From India", "Posters From Bollywood", "Ganpati miniature collection", "Tales of Krishna", "The Figurative Abstract" and the "Tete-a-Tete Over a Cup of Tea collection".
As Khurana sketches and paints rickshaw-wallahs, tiffin servers, barbers, photographers, and cafe-goers among others, she reinvents the ordinary people and makes them extraordinary through her style of art.
The auto-rickshaw driver Madhav in "Thoda Sa Sukoon", the tale of two sisters from "OK Tata Phir Milenge"; from "Purani Dilli Ki Yaadein" to "Dekho Magar Pyar Se", the works weave a story of the quintessential character of a metro, where life buzzes past you in a flash leaving behind bittersweet memories of days bygone, the curatorial note read. The exhibition's opening saw a performance by Sushmit Sen, the guitarist of "Indian Ocean" band.