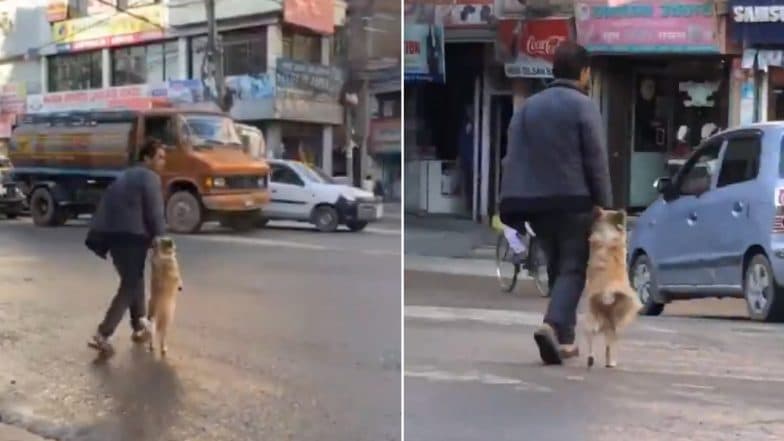 If you love dogs then you know dog videos are so heartwarming. You can watch them many times and still not get bored. Among the many cute dog videos that are there online, one new addition has come in which shows a dog and his owner holding paw as they cross the road. Dogs walking straight up on two hind legs is something we see only in dog shows or circus or other entertainment. But a journalist named Natalie B. Compton recently uploaded a video from Kathmandu, Nepal which shows a dog and his owner casually crossing the street, but here the owner held his paw while crossing. It looked like they do it regularly. The video was posted on Twitter and other people too were quite shocked at how normal it seemed for not just the two, but also other people on the road. This Video of a Pet Dog and Cat Loving Each Other is Going Viral, Watch Cute Clip.
We see so many dogs, strays and pets crossing across roads normally with all their four legs. But not this one. The owner waited and gave his hand to the pet. The dog casually stands up, the owner holds his paw and the two cross the street like a human child with their parent. It is indeed a surprising video which has been going viral. Rightly as the journalist, Natalie describes it as 'The most surprising 15 seconds of my life by far.' Pet Dog Plays With Dildo He Found Inside Neighbours' Package; Owners Embarrassed, Watch Funny Video.
Watch Video of Man Holding His Dog's Paw While Crossing The Road
The most surprising 15 seconds of my life by far pic.twitter.com/5nukg2RxvW

— Natalie B. Compton (@NatBCo) March 1, 2019
The video has been viewed over a million times and liked by 84,000 people. Isn't it cute and surprising at the same time? Looks like a regular affair on their walks. The other people on the road too do not find it odd and people on Twitter too noticed the same thing.
Am I The Only One Who Is Surprised?
No one else is surprised by this. No one else in those crowded streets is going, Holy hell, that was not what I was expecting. They're just going about their day, because this is a totally normal thing that normally happens every normal day.

— 𝕤𝕡𝕒𝕔𝕖𝕔𝕒𝕥 𝕚𝕟 𝕤𝕡𝕒𝕔𝕖 (@sugarkat) March 2, 2019
Dog sorcery?
WHAT DOG SORCERY IS THIS

— Miles Keogh (@kidcongo) March 1, 2019
Making it Viral!
Is this viral yet? I've watched it like 40 times today

— Sebastian Modak (@sebmodak) March 1, 2019
Father, Hold my hand
Emm dangerous crossing? Nepali doggos be like here hold my hand😄.

— Sash 🐲 (@sashzilla) March 2, 2019
The Truth?
And just to let you know it's the dog walking his human across the road and not the other way round

— jermain warner (@ayinde_warner) March 2, 2019
People have joked that it is the dog who is helping his owner to cross the road. Some others called it dog goals. Goals or not, this doggo is indeed cute! Love how it waits for his owner's hand to get across the street.