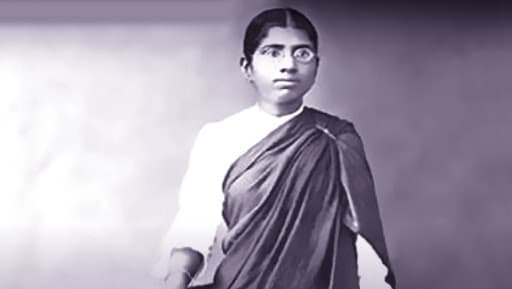 Mumbai, July 31: If you have checked today's Google Doodle, you must have seen that Google is celebrating the 133rd birth anniversary of Dr Muthulakshmi Reddi. In case you are wondering who Dr Muthulakshmi Reddi was,  she was the first female legislator in India. But that's not all. She had many firsts to her name. Dr Muthulakshmi Reddi Birthday: Google Doodle Celebrates 133rd Birth Anniversary of India's First Woman Surgeon in Government Hospital.
Born in 1883, Muthulakshmi left an everlasting mark in various fields like medicine, law, education and social reforms. All throughout her life, she fought for the upliftment of the women, their rights and for gender equality. She was born a rebel and never gave in to societal pressures and rules. Her parents wanted her to get married at an early age, but she not only went against their ideologies but also convinced them that she deserved an education. Tamil Nadu Celebrate 'Hospital Day' on Muthulakshmi Reddi Birth Anniversary.
She studied at Maharaja College in Tamil Nadu, which was formerly known as an all-boys institute, where she was denied admission. She excelled in her studies, won a scholarship and in 1912, she graduated to become one of the first female doctors in the country. She also became the first woman surgeon in the government hospital.
She was influenced by Annie Besant and Mahatma Gandhi, and they shaped her thoughts on the betterment of women in society. During her college years, Muthulakshmi met Sarojini Naidu and began to attend women's meetings.
She left her highly rewarding medical practice in response to a request from the Women's Indian Association (WIA) to enter the Madras Legislative Council.
Muthulakshmi went to England for higher studies and she gave up her rewarding practice in medicine in response to a request from the Women's Indian Association (WIA) to enter the Madras Legislative Council. She was India's first legislator and fought to increase the legal marriage age to 21 for boys and at least 16 for girls. She passed the bill for the suppression of brothels and immoral trafficking in women and children.
Muthulakshmi was the president of the All-India Women's Conference. She opened a hostel for Muslim girls and scholarships were given to Harijan students. After Reddi lost her sister to cancer, she launched Adayar Cancer Institute in 1954. It is one of the most reputed oncology centres in the world. For her contribution to society, in the same year, she was awarded the Padma Bhushan by the Government of India.