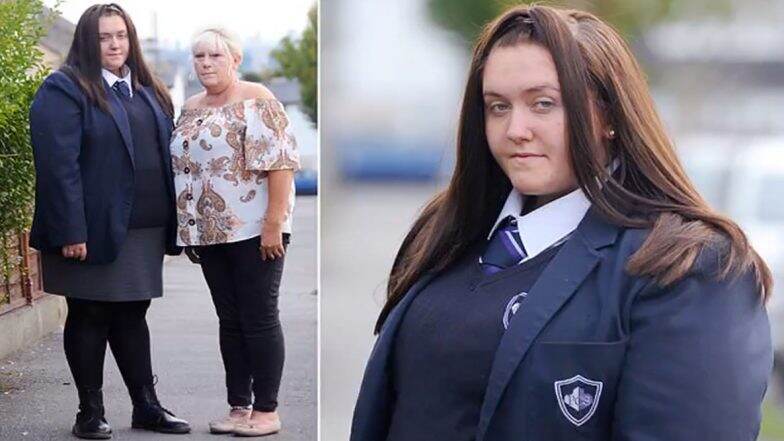 A schoolgirl from England is deeply sad after teachers banned her from attending classes. She has been asked either to sit isolated or be at home. The reason behind such awful behaviour is because she does not fit in her uniform skirt. The 14-year-old girl revealed how her teachers behave inhumanly and make her feel as if she does not exist in the classroom. Seeing the misery, her mother lashed out at the school, claiming that the headteacher never raised an issue last year when her daughter attended math class wearing the same skirt. The school's irresponsive behaviour has gained international attention. Girl Gets Body Shamed by Boyfriend, Twitterati Helps Her to Dump Him. 
Identified as Kada Jones, the young girl studies at Portchester Community School in Fareham. Because of the structure of her body, she is not comfortable with her uniform skirt. Jones further informed that she wore the grey pleated skirt last year, without complaint. Hence, she wears a different one in grey. Her teachers forced her to study in isolation or stay at home if she does not wear the regulation skirt. She is heartbroken! The teenager was quoted in The Sun saying, "I've been crying for the past five days – I don't understand, I've done nothing wrong. People get put in isolation because they have done something wrong; they've been treating me like I'm not even a human being. All I want to do is go to school."
Her mother, Kada, is furious over such behaviour. She said that Kada is medically healthy. The 54-year-old mother was quoted in the same report, saying, "If she was dressed like a punk rocker or something I would understand, but this skirt is similar to the school ones and is absolutely fine."
Meanwhile, the school's headteacher insisted that her skirt does not match the school's guidelines. However, she stated that they are trying to find out an alternate uniform for Jones, keeping the institute's regulations in mind.