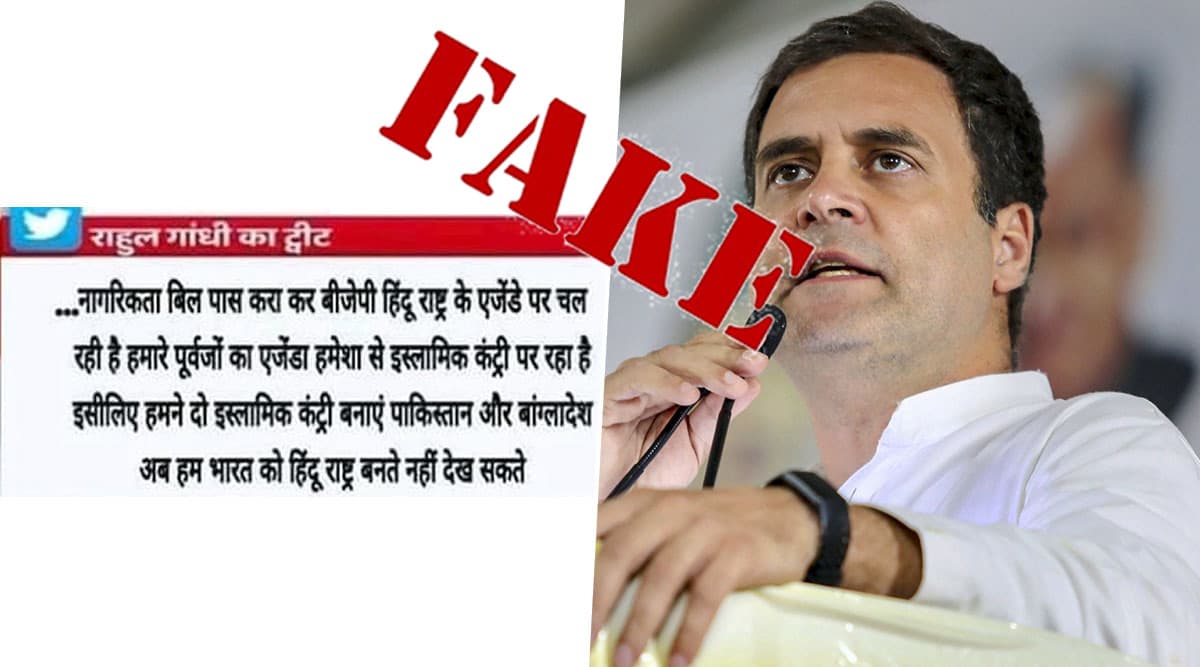 New Delhi, December 25: A fake tweet attributed to Congress lawmaker Rahul Gandhi has been going viral on social media since the past few days. The photoshopped image claimed that Rahul Gandhi tweeted against the Citizenship Amendment Act, saying "his ancestors believed in an Islamic country". The fake tweet is widely shared on WhatsApp and Twitter, with people actually believing it to be true. The fake quote is shared with a caption "Rahul Gandhi has just sent a tweet from Wayanad". Fact Check: Did Rahul Gandhi Really Eat Chicken Biryani With Pakistan Prime Minister Imran Khan as Claimed in Facebook Photos and Post?.
The fake tweet in Hindi attributed to Rahul Gandhi reads: "The BJP is working on its Hindutva agenda by passing the Citizenship Act. Our ancestors always believed in an Islamic country. Hence, we created Pakistan and Bangladesh. We cannot see India becoming a Hindu Rashtra." The photoshopped image appearing as an original tweet of the Congress leader is going viral on WhatsApp and Twitter. However, the fact is no such statement was made by Rahul Gandhi. Fact Check: Is PM Narendra Modi The 1st Prime Minister to Visit Kumbh Mela As Claimed by BJP IT Cell Chief Amit Malviya?
Rahul Gandhi, who represents Wayanad parliamentary constituency in Lok Sabha, has been opposing the Citizenship Amendment Act. However, he has not made any remark on Hindu Rashtra or Islamic country in his tweets or interactions with media houses. The fake tweet going viral in his name appears to be a smear campaign run by his political opponents. In reference to the CAA, Rahul Gandhi tweeted last time on December 11.
"The CAB is an attempt by Modi-Shah govt to ethnically cleanse the North East. It is a criminal attack on the North East, their way of life and the idea of India. I stand in solidarity with the people of the North East and am at their service (sic)," he had then tweeted.
The Citizenship Amendment Bill, which has now become an Act, gives Indian citizenship to Hindus, Christians, Sikhs, Buddhists, Parsis and Jains fleeing religious persecution from the officially Islamic Pakistan and Afghanistan and Muslim-majority Bangladesh. The opposition parties had objected its nature and described it "against Muslim community".
Fact check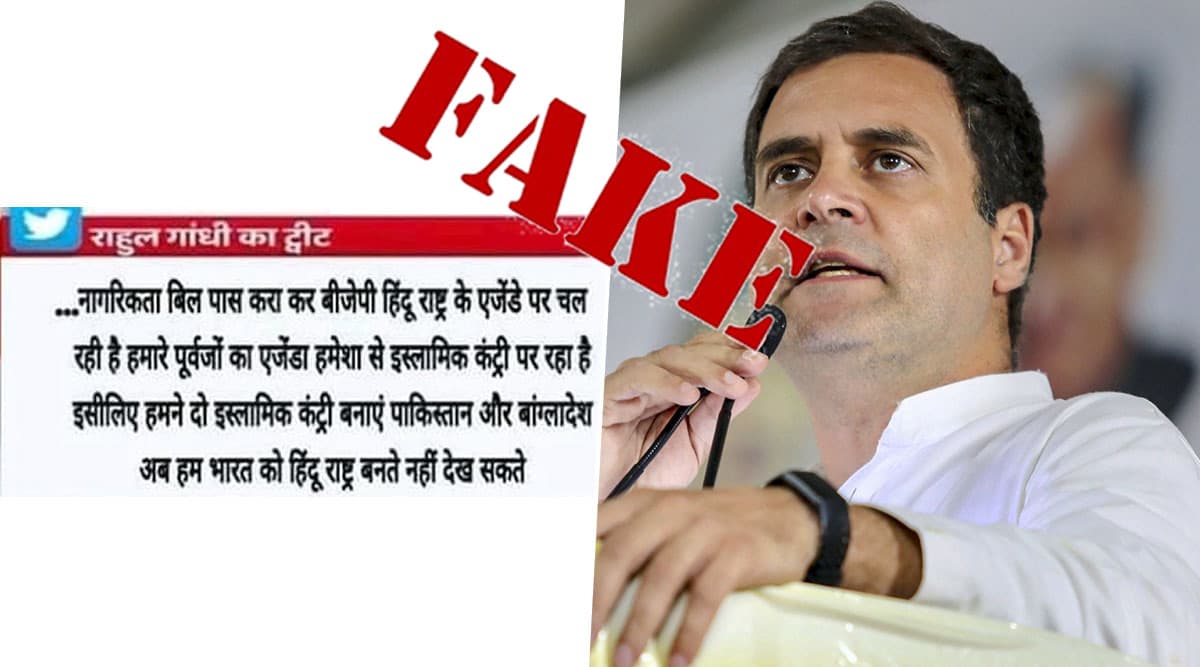 Claim :
Rahul Gandhi said his ancestors believed in an Islamic country.
Conclusion :
Rahul Gandhi did not tweet saying his ancestors believed in an Islamic country.