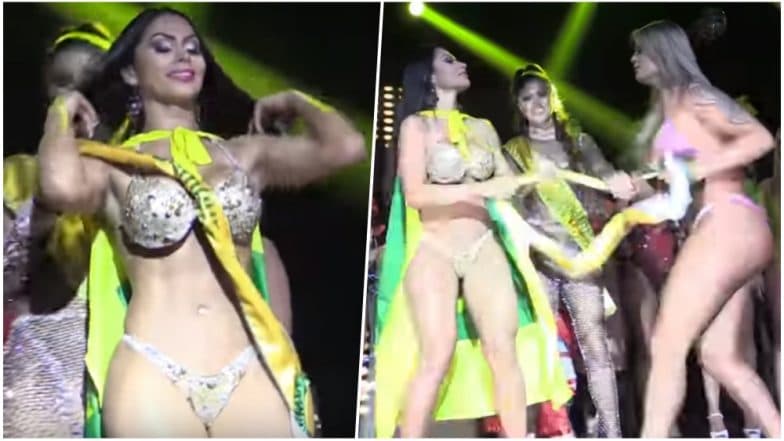 Brazil's Miss Bumbum 2018 pageant concluded with a bang. A 31-year-old from the country's northern region, Rondonia Ellen Santana earned 2018's title. However, during the crowning moment, a brawl broke out, startling the audience present at the contest. Aline Uva, a massage therapist and one of the finalists from Rio Grande Do Sul, physically stripped off Ellen's winner sash and wore it. The massage therapist was heard screaming that the competition was a farce and accused the winner's butt was surgically enhanced. The short clip is now on every news headlines! Ivanka Trump Lookalike! Woman Spent 20,000 Pounds on Surgery to Look Like US President's Daughter. 
Uva further claimed that she was the only contestant in the entire competition to show off her natural shape. Although, her backside indeed had an inherent quality to it, Ellen remained the winner. She said, "I fulfilled all the rules of the game, my butt is real, but her butt is plastic! Miss BumBum is a farce. Today I could prove all this." On the other hand, the real Miss Bumbum 2018 winner kept her cool, spinning to the music in good spirits and waving her country's flag with pride. The organisers of the show had to intervene to calm down the panicky scene. Uva may have kept the sash she stole because, the winner was honoured with another sash! Kim Kardashian's Purse Looks Like a Laptop Charger and People Cannot Stop Joking About it, Check Funny Tweets & Pics. 
Watch the video of the catfight at Miss Bumbum 2018!
Miss BumBum is a Brazilian annual pageant, created by journalist and entrepreneur Cacau Oliver,  which aims to find the best buttocks in the country. Every year, 27 contestants who represent the country's different states are selected for the contest. The winner of the pageant receives 50,000 Brazilian Reals (above Rs 9 lakh) in endorsement deals and instantly becomes a celebrity in the country.