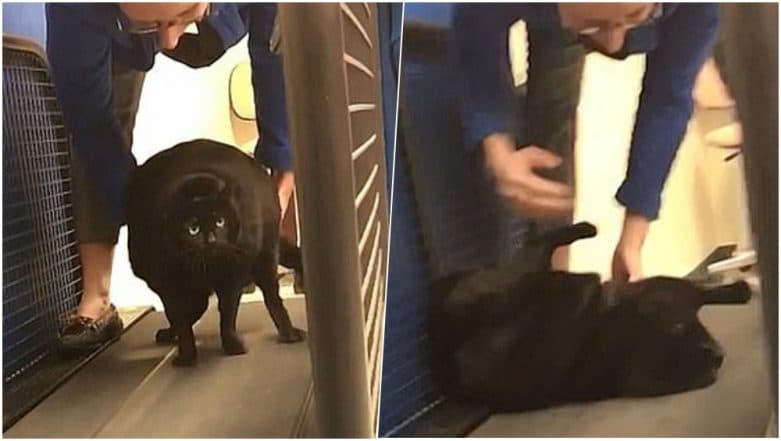 Cats are smart and while some can be running around, climbing on cupboards or jumping about, there are some who are extremely lazy. A video of one such lazy fat cat is going viral and we are sure a lot of you will relate. Laila is an overweight cat from Florida who absolutely hates exercise. Well, those who are not fitness freaks know the struggle of even heading to the gym. And Laila is the one who knows the feeling too well. A video of her, shows her pretending to be dead on the treadmill because she doesn't want to exercise. The hilarious clip was shared on social media and has instantly become viral and people can totally relate to this overweight feline. Cat Shares Some Fitness Goals While Doing Sit-Ups Underneath a Car! Watch the Cutest Workout Video.
Lee Ferinden is her owner who tried to get Laila to exercise on the treadmill so that she could at least try at shedding few pounds. But Laila is a lazy bum who will rather be dead than exercise. The plump feline got on the treadmill and within a few seconds rolled over with her paws up in the air, playing dead. The video is too funny and people are widely sharing it on social media. Video of Cat Opening Bathroom Door Goes Viral, Cat Owners on Twitter Share Their Own Hilarious Experiences.
Watch Video of Laila The Cat Pretending Dead on a Treadmill:
Isn't she adorable? Talking about her pet, Lee was quoted to Daily Mail, "'Laila was a normal-sized kitten until after we moved here to Gainesville and she was spayed. She started gaining weight rapidly and stopped jumping on things." She added that she has been consulting vets to find the cause of such weight gain. Laila is also on a strict diet and goes on a walk once a week. "She also goes to Fat Camp on Wednesdays at the University of Florida's College of Veterinary Medicine," informed Lee. But the video is enough proof to show how much Laila would be hating it.