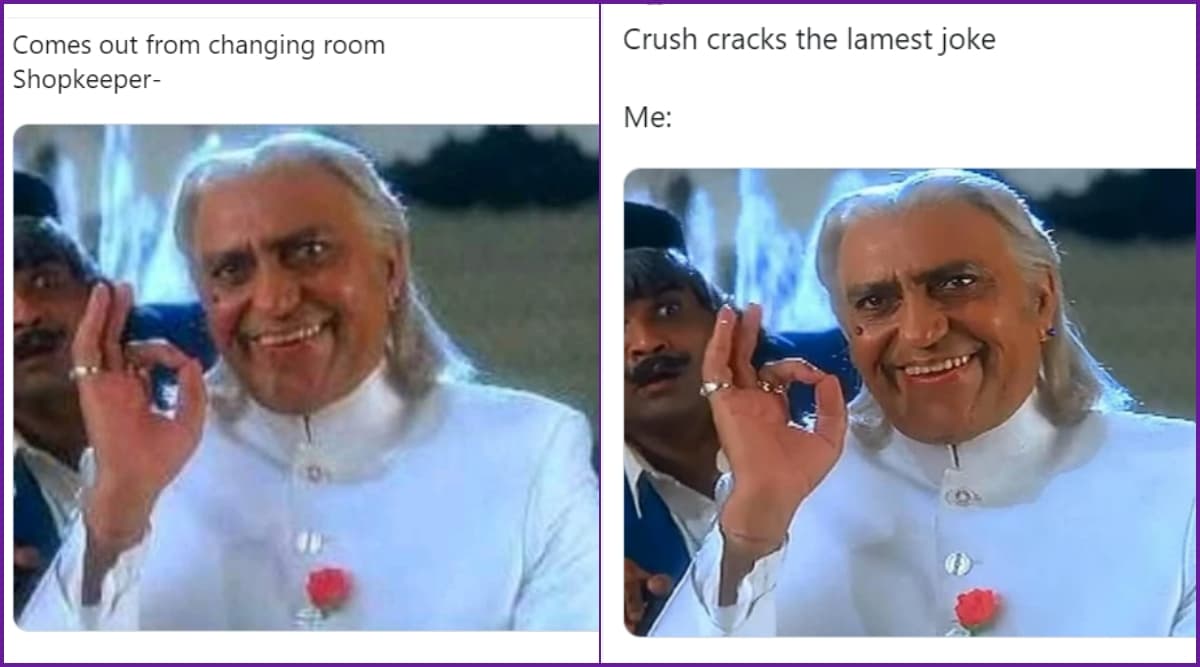 Today more than social networking, social media sites are used for scrolling through and sharing memes. Funny memes and jokes keeping coming up every day and then there are new meme formats which only add to the fun. Amrish Puri's old picture, a movie still from the film Koyla has become the new fodder for netizens to make memes. After his legendary dialogue of "Aao Kabhi Haveli Pe" became a source of entertainment with funny jokes in the past, now social media is buzzing with memes on his old picture. How to Make Finger Point Emoji Memes? Latest Meme Trend Has Twitterati Making Most of Racial Representation Emoticons.
Sometimes meme-makers need just one picture and it becomes the source of entertainment. Amrish Puri's voice, versatile expressions and strong personality have given some iconic characters to the industry. Known for his negative roles, he could be among the favourite villains of Bollywood. The actor passed away in 2005 but there are netizens who are keeping his memories alive, be it through funny memes or jokes. The latest memes are made on his expressions from the film Koyla. 
Check Funny Memes on Amrish Puri's Old Picture:
Moms Love It!
View this post on Instagram
Mast!
Every Shopping Session
Comes out from changing room

Shopkeeper- pic.twitter.com/4ROfyN3ltw

— MayuRa (@MayurShende13) November 7, 2019
Why Dadi?
*Me with salwar suit with 1 meter long duppata including oily hair*

My grandmother pic.twitter.com/wlKlGzKAby

— लैला 💃 (@HimanshiKunwar1) November 10, 2019
Haha! Why Though
View this post on Instagram
Is This You?
*When a random kid annoying me at public place*

*his mom gives "2 tagdaa thappadd khicchke "

*Inner me: pic.twitter.com/DuHgRB5vJA

— Vi(shal+vek) Vk (@tweet_ka_mood_h) November 11, 2019
Barbers Love It!
My barber after fucking up my hairstyle. pic.twitter.com/eue1EGIfQc

— Garvit Aggarwal (@sakht_londa) November 10, 2019
Anything For Your Crush!
Crush cracks the lamest joke

Me: pic.twitter.com/P7ylEU1uzA

— Meme Machli (@meme_machli) November 9, 2019
To Make a Point!
After seeing lot of memes on himself

Amrish Puri from above- pic.twitter.com/vFrU64RZuf

— Chai_wala_banda👅💘 (@Chai_wala_banda) November 12, 2019
Well, there are just so many funny memes and interpretations given to this picture of his, we wonder if the actor would say with his yet another iconic dialogue, "Mogambo Khush Hua!" Amrish Puri's characters have been used in the past to make memes too and like we mentioned earlier, every few days we have a new trend coming in. So we won't be surprised if few months from now, there's another picture still of him made viral with funny jokes.