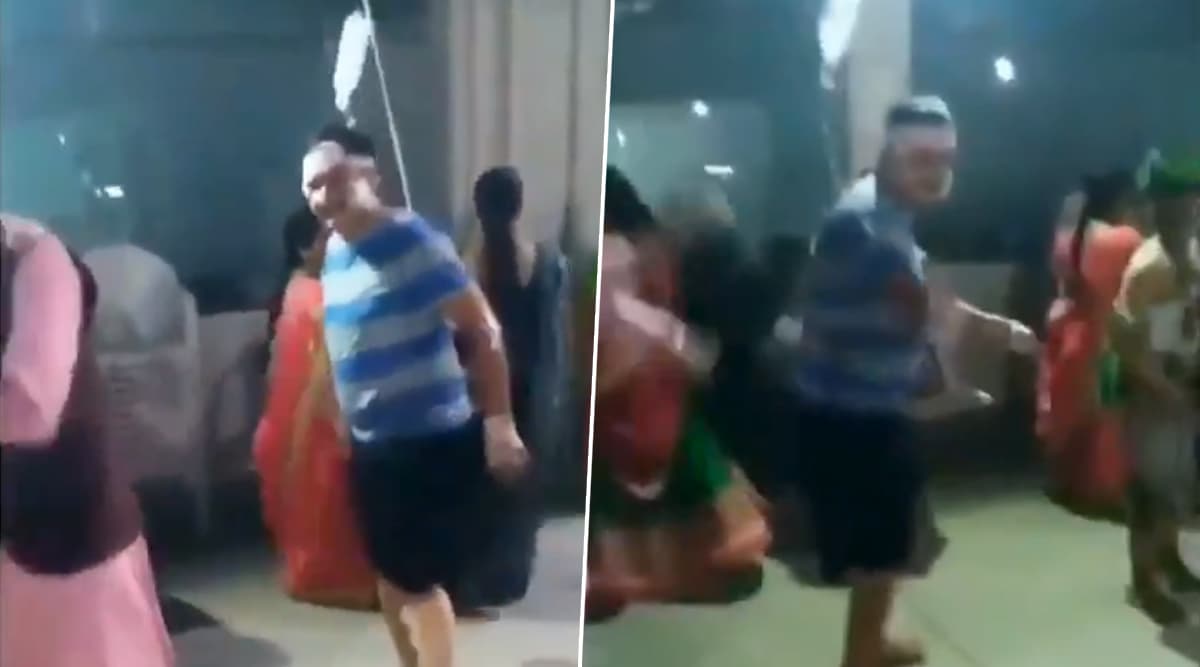 We all know about Gujaratis and their love for Garba. Come Navratri and Gujjus dress in their best outfits and gather together to play the traditional folk dance. They are quite expert at it and play it with perfection. Watching them play Dandiya is quite a sight and people gather in large numbers just to catch a glimpse. There are even memes and jokes about Gujarati's love for Navratri and Garba. As the festival is being celebrated, we have come across a video that proves how much people love the dance form. An old video of a man who looks like he ran out of the hospital bed, dancing to the tunes of Garba music has gone viral on social media. The clip shows his dancing along with other people as if everything is quite normal. Garba in Mumbai Local! This Video of Women Dancing Inside Train is Going Viral.
As the video has once again started doing rounds on Twitter, people commented saying that it is an old fancy dress-dress themed Garba party. With saline dripping and a rod attached to support it,  he looks like he just woke up from the hospital bed. To make his looks even more real, he has bandages on his palm, elbow, forehead and cheeks. The video is being shared with the caption, "How important is Garba to a Gujju #Garba #Navratri."  Garba Fever! Christian Priest From Mumbai and Policemen From New York Can't Resist Shaking a Leg to the Garba Tune.
'Patient' Dancing Garba:
How important is Garba to a Gujju 😂#Garba #Navratri pic.twitter.com/r1FsLTagXg

— Gutthi (@AapKiGutthi) October 4, 2019
While people are joking about the attire saying that he is a true Gujarati obsessed with Garba, on closer look you can see the man next to him dressed in leaves, further proving it was really a fancy dress competition. While the folk art is popular in Gujarat and Rajasthan, over a period of time the dance form has become famous in many regions.