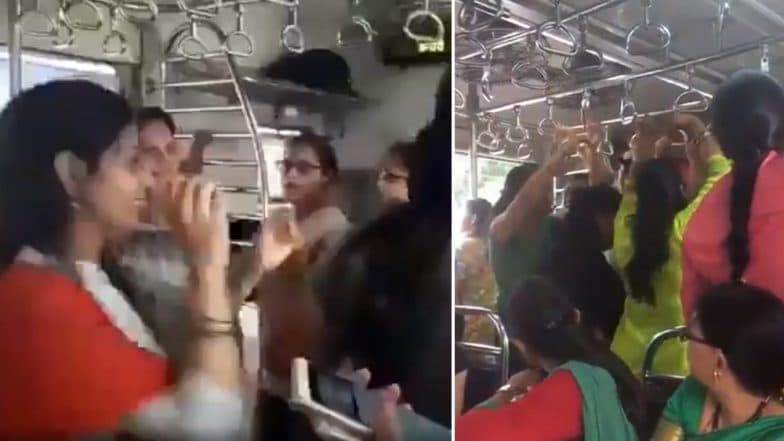 The city if Mumbai is a perfect amalgamation of cultures, religion and beliefs. So all the festivals are celebrated with equal enthusiasm in this city. Be it Holi, Ganesh Chaturthi or Navaratri, people from different sects come together and enjoy the festivities for each of the festivals. The festival of Navratri is nearing the end, but the excitement about performing the garba is seen all through the 9 days. While people head to special event nights where garba-dandiya is held, few ladies could not resist their urge and made a local train their play venue. A video has been shared by the Railway Minister Piyush Goyal, which shows a group of ladies playing garba in a local train. Garba Fever! Christian Priest From Mumbai and Policemen From New York Can't Resist Shaking a Leg to the Garba Tune.
Females in Mumbai local have their specific groups and they bring in several festivals throughout the year. While many just associate the Mumbai locals to be always crowded, these ladies have managed to make themselves a small circle and dance together. The video has been appreciated by many people online, once again acknowledging the spirit of Mumbai. Here Are Some Things That Can Be Done Only on Mumbai Locals.
Watch Video of Ladies Playing Garba in Mumbai Local
Now this is an experience only Indian Railways can provide! pic.twitter.com/mM0fTfk89F

— Piyush Goyal Office (@PiyushGoyalOffc) October 17, 2018
Taking advantage of the less rush, the ladies played a song on their mobile phones and enjoyed a bit of garba while they were commuting. It is good to see their spirit. Check how some people on Twitter reacted to this video.
The real spirit of Mumbai 
That's the real spirit of #mumbailocal https://t.co/u9VrgB18iD

— Gopal Rawal (GR) (@rawalgopal2) October 17, 2018
This is what Mumbai, India stand for along with so much stress and tension people here find ways to feel happy.#unity #indiaisthebest#indianrailways @PiyushGoyalOffc https://t.co/JSwHEal1pk

— Jason Mario Noronha (@jasonnoronha9) October 17, 2018
Well, this is not the first time ladies have attempted to play garba in Mumbai local. A similar video went viral even last year.
See this too pic.twitter.com/rvIzXj3aL9

— Madan Nayak. #BadHindu (@mgnayak5) October 17, 2018
These videos are a sure reminder of the Mumbai spirit all over again. It also goes to show how Mumbaikars celebrate each festival with great enthusiasm. There need not be commercial grounds or residential complexes, our railways are there to get everyone together and just enjoy.