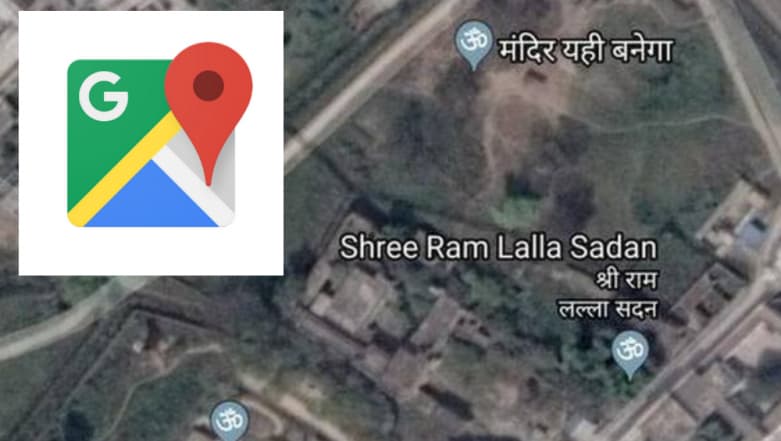 Google Maps is one of the widely used applications today, especially those who are constantly on the run. It is convenient to find directions to a certain place along with getting the nearby landmarks, called as the point of interest. To make it more user-friendly, it allows users to edit certain information, add local points, pin locations. But this led to a trouble when the controversial phrase, "Mandir yahi banega," started appearing as a point of interest near Ram Janmabhoomi site in Ayodhya on Google Maps. Swastika Symbol on Google Maps? Don't Panic! Icon Denotes Buddhist and Hindu Temples & Places of Worship. 
The Hindi phrase which translates to 'temple will be built here' is used by the right-wing groups to demand the construction of Ram temple at the disputed site of Babri Masjid. It was pinned as a point of interest but now it is rectified. But it wasn't just a marker, there were reviews and comments to that place. People have commented Jai Shri Ram and given the place 5 stars. The overall review of the place had 4 out of 5 stars on Google Maps. The marker denotes a Hindu temple at the spot along with a picture of the proposed Ram Mandir. Ram Temple in Ayodhya: Hindu Outfit Plans 'Maha Yagya' From December 1-6. 
Check Picture of Google Maps Showing Mandir Yehi Banega Near Ram Janmabhoomi
Dear @googlemaps , no need to remove marker from the birthplace of Lord Ram which reads "Mandir yahi banega". It not a lapse and definitely not "an unhelpful edit suggested by user" as clarified by you. It is the truth. Mandir wahi banega.#RamMandir #Ayodhya pic.twitter.com/PMOWqyW1dc

— Shweta Shalini (@shweta_shalini) November 30, 2018
The Ayodhya land is under dispute from last 25 years and remains unresolved. The issue is sensitive and such edits can be dangerous. Google addressed the case and claimed it has fixed the issue by removing the marker. Google spokesperson was quoted, "We're heavily invested in empowering users to contribute their local knowledge to Google products and services. Overall, allowing users to suggest information provides comprehensive and up-to-date info, but we recognize there may be, as in this case, unhelpful edits suggested by users. When this happens, we work fast to address the issue as quickly as possible."